J.T. Barrett in command as Ohio State pushes past Navy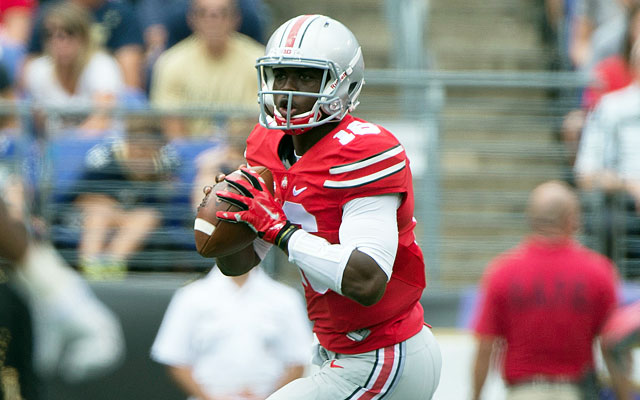 Navy's Midshipmen did nearly everything right against Ohio State that Navy has to do right against Ohio State: they came up with huge defensive plays, they controlled the clock with their triple option, and with one (admittedly devastating) exception, avoided major mistakes.
It wasn't enough, thanks first and foremost to J.T. Barrett.
The redshirt freshman shone in his first collegiate start in place of Braxton Miller, throwing for 226 yards on 12-of-15 passing and running for 50 more, powering the Buckeyes to a closer-than-the-score 34-17 win. The Midshipmen ran for 367 yards but threw for only 20 as the Buckeyes scored 21 of the game's final 24 points, pulling away after falling behind 14-13 in the third quarter.
For most of the second and third quarters, any Ohio State win looked unlikely, much less a 17-point one. With the exception of the occasional play from Adolphus Washington, the Buckeyes' vaunted defensive front enjoyed precious little success against Navy's well-drilled offensive line, with Ryan Williams-Jenkins going for 118 yards on only 7 carries and Navy averaging 6 yards an attempt on the ground overall.
But in the end, Barrett and Urban Meyer's uber-athletic collection of backs and receivers were the story.
On only one snap did Barrett look like a player seeing his first collegiate action, an ill-advised interception inside the Navy 10 in the first half. With the help of the eye-catchingly slippery Dontre Wilson (who finished 87 yards rushing and receiving on 8 touches), Ezekiel Elliott, Devin Smith, and Curtis Samuel, though, Barrett shook off the mistake and delivered an outstanding second half: an 80-yard touchdown pass to Smith for 20-14, a 19-yard pass to put the Buckeyes into scoring position for 27-17, and rushes of 19 and 15 yards to set up 34-17.
Barrett's final second half numbers: 4-of-4 passing, 130 yards, two touchdowns, 37 yards rushing, and a one-point halftime deficit turned into a 17-point win. A major assist goes to Joey Bosa for forcing an errant Keenan Reynolds pitch that turned into a Buckeye scoop-and-score, but Barrett was the engine.
In the end, Navy could match the Buckeyes' five-star talent in the trenches. But in space, where Barrett and his buddies thrived, it was a different story -- and for Ohio State, a story that says their college playoff dreams may not have died when Miller's shoulder did.