Baylor rebirth
Down to his last strike, how Shawn Oakman is turning his life and career around at Baylor
Baylor rebirth
Down to his last strike, how Shawn Oakman is turning his life and career around at Baylor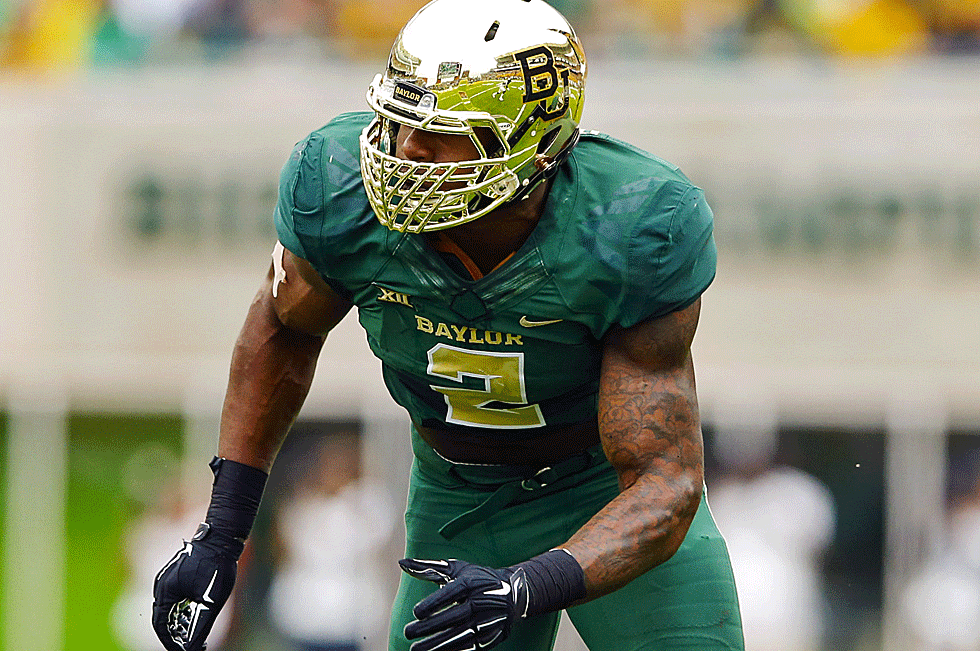 Oakman discusses his Penn State dismissal

Watch Now
WACO, Texas
The man across the table is the biggest football player you've ever seen. There are heavier and there are taller. But the entire package here before you … my goodness.
The discussion starts and ends with Shawn Oakman.
"He would take 200-pound guys and just bench press them," said Larry Johnson, Oakman's former defensive line coach.
"His ceiling?" his current defensive coordinator, Phil Bennett, wondered out loud. "He might be the top guy in the whole dang thing [NFL Draft].
"If Clowney can do it …"
Shawn Oakman isn't used to potential. Where he comes from, you don't look ahead. You get through today. He learned that back in North Philly -- where, with a dad who was out of the picture and a mom who was battling her own substance abuse demons, he and his siblings were largely left to fend for themselves. On a good day, they would eat.
"Everybody is placed here to help someone," Oakman said. "You're either in their life for a lifetime, a season or a moment. At the time, we were all in each others' lives for that moment.
"It didn't matter what anybody else said. Me and my brothers were going to bring food home, and my sisters were going to cook it. And they was going to make sure I had my homework done."
He had a name for it: "Doing the regulars."
And for a big chunk of his life he didn't know anything else.
***
The man across the table is 6-foot-9, 280 pounds, and so ripped he's intimidating just passing in the hall. That image of him bench-pressing 200-pounders is a word picture left over from a long-ago Penn State practice.
Wait, Penn State? We'll get to that. There's a story there almost as large as The Biggest Football Player You've Ever Seen.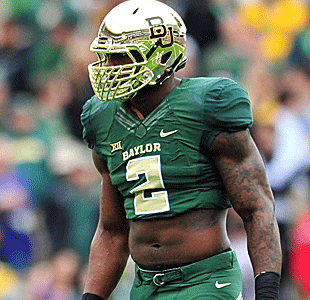 CBS Sports Network will be airing a feature on Shawn Oakman in December.
First, some modern lore: At one point in 2013 Oakman led the country in tackles for loss -- as a reserve. This year, as a redshirt junior, he's third in the Big 12 with six sacks. In the 3 ½ years since he's been out of high school, Oakman has started just eight games -- yet here he is being talked about as a potential top-10 pick in the NFL Draft.
Larry Johnson, the former Penn State defensive line coach quoted above, compared Oakman's body type to Courtney Brown. One of Penn State's all-time greats, Brown was an All-American, the Big Ten defensive player of the year and the No. 1 overall pick in the 2000 NFL Draft.
The day Oakman committed to Penn State, Johnson had to pull his car over. "When he told me," Johnson recalled, "[I was] screaming and yelling."
Indeed, Penn State had landed a thoroughbred. Oakman's sheer physicality was, and still is, bordering on cartoonish. Still, one veteran NFL scout recently said Oakman "has his highs and lows" on the field. Against SMU in the season opener, the scout recalls seeing Oakman get manhandled early in the game. On the next play, he took an inside release and was unblockable.
"He looks like Ed [Too Tall] Jones," the scout said. "Except Ed Jones played hard every play."
Perhaps the consistency isn't quite there -- but Oakman, to quote Rob Rang (who currently has Oakman at No. 10 on his Big Board), "appears to be just scratching the surface of his potential."
That SMU game was the first start of his collegiate career. He makes no bones about football being his ticket out. He wants to take care of his family. He's got his eye on a life. He's on his way somewhere.
That's why he says he'll never go back to North Philly. The four-star prospect from Penn Wood High School, the budding prospect who was kicked out of Penn State, is gone. A new player, a new man, has emerged in his place.
"I never wanted to be like my brothers and sisters," Oakman said. "I never wanted to go back to Philly. I don't want to see it. I don't need it. There's nothing there for me. Everything is into the future."
And in this moment, Oakman has a message for anyone who cares back home.
"The more you don't see me, the more you know I'm doing better."
"His ceiling? He might be the top guy in the [NFL Draft]."
The 22-year old man across the table has no reason to tell you his life story. He just does. They have put us in a conference room inside Baylor's Simpson Athletics and Academic Center, and this kid -- this big, fun, quotable, beast-on-the-field kid -- has opened up about everything. The mistakes he's made. The lessons he's learned. At times he came close to tears.
He loves his five brothers and sisters. His mother, Vernetta, recently saw her son play a college game for the first time. Oakman may have found out more about his father at the man's funeral three years ago than he did during his dad's life.
"He has kids on his side, too," Oakman said. "I met all of them for the first time."
One day Shawn was walking to school. The same kid he'd seen for months joined him on a familiar street. They started talking, Shawn and Calvin. Turned out they were cousins.
"I opened my arms to him," Oakman said. "All my brothers and sisters on my dad's side, they're not my stepbrothers and sisters. They're my brothers and sisters. I don't care how you put it. That's my father's kids."
But where did that fellowship come from?
"It came from being at the bottom. My whole life I grew up from the bottom. I grew up from the mud. There were times we didn't eat."
Oakman says his mother "was just on drugs" while he was growing up. An administrator at Project Home in Philadelphia told CBSSports.com that Vernetta Oakman had indeed been involved there. Project Home provides affordable housing for the homeless, and Vernetta recently posted this message on its site.
A message left for Vernetta at Project Home was not returned.
Oakman is also quick to point out that Vernetta "taught us how to survive."
"You have to understand," he said, "the last time we had a family-like situation together I was nine, maybe eight years old."
When he was 10, Oakman was placed with his aunt and uncle, Ken and Tracy Roberts. The couple had dedicated their lives to service as foster parents. Roberts estimates he's had 15 kids pass through his home. Some of it while he was doing military tours of duty in Iraq and Afghanistan.
"She was a substance abuser," Roberts said of Vernetta, "dealing with her own demons."
"Here's how I would describe it," Roberts continued. "When you take your medication and life throws you a curveball, [everything is fine]. When you don't take your medication and life throws you a curveball, you become a victim of the curveball."
***
Phil Bennett got hold of Oakman first at Baylor. The Bears' defensive coordinator has been in the business for 35 years. He's done it all, seen it all -- and that's not a cliché. The man once coached SMU, after all. And he has his own tragic past.
The morning of Aug. 11, 1999, Bennett's wife, Nancy, was out for a jog on a hot Manhattan, Kan. morning. She didn't come home. Bennett, then Kansas State's defensive coordinator, went driving around the neighborhood asking a cop if he'd seen a good-looking blonde run by.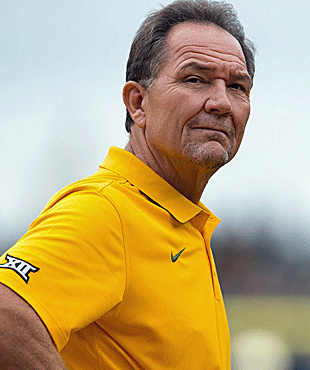 Baylor defensive coordinator Phil Bennett has been instrumental in Oakman's development. (US Presswire)
The flashing emergency lights were the indicator. Nancy Bennett had been struck by lightning. She died 17 days later, 14 days before the K-State season opener.
"He's not lukewarm at all," Oakman said of Bennett, who raised his children, Maddie and Sam, largely on his own before sending them off to college. "But that's what you want. At the end of the day he's going to fight for you.
"He's half crazy, just like me. You go through things in life that separate you. Nobody has the same story. But if you listen to them, and take time, you can relate. I never had a wife taken from me."
Bennett came to Baylor four years ago when the defense was a joke. The main story surrounding Art Briles' Baylor success had been a record-breaking offense, but Bennett slowly carved out a defense that finished in the top 30 nationally as Baylor won the Big 12 in 2013.
This year the D is even better overall. The season-opening victory over SMU marked Baylor's first shutout of an FBS opponent in 19 years, and the Bears are currently second in the Big 12 in total defense. Baylor, in fact, would still be looking at an undefeated season if not for an upset loss at West Virginia two weeks ago. The Moutaineers ran 85 plays in that game and scored 41 points, though Oakman played well with a fumble recovery and four tackles, including 2.5 for loss.
Baylor's season may be on the line this weekend at Oklahoma, and the Sooners are more than capable of lighting it up. Oakman -- who has gone from playing 30-40 plays a game as a reserve to 80-90 in the high-flying Big 12 -- will be front and center again.
"Shawn has been asked this year to do more than he's ever been asked to do," said Baylor safeties coach Brian Norwood.
Bennett remembers the 2012 day Oakman rolled into Waco. He remembers the kid mistakenly calling it "Wacko." Shortly after Oakman was kicked out of Penn State, Roberts had put his nephew in his car and drove. And drove. From Philly to central Texas. From the past to the future. From familiar to foreign.
"When you do that kind of ride, it's like Jesus -- 40 days and 40 nights in the desert," Roberts said. "You're recognizing things had changed."
"It was like 120 degrees that day," Bennett recalled. "I remember telling Dave Wannstedt, 'You're not going to believe who we have coming to town.'"
Wannstedt was the former Pittsburgh head coach who had recruited Oakman as a tight end to the Panthers. Bennett had been his defensive coordinator. When the flawed prospect eventually showed up on Bennett's doorstep again at Baylor, the ground rules were clear.
"You're on Strike 2," Bennett told him. "Your margin of error is zero. But this is definitely a place that can turn your life around."
At a private Christian university in a close-knit Texas Town, a kid from North Philly was down to his last chance. Everyone knew that.
***
Sit your ass down.
Those were words Oakman clearly recalls from Bill O'Brien the day he became a former Nittany Lion. Penn State was the only program Oakman ever wanted to play for. For a another [perceived] screw-up from a downtrodden background, it was a stake to the heart.
"I wanted to play for JoePa, all that," Oakman said. "It just wasn't the place for me. And God knew that."
While Oakman was bench-pressing those teammates in practice, a lot of little things were adding up off the field. Nothing too serious, but you have to remember where Penn State was in 2012. In the wake of the Jerry Sandusky scandal, everything was under a microscope. No conduct issues could be tolerated. Oakman finally went too far.
As it happened, Oakman had run out of money on his meal card in February 2012. According to a report, a store clerk noticed Oakman had allegedly hidden a hoagie and a bottle of grape juice on his way out.
When confronted, Oakman reportedly shoved the clerk against the wall. He was initially charged with harassment, retail theft and disorderly conduct.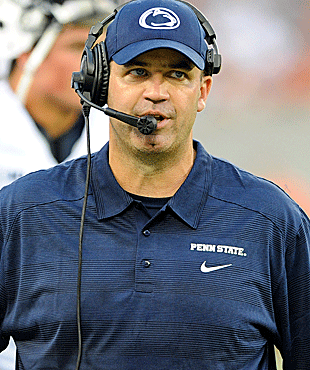 Oakman was not one of Bill O'Brien's recuits at Penn State. (US Presswire)
"When a 6-8 guy reaches for you and grabs the meal card back that can be scary for you," Norwood said.
"[Assistant] Ron Vanderlinden and I tried to talk Coach O'Brien into keeping him," said Johnson, the coach who had screamed with joy when Oakman committed to the Nittany Lions. "You felt [there was] a spirit inside of Shawn. He had a determination."
But not enough to stay with a coach who hadn't recruited him. O'Brien's No. 1 charge was cleaning up Penn State football's image while keeping the program competitively afloat. He did that, but Oakman's conduct was threatening to get in the way of those directives.
Maybe Oakman was feeling entitled, the freshman recruit, the big man on campus (in high school Oakman altered his letterman's jacket to read "PSU Superman"). Or maybe this was merely a kid who'd grown up tough, didn't have any money, and did a knucklehead thing. Either way, when Oakman was called into O'Brien's office Monday morning, he'd become more trouble than he was worth. The coach had already moved on.
"I broke down," Oakman said. "He sent everybody out of the room. He just talked to me. I tried to compose myself. But those words, as soon as he said them, I got up and walked to the window and just started tripping. I started bugging out.
"He said, 'Sit your ass down.' He tried to talk to me but the only thing I could hear in the back of my mind was my uncle saying, 'A man don't make mistakes. A man makes choices.' As a man I had to accept the consequences of the choices I had made."
As Oakman said, he'd always wanted to play for Penn State. He's a Philly kid. There was a comfort there. Thankfully -- perhaps inexplicably -- there is a heavy Penn State influence at Baylor. Brian Norwood was with Paterno for eight years. He and Johnson had become close friends. That largely explains how Oakman got to Baylor.
Calvin Lowry, a former all-Big Ten safety, is a Baylor assistant director of operations. Defensive line coach Chris Achuff was a Penn State grad assistant in 2002 and 2003.
Former defensive tackle Phil Taylor ended up at Baylor after he too was booted from Penn State. He eventually became a first-round draft choice in 2011.
Norwood got to Waco having been with Art Briles on Mike Leach's staff at Texas Tech. Norwood remembers Paterno calling one day and telling him he was the Nittany Lions new safeties coach. Paterno had heard enough good references.
By the time the Sandusky scandal blew up, all Norwood could do was shake his head. He left after the 2008 season. That wasn't the Penn State he knew. While at Baylor, Norwood was interviewed over the phone by Freeh Report investigators. He spoke to Paterno twice before the legendary coach died.
Some of those listed above believe Oakman would have gotten a second chance under Paterno. But Oakman wasn't O'Brien's player. He remembered back to one of his first meetings with the coach, when the message was clear. Oakman couldn't screw up again.
"I clearly didn't listen."
***
Across the table, the biggest player you've ever seen is winding down. It has been an emotional time unloading to a stranger.
That huge frame had to come from somewhere, but where? How big was your dad?
"I'm not sure," Oakman said. "I'm the biggest one in the family."
Where does that heart come from, the one that wants to work with drug-addicted parents? The one that speaks to troubled teammates about not becoming … a PSU Superman?
"I did all my dirt my freshman year," Oakman said. "I burned myself, got kicked out of school, been through the ups and downs. I've done it all."
Their names are implanted in that heart -- his siblings: Loveiee, Miracle, Eric, Aaron … another brother, Future.
Shawn Oakman is resolute about his future. His head is somewhere between the natural progression of leaving the nest and never wanting to consider he was ever in it.
"I feel like I'm growing up as a man," he said. "You've got to separate yourself from some people sometimes.
"You can only explain to them I'm healthy. I'm living life. I don't have a care in the world …
"I'm the face of Baylor University, basically," he said. "Who would have ever known?"