Auburn to Arkadoo
Hailed as the next Cam Newton at Auburn, it took a step back to D-II Ouachita Baptist for Kiehl Frazier to begin moving forward
Auburn to Arkadoo
Hailed as the next Cam Newton at Auburn, it took a step back to D-II Ouachita Baptist for Kiehl Frazier to begin moving forward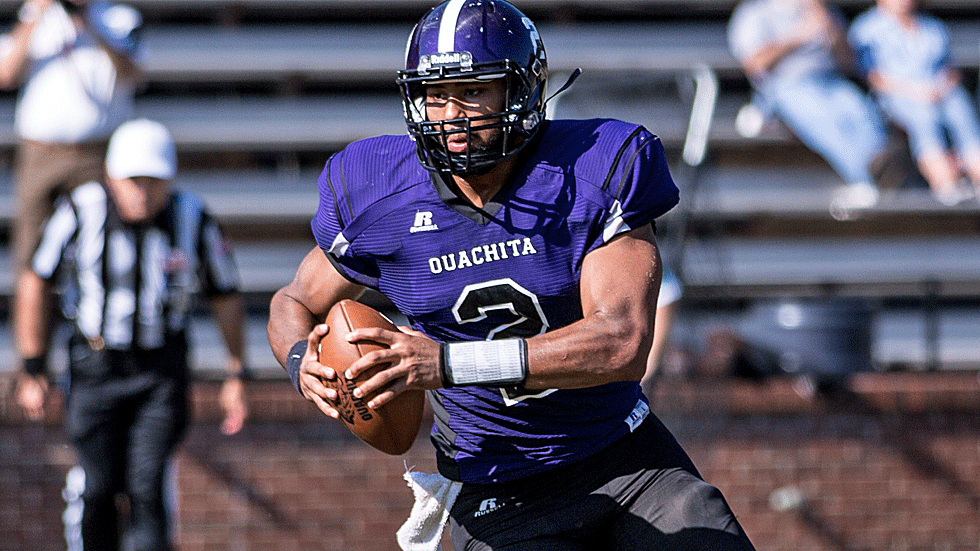 Arkadelphia, Ark.
Dana Marquez is waiting for the call. It's the one the Auburn equipment manager always gets.
Scattered in and around his desk are scores of keepsakes -- lettermen's jackets, traditional Auburn letterman's blankets, watches. Yes, even championship rings. Gilded, ornate orphans -- all left behind by those who earned them.
Players graduate, leave early for the NFL or just leave early, period. Such mementos are the detritus of a modern athletic society.
Used to be, a letterman's jacket was a prized possession. Big Man on Campus and all that. Marquez recently got a call from a 2004 Tiger, 10 years after he'd been a part of the undefeated SEC championship team that got shut out of the BCS title game. His ring was still unclaimed.
A former Auburn golfer called from Switzerland wanting his blanket. A $50 shipping charge later it was on its way.
Those were easy. It gets tough when they call from as far back as the 1987 SEC championship team. In that case, Marquez had a new ring made.
"They always end up getting picked up," he said. "It's just a matter of time."
Marquez knows sooner or later Kiehl Frazier will be one of those calling. When Auburn's former quarterback-turned-defensive back-turned receiver is asked about the whereabouts of his 2013 SEC championship ring, he's like all the rest who use Marquez as a lost-and-found.
"I haven't picked it up yet," Frazier admitted, 10 months and 550 miles removed his former school, an SEC title, and the ring that went with it. "I bet Dana still has it. I haven't seen it at all. Right after the national championship game I came down here."
Here is Arkadelphia (Arkadoo, they sometimes call it), a slow, sleepy Arkansas town 30 miles from Hot Springs, an hour and change from Little Rock, and light years from big-time football. Here is Ouachita Baptist University, a tiny private school that has to share space in a town of 10,000 with fellow Division II football power Henderson State.
Here is Frazier's current football home. He transferred in January from Auburn for a do-over, a thorough reconditioning. And he only had one year to do it. A four-star Parade All-American and USA Today's 2010 national Offensive Player of the Year, Frazier was the guy who was supposed to replace Cam Newton. Instead, he became the can't-miss prep prospect who didn't pan out.
"I feel like I let Auburn down, let myself down," Frazier said from Ouachita's modest meeting room, adjacent to an equally modest weight room. "I kind of isolated myself, didn't want to talk to anybody."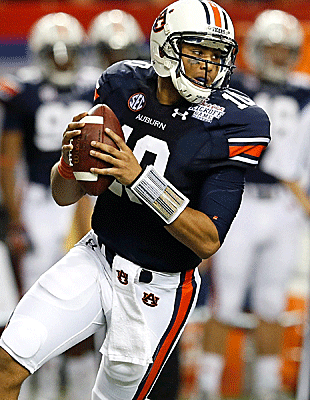 Kiehl Frazier lost his starting job at Auburn after five starts. (Getty Images)
In three years at Auburn, Frazier made just five starts at quarterback. He lost his job during the Tigers' disastrous 2012 season in which they went 3-9 and winless in SEC play. In 2013, two weeks into a four-way quarterback competition, he was moved to safety. He also dabbled at wide receiver, catching just one pass, and defensive back. He never cracked the starting lineup.
"I was so focused on going to Auburn and trying to follow in Cam's footsteps," he said, "because everybody told me that's what I was supposed to do."
As it turned out, Frazier was about as far from Heisman winner Newton as Ouachita Baptist is from the SEC. It's putting it kindly to say Frazier never panned out. On the Auburn campus, they said much worse.
"Boos, emails, going to class and people not talking to you," he recalled. "It's something you have to deal with."
In the end, the winner of that four-man QB battle was Nick Marshall, who arrived after spring practice in 2013 and promptly became everything Frazier was supposed to be. It was Marshall who helped Auburn beat Alabama in the famous "Kick-Six" game. It was Marshall who won that SEC title. It was Marshall, the dual-threat QB, leading the nation's No. 1 rushing offense back to the national title game.
Meanwhile, Frazier landed here for his senior year, arriving in Arkadelphia within a week of Auburn's loss to Florida State in the Rose Bowl, taking the two-lane Highway 67 into campus. In January, Frazier, plopped down in one of the two black luxury chairs snug by OBU coach Todd Knight's desk, laid it on the line.
"I just want a chance," Frazier said.
"You'll get that," Knight told him. "But here's what you have to do …"
Lead.
Be on time.
Get your chin off your chest.
Frazier did that. All of it. Within four months, he'd won the starting job out of spring ball. Within six months, he was working at the local Exxon, sometimes pulling a 12-hour shift, committed to earning both rent money and bonding with his teammates over the summer.
Summer school came out of his pocket, too. The Tigers' home, Cliff Harris Stadium, cost $3 million less than what Nick Saban earns in a year. In Division II, 36 scholarships are split up among a roster of 100. Full rides are a rare luxury for anyone.
But none of that mattered to a humbled Frazier. After the glitz and glamour -- and pressure -- of the SEC, Ouachita Baptist became a comfortable finish line.
If I get a shot at the [NFL], that's a main goal. If not, I'm going to play somewhere.
It's not pure coincidence that he wound up here. Kiehl's half-brother, Jed Beach, is a sophomore offensive lineman at OBU. They spent the summer working out and floating the nearby Caddo River wondering what could have been, and what, on some level, could still be.
"The last couple of years [at Auburn], you could tell he was working hard," Jed said. "But it was wearing on him."
After Frazier put up over 4,000 yards of offense and accounted for an astounding 64 touchdowns as a high school senior at the powerful Shiloh Christian in Springdale, Ark., Ouachita offered the national top-five quarterback a scholarship. There was no real chance of getting him at the time. But the door was left open.
"If anything happened," Knight recalled saying at the time, "we'd love to have Kiehl. Life's about change."
Frazier's size, speed and arm stood out from the start in Division II -- after all, there aren't many SEC-level players at a school that only recently paved its stadium parking lot. But that stuff no longer matters so much to a humbled Frazier. He wants a gold ring this time. A gold ring for a conference title he actually had a hand in earning.
That's probably not going to happen given the school's budget -- the gold, that is, not the conference title. Behind three touchdowns from Frazier, Ouachita won that outright last Saturday against Henderson State in the famous Battle of the Ravine. The rivalry isn't exactly Ohio State-Michigan, but in these parts it's not far off.
And so, after four years of upheaval, Frazier is getting a taste for the tangible value of a championship. In beating the hated Reddies, Ouachita clinched the Great American Conference title and a Division II playoff spot. Frazier has the Tigers 10-0 for the first time in program history, which dates back more than a century.
Still, don't call what Frazier's doing a comeback. That would suggest there was something to come back from. Yes, Frazier's career began somewhat auspiciously at Auburn, where as a freshman he rushed for a pair touchdowns in a Chick-fil-A Bowl victory over Virginia. But it was downhill from there. Frazier threw only 128 passes in three seasons at Auburn – including two touchdowns and 10 interceptions.
Among the sea of iPhone flashes at the BCS title game last January, Frazier, who never could've imagined the heat inside Cam Newton's shadow, who was suffering from a complete crisis of confidence, melted into the sideline.
"I felt like I was rooting more for my teammates than I was for myself," Frazier recalled.
The Kick-Six? Frazier was there, just not there. A year ago this month, he was almost a Zelig-like figure in the background witnessing college football history. He could easily have been part of that history. Frazier had been part of the field-goal block unit, "but I wasn't in on that."
"I was [standing] behind Coach Malzahn," he recalled. "Hearing him make the calls."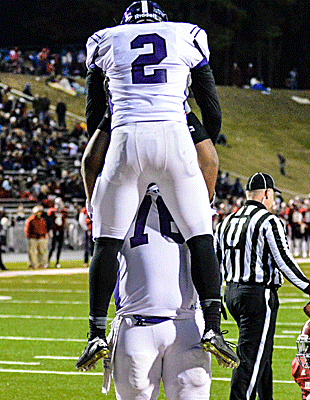 Frazier posted three TDs in a win over rival Henderson State.
From there, to the SEC title game, to the BCS championship game, "it was really like a movie seeing the flashing lights."
A movie Frazier felt like he had to pay to see.
The Battle of the Ravine? Now we're talking. The rivalry with Henderson is one of the most bitter in sports. You just don't know it.
The schools are across the street from each other. Students take classes at either's university. From Ouachita's Cliff Harris Stadium you can see Henderson's Carpenter-Haygood Stadium -- and vice versa.
They call it the shortest road trip in college football. Henderson students once kidnapped the OBU homecoming queen. The week of the game the schools guard against pranks by taping plastic trash bags up on any sign, landmark or fountain that could potentially be defaced.
"This is the Iron Bowl of Division II. This is the game," said Knight. "Even though [Frazier] hasn't played in this game," Knight added in the days leading up to last Saturday's 41-20 win, "he kind of has."
Knight, a Division II lifer who came to OBU in 1999 and stayed, has a history of reconditioning quarterbacks. Lance Parker transferred to OBU from Vanderbilt and set the single-game passing mark in 2008. Eli Cranor landed here from Florida Atlantic and set the quarterback total offense record in 2010. Casey Cooper came from Central Arkansas where he played baseball to set the quarterback rushing record in 2011.
In Knight's balanced offense, Frazier has not been spectacular -- finishing 97th in Division II passing and 62nd in total offense. But perhaps that's the key -- competence rather than expected brilliance -- that has unlocked Frazier's potential, whatever that ends up being.
"If I get a shot at the [NFL], that's a main goal," Frazier said. "If not, I'm going to play somewhere."
However it turns out from here, Frazier's legacy in Arkadoo is stamped. The castoff from Auburn will always be remembered here for beating the cross-town Reddies. On one rural, southern Arkansas afternoon, Frazier etched his name into this rivalry's history by throwing for 177 yards and accounting for three touchdowns -- dutifully taking his place in the football lore of a 128-year old liberal arts school of 1,500 students.
"This," Knight said, "was meant to be."
Ouachita AD David Sharp, who fund-raised the $4 million to rebuild the new stadium, who is positively giddy about that new paved parking lot, agrees with Knight. In a proud moment bragging about the climate-controlled press box with its own ice-maker, he is asked if the 2014 season would have happened if Kiehl Frazier hadn't showed up.
"You don't know," Sharp said mulling over the concept. "Probably not."
Sharp would know. He's been around OBU forever. Played and coached here, following in his father's footsteps. He was here, in fact, when Gus Malzahn was here. Wait, Gus Malzahn was here?
Sure was. The Auburn coach, in fact, traveled a similar path to Frazier's, beginning his playing career as a walk-on at Arkansas before transferring to Ouachita Baptist -- if only for a semester. Riding to lunch in Sharp's pickup, the AD recalls a story.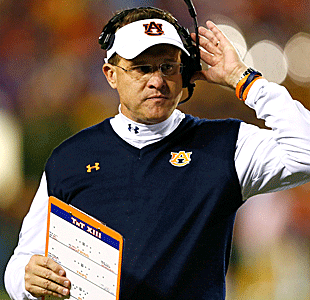 Long before his former quarterback arrived there, Gus Malzahn played briefly for Ouachita Baptist. (Getty Images)
"Gus is a receiver," Sharp reminisces. "He goes to catch a ball and one of our defensive backs gets him. His shoulder is not separated, it's dislocated."
The local emergency room couldn't handle the injury. The way he tells it, Sharp had to drive Gus to Little Rock. On the way, Malzahn -- doped up on pain medication -- went to sleep. His shoulder popped back into place.
When he wakes up, young Gus recovers and eventually crosses the ravine to play at … you guessed it ... Henderson State. Indeed, the connections in these parts run deep.
So when it came time for Frazier to make his move, a support system was in place. Auburn connections. Springdale connections. Though Frazier didn't turn out to be the next Cam Newton, Malzahn wanted to help his former player. He knew what he had in him.
"Todd, I think you're going to be thrilled," Malzahn told Knight at January's coaches' convention. "He's a good player. Kiehl just needs a chance."
And in that moment it was done. Malzahn signed off. Knight grinned. A prospect transitioned down -- but not out.
A month after earning an SEC championship ring without breaking a sweat, a few days after watching the BCS title game from the sidelines, Frazier packed up his life and headed those 550 miles to Arkadoo.
Dana Marquez didn't even get a chance to say goodbye.
"If you talk to him," Auburn's equipment manager said recently, "tell him to call me."