Remembering "Kick Six"
One year later, the effects of the one of the wildest finishes in college football history are still being felt
Remembering "Kick Six"
One year later, the effects of the one of the wildest finishes in college football history are still being felt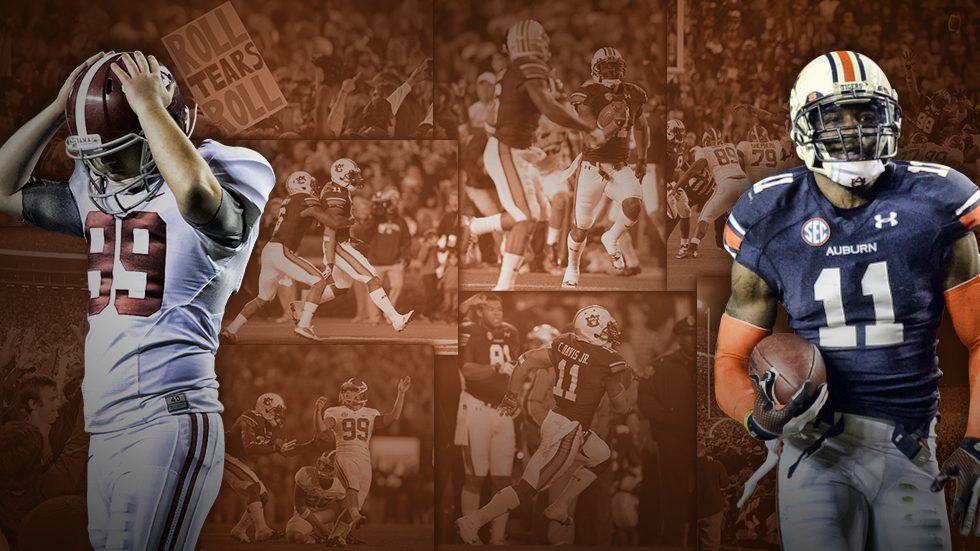 AUBURN, Ala.
No one could quite grasp what they had just seen play out at the Iron Bowl on Nov. 30, 2013. It was something more than improbable. Right up against the edge of impossible. And not a single Auburn fan wanted the moment to end.
So, as they lingered and partied on the field, they decided to reenact history. They decided to be Chris Davis.
Countless fans caught a make-believe Alabama missed field goal in the end zone, briefly headed right, veered back left, tip-toed down the sideline, and finally collapsed in the end zone after 109 yards. At the time -- given the national title implications, the context surrounding this bitter and forever-altered rivalry, the bizarre set of circumstances that had to play out perfectly -- we thought we might never see a wilder finish to a game. And we may not.
Consider that before the Kick Six, over the past four decades of FBS football, a field goal had been returned for a touchdown only three times -- California's Don Guest vs. Washington State in 1966; Clemson's Richie Luzzi vs. Georgia in 1968; and LSU's Odell Beckham vs. UAB in 2013.
"After the season was over and you hear people comparing [the Kick Six] to some of the top plays in the history of college football, that's really the first time you think it was a pretty special play," Auburn coach Gus Malzahn said.
How special? Some rabid Auburn fan will own Malzahn's sweater vest and turtleneck he wore at last year's Iron Bowl. Malzahn donated his clothes to Managers on a Mission, which funds religious mission trips for student managers, and ESPN.com estimated the clothes could sell for $20,000 or more when they're auctioned next month.
Here's the thing about the Kick Six: It wasn't just the improbability of the play, but the significance of it. Courtesy of Davis' return, it was Auburn, after spending so many years as the little brother in the state, that came out on top of the first winner-take-all Iron Bowl for the SEC West championship. It was Auburn -- not Alabama and its burgeoning dynasty -- that was marching on to play for a national title.
The pinball effect that led to the outcome only made the play crazier, as even one changed variable could have, and likely would have, altered history in a different way.
What if Nick Marshall hadn't thrown the tying touchdown, on a play that Malzahn agrees has been undervalued by history, with less than a minute to play? What if Alabama running back T.J. Yeldon hadn't been knocked out of bounds at the end of regulation? What if Nick Saban hadn't asked, successfully, for one second to be put back on the clock? What if Malzahn, at the suggestion of Auburn assistant coach Charlie Harbison, hadn't decided to put Davis back in the end zone for a possible return?
Thankfully for Auburn fans, those questions will never have to be answered. Everything broke right, and history happened.
"I got a text one night from my brother about a month ago at 11:30 and all it said was, 'He just ran it back again,'" former Auburn athletic director David Housel said. "You don't really have to look for the play because you can find it anywhere. Every time you see it, it brings joy to your soul and warmth to your heart."
One year later, as another edition of the Iron Bowl looms this Saturday in what will be one of the biggest revenge games ever, this is a sampling of the lives that were forever changed by a single play that still deeply resonates in Auburn.
The YouTube Sensation
Jason McKinney still can't believe how a 35-year-old paralegal in Huntsville, Ala., received so much attention over his celebration of Davis' touchdown.
Many Auburn fans shared their celebrations online, but few went viral quite like McKinney's video, which shows him basically losing his mind in front of the TV, doing a backflip and tackling his son in pure, unabashed joy. McKinney's wife, Sheena, posted the video on YouTube for a friend to see how crazy her husband acts during sports events.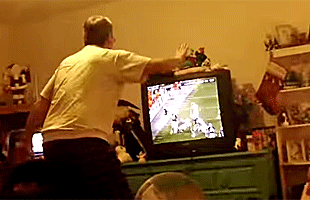 Auburn fan Jason McKinney gained national attention for his reaction to Davis' return.
It all would have ended there, but then ESPN called and McKinney appeared on College GameDay. News media from all over interviewed him. The Jimmy Kimmel Show asked McKinney to appear, but he said he turned it down due to nerves.
A random person on Facebook friended McKinney and gave him two free tickets to the 2014 Auburn-Arkansas opener. "Just straight up gave them to me," he said. "I couldn't believe it."
In August, McKinney visited Auburn's team after being invited by Malzahn and briefly spoke. "Nick Marshall reaches out his hand and says, 'I'm Nick Marshall,' and I'm just about freaking out because I'm shaking Nick Marshall's hand," McKinney said.
The backstory of McKinney's video stems from one game earlier, which of course was Auburn's other miraculous finish to defeat Georgia. With Auburn up big on the Dawgs, McKinney's 12-year-old son told his dad the game was over. McKinney fussed at his son that he had jinxed Auburn, and sure enough, Georgia rallied to go ahead. After Auburn won on a tipped-pass touchdown, McKinney tackled his son and apologized.
"People asked if me if I staged the [Iron Bowl] video," McKinney said. "If I had staged the video, I think I would have said something other than my wife's name over and over again. There were a few people when my wife posted it questioning it. We cut the comments off. It doesn't matter to me. I know the truth."
McKinney doesn't care if people laugh at how he reacts during games. His son liked it so McKinney decided to keep the video up.
When Auburn won the 2010 national championship on a last-second field goal, McKinney ran outside and made snow angels. When his favorite baseball team, the Atlanta Braves, won the 1995 World Series, McKinney ran outside screaming at the top of his lungs.
"It all got started for me as a sports fan in 1992 with Sid Bream sliding home," McKinney said. "I had a similar reaction to what you saw in the YouTube video. You watch these games and you never know when you're going to have a moment like in the Iron Bowl, and when you do, it's surreal. I'm glad my son got to see something like that."
Life is a little more normal now for McKinney, who works for an intellectual property attorney, making sure filings with the US trademark office get done. He collects everything related to his moment of celebrity.
"I'm trying to keep everything so I can give it to my son and daughter when they have kids so they can show how their grandpa reacts to watching an Auburn game -- assuming I live that long," McKinney said. "I might have a heart attack with Auburn games."
The Broadcaster
For Auburn radio play-by-play man Rod Bramblett, Davis' 109-yard return wasn't just a defining moment for Auburn fans; Bramblett believes his call helped validate him with the fan base a decade after he replaced legendary announcer Jim Fyffe, who died at the age of 57.
"Jim was old school, and while we've been fortunate to call SEC title games and national championship games, people still feel connected to Jim, as well they should," Bramblett said. "The Auburn fan base has been terrific to our crew. But there's that lingering shadow. They'll revert back to, 'how would Jim call it?' I'm the same way."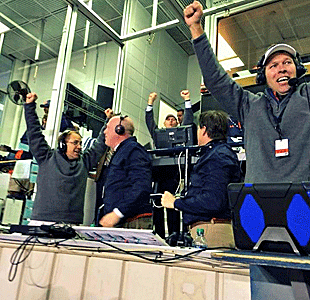 Play-by-play man Rod Bramblett (second from left) and the Auburn radio crew celebrate the Kick-Six touchdown. (Auburn athletics)
In the aftermath of the Iron Bowl call, Bramblett felt a new connection with Auburn fans. They would text him, send him emails or tell him at rotary club speeches how much they appreciate that Bramblett took the position and made it his own.
"That meant a lot to me," Bramblett said. "Because of the national attention, there's no doubt it helped me professionally. To some degree, that play is still lingering and it's all people want to talk about."
As a rule, most broadcasters don't like listening to their calls again. Bramblett can't stand to listen to his call from The Prayer in Jordan-Hare. "I just thought that I was a babbling idiot," he said.
But he can listen nonstop to the Alabama call. The play unfolded at a more deliberate pace and built to a crescendo. Bramblett even identified beforehand that Davis could return the kick if it fell short. There's a point early in the call when color analyst Stan White screams, "Oh my God!" and then he goes quiet. The engineer cut off his microphone.
"He could tell Stan was just about ready to self-combust and he wisely knew if he left Stan's mic up, you probably wouldn't hear what would happen with the rest of the play," Bramblett said. "What's cool is if you listen real close in a quiet room, you can still hear Stan in the background and everyone else around us going crazy."
Bramblett's call got replayed constantly around the country, including on Fox News and ABC News. On eBay, there are framed items with just the words of Bramblett's Iron Bowl call. Former Colorado coach Gary Barnett, who attended the Iron Bowl last year, said right after the game -- perhaps jokingly, perhaps seriously -- that Bramblett should copyright his call immediately and sell it.
"Once the words come out of my mouth, they don't belong to me anymore. That's OK," Bramblett said. "Yeah, it would be nice to get a little bit of money for every time they play it. I'd be able to retire. But that's not a priority for me at all. The aftermath of that call has helped my career in so many ways."
The Fan Fighting Epilepsy
Lacking tickets to last year's Iron Bowl, Charles Belvin and his 21-year-old son Trey got an offer from a friend to be ushers at the game. So there they were, standing in the front row of the upper deck around the 35-yard line, when Davis ran into history.
"At the time he caught that kick in the back of the end zone, we had no idea what he was doing at that moment would affect our lives so much," Charles said. "I have no other way to put it other than that. You just don't realize what we've been through with our son."
Trey suffers from a rare form of epilepsy that could take his life. Tests have been done in Cleveland and will continue. Eventually, he will need brain surgery. The costs have been adding up for his family in Springville, Ala., including more than $7,000 for Trey's first trip to Cleveland. The family has spent 13 weeks in Cleveland on three different trips.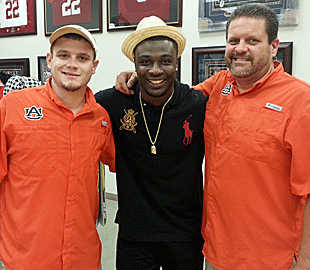 Chris Davis stands with Trey Belvin (left) and Charles Belvin (right) at Davis' autograph signing.
After the Iron Bowl, a friend of the family who sells Alabama and Auburn apparel secured Davis to do a benefit autograph signing. The fundraiser raised $3,500 in about five hours, according to Charles.
"My wife's an Alabama fan and when she met Chris she said, 'Let me tell you something, I'm mad at you for returning that kick,'" Charles said. "And he looked her right in the eyes and said, 'I know, sorry.' He doesn't talk about the play unless you bring it up. He realizes he's going to be the face of Auburn for a long time. He's one of the most humble players I've ever met."
The story could end there -- star player does a fundraiser for sick young man -- and it would have been enough for the Belvin family. Except it doesn't. Davis has promoted epilepsy awareness. Davis stays in touch with Trey. They usually talk or text about every two weeks, even with Davis in the NFL.
"He texted me back 15 minutes before a kickoff with the Chargers," Trey said. "I figured he wasn't going to reply after I told him good luck. Every time I text him he makes the conversation about me. We never really talk about him."
Trey used to have night terrors growing up, but they never got diagnosed until his senior year of high school. Doctors believe the epilepsy stems from a concussion Trey suffered playing football at the age of nine. That's a difficult fact to accept for a father who loves football. If he ever has grandchildren, Charles is no longer certain he would want them to play football. Trey, on the other hand, brushes off the connection.
"I know it was kind of a freak accident," he said. "Injuries do happen like that. We didn't think the injury was nearly that big. Even if I had known back then, I'd still be a huge football fan."
Trey has small seizures about once a week and large seizures once a month. They started his senior year of high school and now prevent him from working, attending school or driving. Someone needs to be with him 24 hours a day.
"He's just a normal kid who wants to be well," Charles said. "When [Davis] caught that kick in the back of the end zone, I turned to Trey and told him he's going to return this. I guess it was a lot of hoping."
The Stadium Turf Director
The remnants of the trampled holly bushes at Auburn's Jordan-Hare Stadium are still apparent a year later. The bushes near the student section are gradually growing back, but the evidence of where fans jumped onto the field and stampeded over prickly-leaved holly bushes like cattle to celebrate Davis' touchdown clearly remains.
It would have cost Auburn $10,000 to replace all of the damaged hollies. Instead, the university decided to do renewal pruning, cut out all of the dead branches, and fertilize and water them so the bushes will come back.

The bushes in the student section were destroyed in the Kick-Six celebration.
"We thought it would be kind of nostalgic to grow back so when fans come they can see the hollies getting new growth and they remember, 'Hey, I was at that game. I remember running through the hollies,'" said Eric Kleypas, Auburn's director for turf and landscape services.
A funny thing happened as the bushes got cut down: Remnants of Auburn's past literally surfaced. The bushes, brought in years ago by former coach Pat Dye, were so thick that decades of old, weathered objects were found inside them.
The past and present came out of the bushes: Ticket stubs from the 1970s and '80s. Giveaway T-shirts and cups. Plastic footballs with advertisements. Soles of shoes. Costume jewelry. Pieces of eye glasses. Makeup. Keys. Cell phones.
The most startling discovery? The human ashes that were found near the 40-yard line on Auburn's sideline. Ashes immediately kill grass so Auburn cut out that section of the turf and replaced it.
Still more alive than Alabama's 3-peat hopes MT @auburnturf cremated remains dumped on field after #ironbowl2013 pic.twitter.com/fYI4EugRGu

— Nate the Sports Guy (@HumbleSportsGuy) December 2, 2013
Kleypas said he assumes the remains were human in part because there was social media chatter from people saying they know who the ashes belonged to, but no one is certain of the identity. "It happens two or three times a year," Kleypas said.
Wait, what? Fans leave human remains on Jordan-Hare Stadium's field that often each year?
"We talked to some other guys in the SEC and they have the same problem," Kleypas said. "What's the thought process in your head to say, 'I'm going to bring this to the game just in case?' It started happening a lot more after someone tweeted about this last year. It's been happening probably as long as the field has been here, but nobody had ever really heard about it. It's kind of creepy."
The Trademark Licensing
Within hours of Davis' touchdown, Auburn trademark licensing manager Jason Harbison and other staff members sent emails to licensees wanting to capitalize on the play with memorabilia. A key message relayed by the licensing department: The buzz at Toomer's Corner focused on Saban getting one second added back on the clock.
The theme became so popular that Auburn put out a licensing video this year encouraging fans "it only takes a second" to check if they're buying licensed products. Auburn has also used the slogan to promote the entire university.
Auburn made approximately $186,000 in Iron Bowl royalties last year, easily the highest in school history off the Alabama game. That might not sound like much money. But consider that Auburn's previous record for an Iron Bowl was $52,000 in 2010, when Cam Newton led a 24-point comeback to beat Alabama during the Tigers' national championship season.
"It was a good comeback," Harbison said, "but there wasn't a defining moment like the Kick Six when Alabama was a dynasty."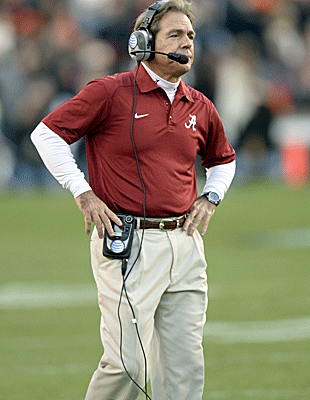 Had Nick Saban not asked to put one second back on the clock, the Kick-Six never would've happened. (USATI)
"Kick Six" has come to characterize the title of the Davis touchdown. Auburn looked into filing a trademark on "Kick Six" but determined very few products actually used that name. Most of the products used "Kick, Bama, Kick," a nod to the famous 1972 "Punt, Bama, Bunt" game, but Alabama owns the trademark "Bama."
"To sell something, you almost like having that little jab in there mentioning the opponents' name, and it would be the same way if Alabama won," Harbison said.
The top-selling shirt said on the front, "Hey Bama, You Need a Second? Be Careful What You Wish For …" The shirt's back read: "A Second is All We Need," and included the score and "Kick, Bama, Kick!"
As part of a joint Iron Bowl licensing program, Alabama had to approve the shirts, just like Auburn would need to if the roles were reversed. Alabama and Auburn split the pre-game royalties and the winner of the games collects all of the post-game royalties since it's generally the winning team's fans that buy the products.
"I told [Alabama licensing officials] you're going to get a lot of this 'Got a Second?' and I'm sorry and I'm sure we'll return the favor," Harbison said. "At some point in this rivalry, we're going to be on the short end. Probably sooner rather than later."
The Deceased 'Punt, Bama, Punt' Star
To appreciate the significance of Auburn's win last year, you have to understand Iron Bowl history. A younger generation of Auburn fans had heard stories for years from their parents and grandparents about the aforementioned "Punt, Bama, Punt" game, but had never experienced a moment like that themselves.
Back in 1972, Auburn, as a 16-point underdog to Alabama, erased a 13-point lead in the final five-and-a-half minutes. But it wasn't the fact that the Tigers staged such a dramatic comeback that made this game so historic -- it was how they staged the comeback, with Bill Newton blocking two punts, and David Langner running both of them back for touchdowns.
After Davis' touchdown last year, text messages flooded Langner's phone telling him this would now be known as the "Kick, Bama, Kick" game. The moment was eerie to Langner given the striking similarities.
Consider that both the 1972 and 2013 Auburn teams entered the Iron Bowl with one loss. Both Auburn teams' losses came at LSU. Both Auburn teams were double-digit underdogs to Alabama. Both Auburn teams ended the national championship hopes for the Tide.
And in the ultimate coincidence, Davis and Langner both graduated from Woodlawn High School in Birmingham, Ala., as did former Alabama punter Greg Gantt, whose punts got blocked in "Punt, Bama, Punt."
Langner passed away from cancer on April 26 of this year. Before he died, Langner described to AL.com the challenges Davis could face for being beloved in a state due to one Iron Bowl moment.
"I'm going to tell you, it's going to be hard on him," Langner said a day after last year's Iron Bowl. "It's not going to be good. He has to learn to be humble. If you've never had a reason to be in that situation before, it's tough. You make a lot of mistakes. You offend a lot of people. I certainly did and I regret it."
Gus Malzahn said he thinks Davis and Langner spoke about their shared experiences. Brad Langner, David's son, isn't certain the conversation happened.
A year after the play, Brad Langner describes his father this way: "He was a really wild and crazy kind of guy and probably one of the meanest players to ever play for Auburn. Funny thing is people would tell me, 'Your dad used to be crazy,' and I'd laugh and think, 'You don't understand what kind of crazy it is. He still is.' He was geared up a little different than most people. As anyone would do, he started retrospecting on all that has happened. I guess he grew up or he grew old."
David Langner loved being remembered for "Punt, Bama, Punt," and told AL.com last year, "Anything in life you can be remembered for that you want to be remembered for is a gift not many people have." Brad knows his dad loved doing the speeches and the autograph shows associated with the plays, but thinks David probably wanted to be recognized for more than those two touchdowns.
"At the time, Dad had the most yards off interceptions at Auburn and he was around second in punt returns," Brad said. "He had a lot of stuff he had done and he was a heck of a defensive back, but [those two] plays kind of overshadowed his career. I bet you that's something Chris Davis feels, too."
The 'Kick Six' Star
One of Chris Davis' agents is on the phone. He apologizes. He tried to get Davis to be interviewed for this story. But Davis is quiet, he isn't interested in talking, and he just wants to focus on his NFL career.
"It's do or die cause there ain't no plan B," Davis tweeted in July during NFL training camp as he tried to make the San Diego Chargers' 53-man roster.
There's no getting around it: Davis will forever be linked to, and probably in large part defined by, this all-time play. In a lot of Auburn fans' minds, he'll forever be that 23-year-old kid zig-zagging across Jordan-Hare Stadium. But time must go on. Davis has a life to chase, too. He's a human, not a statue.
"Chris is blessed that he was part of the play and had the opportunity to make a big play for the team, and he's always proud that he made a difference," said Auburn cornerback Jonathon Mincy, who remains friends with Davis. "But I just know he really has passion playing cornerback. He's gifted returning the ball. That one play doesn't really define him."
Davis was shocked when he wasn't drafted, but he stuck with it and made the Chargers' 53-man roster as a cornerback and kick returner. Through 11 games, Davis had started one game, totaling 12 tackles. He's also broken up one pass and forced a fumble, and he leads the team with 26.3 yards per kick return.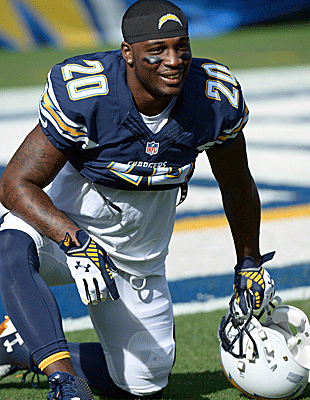 Chris Davis wants to leave the Kick-Six in the past and focus on his NFL career. (USATI)
Davis, who won the 2014 ESPY award for sports play of the year, hasn't completely shied away from capitalizing off the play. Davis has done additional autograph shows in Alabama other than the one for Trey Belvin; during a two-hour show last March in Huntsville, Ala., Davis charged $39 for his signature. Also, the helmet Davis wore in last year's Iron Bowl sold for $47,190 at an auction in early November, ESPN.com reported. Davis received his helmet from Auburn as a senior gift, though it could not be confirmed how the auction house ended up with it.
"He knows that in the state of Alabama life will never be the same there," said Ellis Brown, who was a high school assistant coach for Davis. "He don't let it get to him. A lot of people relish in that and live in that, but he don't. He said there's nothing he can do but let others shine."
To reach this point in his life, Davis first had to survive the projects growing up in Birmingham, Ala. When Davis was 2 years old, his father was murdered. Ralpheal Ramon Bimbo is serving a life sentence for his role.
"I guess you can say I'm [Davis'] biggest fan, and he doesn't know it," Bimbo wrote in a letter last spring to the Montgomery (Ala.) Advertiser.
Said Brown: "[Bimbo] followed Chris. We talked. He's an Alabama fan and said, 'I'm glad the dude made it.' [The murder of Davis' father] might have been incentive [for Davis] to work hard, but that doesn't bring back his father."
Today, Davis is the father of a young boy who lives in Birmingham.
Malzahn's message to Davis: "The Lord has given you great influence over this play, and I think Chris understands that."
Shortly after the Iron Bowl last year, Davis' high school head coach, Bruce Breland, asked Davis if he realizes the magnitude of his touchdown and that it will be remembered forever. Davis simply smiled and replied, "Yes, sir."
"I'm sure he's had to come out and talk so much to the media and the general public because everybody has wanted time with him," Breland said. "That's tough for someone who was always quiet and shy all his life. And each year, the aura will only grow from the play."
Only one year has passed.
That leaves a lifetime for Auburn to remember.