House of Johnny and Oil
How Johnny Football and $100 barrels of oil fueled Texas A&M to create a college football cathedral.
House of Johnny and Oil
How Johnny Football and $100 barrels of oil fueled Texas A&M to create a college football cathedral.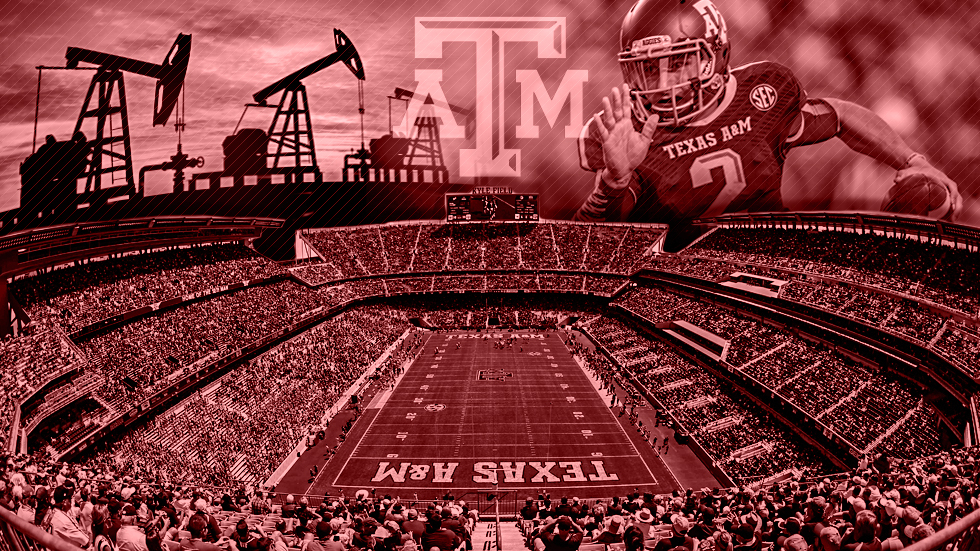 COLLEGE STATION, Texas -- Once you get past the glittering raindrop chandelier, the spiral staircase and the grand piano entering Kyle Field's Founders' Club, meeting a millionaire West Texas oil man seems almost routine.
That is, if your game-day routine includes a visit to the gilded stadium suite of Frosty Gilliam Jr.
Forget the surroundings for the moment. The owner of AgHorn Energy -- pride of Odessa, Texas -- doesn't want to talk oil, natural gas or the Aggies at the moment.
"We buy music royalties," Gilliam, Texas A&M Class of 1980, said of his side business. "It's just like the oil business."
Except less volatile. First, there are the actual recordings. iTunes came along to create a secondary market. Those singing greeting cards? Those have been a third-generation bonanza.
"Every time somebody plays a song -- three cents," Gilliam said gleefully.
The pennies add up. Gilliam and his partners own the catalogs of George Strait; Big and Rich; Rascal Flatts; Roy Orbison; Earth, Wind and Fire; and even some Jennifer Lopez. Think about that the next time you hear the sporting staple "Celebration" by Kool and the Gang.
Frosty's got that one, too.
"We put about -- almost -- 30 into buying catalogs," Gilliam said.
Wait, $30 million?
"Yeah."
It is at this moment that you begin to realize how the largest college sports facility renovation in history came to be. How a university dripping in tradition decided to double down on the undying spirit of its supporters. Texas A&M put almost half a billion dollars in upgrades into its football stadium just to look and feel (more) big-time.
Our goal is when an opposing team walks out on that field, it's going to be so wild and so intense, literally someone is going to wet their pants.
The new Kyle Field that debuted last month is the end statement of how the confluence of SEC membership, a Heisman Trophy and $100-a-barrel oil convinced Aggies everywhere it was OK to step out of the shadow of big brother down the road in Austin.
Sure, it relied on the Frosty Gilliams of the world to raise $485 million, but it also relied on the rank-and-file Aggie who greets everyone he/she meets the same way, "Howdy." In one massive fund-raising campaign, it mobilized the hearts and wallets of many of the 400,000 worldwide living alumni.
"A&M didn't dream very big until that time," former A&M president R. Bowen Loftin said. "We dreamed incrementally. We dreamed in a way we thought was feasible."
The one thing you can't label Aggies is apathetic. They conduct "yell practice" at midnight before home games. Fifty thousand attended the night before new Kyle Field's debut on Sept. 12. Herds of fans travel to road games, too, and they absolutely will not leave early, no matter what the score. That included a 59-0 skunk job at Alabama last year.
"From the outside looking in, you can't understand [the traditions]," Loftin said. "From the inside you can't explain it. [But] it's hard to find anywhere else."
This rush to greatness -- and ultimately judgment -- came in a flash. A 139-year-old land grant university with an 88-year-old stadium went all in at once. Here's why and how …
Johnny Manziel
The school's estimated economic impact of the charismatic, Heisman-winning quarterback was $39 million during his two seasons. Cash money, baby.
To the Aggie ego, Johnny Football showed that A&M could be great again. Football hasn't won a conference title since 1998, but the instant combination of Manziel, coach Kevin Sumlin and tangible swag made it cool playing, watching and contributing to Aggie football.
If Manziel was a rogue, he was their rogue during two magical seasons from 2012-13. He changed the discussion about what his position -- and the sport -- could be. Dual-threat quarterbacks are all the rage. Since then, Sumlin's recruiting -- if not always his record -- has ridden the momentum.
"People were so willing to invest in the excitement," athletic director Eric Hyman said. "You saw [Johnny] literally become a national phenomenon."
Current starting quarterback Kyle Allen committed during Manziel's playing days. Since his quarterback clutched the Heisman, Sumlin has landed three straight top-10 recruiting classes.
Seriously, who else has a "Swag Copter" that drops out of the sky on Friday nights to watch Texas schoolboy recruits?
Oil
In June 2014, the price for a barrel of oil on the world market reached $100 a barrel. That meant high times in Texas and for the oil and natural gas industries.
An A&M school spokesman said at least 7,000 of those 400,000 Aggie alumni work in the oil and gas industry. Armed with their alma mater's quality education in the petroleum industry they, by and large, are not poor.
In December 2014, the west side of Kyle was taken down and rebuilt to its current state in a few short months. Another A&M educational byproduct, engineering, was also on display.
"Most of the commitments were made before oil had turned down. Because of that, people put aside the necessary funds," said Mark Fischer, CEO of Chaparral Energy and a Founders' Club suite holder. "It is significant because Texas is an oil and gas state."
Timing, then, is everything. But so far, as oil-by-the-barrel has dropped to the $40-$50 range, "we've had next to nothing [in financial commitments] nullified," said Skip Wagner, president and CEO of the 12th Man Foundation, the athletic fund-raising arm.
SEC
A&M's entire athletic outlook changed when it joined the nation's strongest conference on July 1, 2012. The move was as much psychological as it was athletic. The title of Loftin's new book tells it all: "The 100-Year Decision." In moving, Texas A&M resolved to end its relationship with Texas, its long-time Southwest Conference and Big 12 rival.
A&M -- the state's first institution of higher education -- had a proud football tradition, just not as good as that of Texas, the state's flagship university. Loftin became convinced Aggies everywhere needed a new direction in 2010. Then-Texas president Bill Powers -- considering a move to the Pac-10 at the time -- basically patted Loftin on the head.
"'Don't worry, we'll take care of you,'" Loftin says Powers told him at the height of conference realignment.
"You have no idea the amount of self-control I had to exercise at that point in time," said Loftin, now the Missouri chancellor. "He thought he was being nice. The patronization that he expressed was incredible. To hear that from a fellow president absolutely floored me."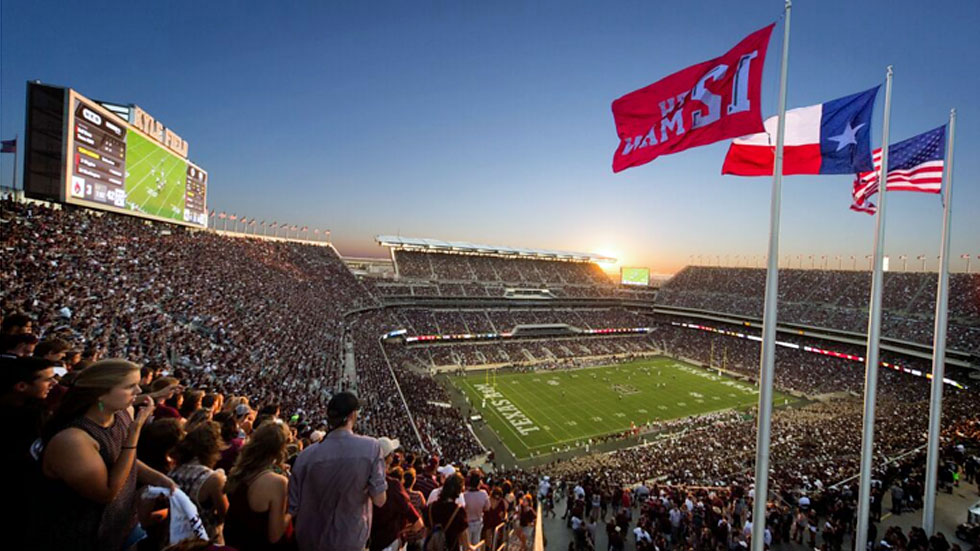 After renovations, Kyle Field officially seats 102,733. (Photo courtesy of 12th Man Foundation)
The SEC move boosted that Aggie ego, telling Texas A&M supporters everywhere that their quirky traditions, their teams, their geography, their money, their eyeballs ... that all of it meant something.
With the SEC in Texas, ESPN was separating and monetizing the portion of the state's 4.7 million cable households not watching the Longhorn Network. Suddenly, the Aggies had their own network. The SEC Network. Heard of it?
"A&M had played little brother to the University of Texas for so long in so many people's eyes," Hyman, the AD, said. "The phrase we used was, 'Not this time. We will not settle.' That was pervasive."
Five months after his school entered the SEC, Manziel won the Heisman. At that point, $250 million had been collected on the stadium renovation.
"Is it the coach? No," Sumlin said. "Is it just Johnny? No. Is it just the SEC? No. It was all those things that made it possible for everyone to say, 'Let's go!'"
The result? An edifice rising out of the central Texas flatland. It's a modern Roman Coliseum, except in this era the gladiators get to watch game tape on the lions while sitting in leather chairs in a theater-like auditorium. The now 102,733-seat Kyle Field is the largest in the SEC. More importantly, it's the largest in Texas.
The statement being made was not lost on Alabama coach Nick Saban when the Tide visited Oct. 17. "You talk about loud," Saban later said on his weekly radio show. "You talk about affecting the game … I hope our fans can hear this because this is the kind of place we should be."
Bryant-Denny Stadium isn't exactly a shack seating 101,821. But the price of playing major-college football may have changed now and forever because of what is going on at A&M.
"Our goal," said Sam Torn, a member of the 12th Man Foundation's board of trustees, "is when an opposing team walks out on that field, it's going to be so wild and so intense, literally someone is going to wet their pants."
Depends were not meant to be optional in college sports. But spending lavishly on facilities is an American tradition that goes back more than a century.
Part of the audacity of the endeavor is for A&M "to become the No. 1 public institution of higher learning in the country," Loftin said.
Can the school become the Harvard of Highway 6? It's doubtful any Ivy League institutions have a stadium that features a finely manicured graveyard for deceased mascots with its own dedicated scoreboard. Multiple collies -- all named "Reveille" -- rest in peace.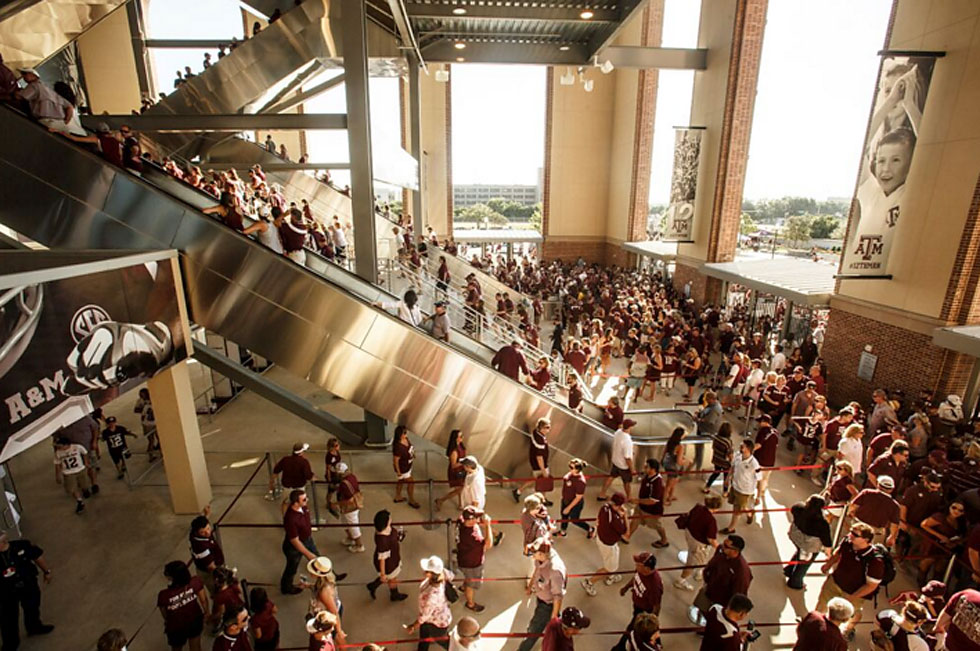 You're not exactly roughing it at a Texas A&M home game. (Photo courtesy of 12th Man Foundation)
All of it matters to those enjoying upgraded concessions at Kyle. It matters to those overcome by the central Texas heat, who can escape to designated, enclosed Cool Zones. It matters to women, who saw a 500 percent increase in the number of their restrooms.
That matters to the thousands of fans who ponied up personal seat licenses for the right to purchase season tickets. That matters to the high rollers like Gilliam and his Kyle neighbors. Some of them have committed $10 million each over 20 years for one those 12 exclusive Founders' Club suites.
Now it's just a matter of football catching up.
"There's some truth to that," Gilliam said.
R.C. Slocum is the winningest coach in A&M history. In 14 years (1989-2002), he won four conference titles, losing just a handful of home games.
"We were coaching our tails off," said Slocum, now 70. "We didn't have great facilities. The SEC was a huge step."
Since Sumlin arrived in 2012, the Aggies have won three consecutive bowls and reaped the rewards of that Manziel Heisman. But the quarterback is gone. The Heisman is encased in a display in the football facility.
On the field, the Aggies haven't been the same since that year. They've gone from 11-2 to 9-4 to 8-5. "My personal fear, challenge -- whatever -- is to be able to sell [the stadium] five years from now, 10 years from now," Wagner said.
Coming off a 26-10 home loss to Auburn, the Aggies (6-3) currently sit in sixth place in the SEC West. That's obviously not what they had in mind when they built this temple of Texas football worship. Consider stadiums of similar capacity that have felt the vacancies that come with slumping football fortunes. This season, Texas is trending to its lowest home attendance since before its stadium was expanded in 2007. Before Butch Jones arrived in 2013, Tennessee's attendance had declined for seven straight seasons, bottoming out in 2012 with an average of 11,000 empty seats in Neyland Stadium.
"The bigger statement is not that it's been built as the biggest and largest, but that it's full…," Sumlin said. "And to keep it that way."
Indeed, keeping this mothership full has already proved challenging. For the first time -- in only the fifth game of its existence -- the new Kyle Field fell 579 short of being filled on Oct. 31 against South Carolina.
This sort of unspoken pressure is on every coach, of course. But when Sumlin's winning percentage could be directly tied to filling the fifth-largest stadium in North America, that has to be a special kind of stress.
The three larger college stadiums on that North American list are home to programs with a combined 10 national championships in the wire service era (Michigan, Penn State, Ohio State).
Texas A&M has one in that time span, 76 years ago.
"We have not reached our ultimate destiny," Slocum said.
Until then, what the Aggies got for their money can hardly be comprehended. Kyle Field's 30,000-square foot Hall of Champions entrance seems like it could house a game itself. A life-size talking avatar of Sumlin on a screen is there to greet you.
The 50-yard line Founders' Club suite of Houston hedge fund manager David Coolidge is so low to the field he can almost hear sideline conversations.
"We're really cuter than that, don't you think?" said SuSu Fischer pointing to the commissioned painting of herself and her CEO husband Mark. Each of the 12 suite owners got one.
All of it is a portrait of momentum, of what it is perceived to take to compete at the highest level. Taken as a whole, Texas A&M may have jumped to the top of the arms race and everything that term suggests.
Sorry, Oregon.
At the Davis Player Development Center strength facility, players can sign in to devices on machines that contain personal workout routines. The Bright Complex football facility is a combination NORAD control room, bright-lights disco and digital hub. There is a barber shop.
The national voices decrying that arms race have been drowned out. Rather, in this free-spending age, you wonder what took A&M so long.
"I'd say you're going to fall behind in this world," said Aggies offensive lineman Germain Ifedi, a construction science major who actually worked on the stadium. "That's what this world is about. Everything is bigger and better. Everybody thinks they can make a better iPhone, a better laptop. You can't stay static. You'll get passed by."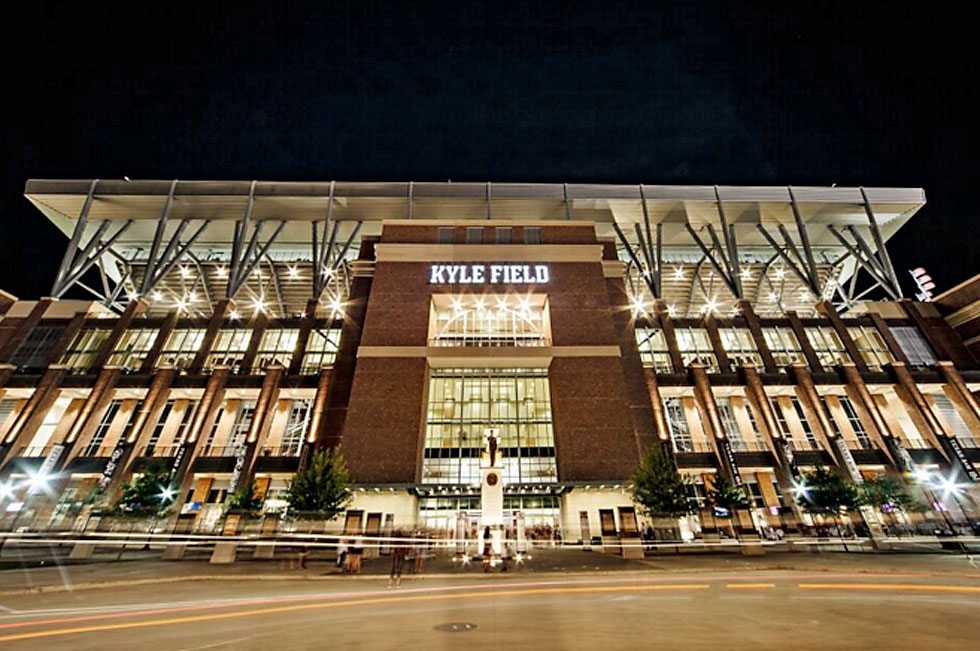 Not a bad recruiting tool. (Photo courtesy of 12th Man Foundation)
When Loftin was an Aggie freshman in the 1960s, the only hint of a railing keeping him from toppling out of Kyle Field's upper deck was a 2x4. When he was promoted to A&M president in 2009, Kyle had expanded to 83,000 seats but fans in the upper reaches of the north end zone seats still had a hard time seeing touchdowns in that end.
Now?
Someone measured the phone data being used at a recent game. It approached Super Bowl levels, according John Sharp, chancellor of the Texas A&M system. That's a huge deal in an age when student attendance -- and their attention spans -- are coveted.
"We don't know of a dropped call yet," Sharp added.
Expanding to become the biggest stadium in the state wasn't the outsized 10-gallon goal it might seem. The stadium design brought to Sharp for approval was asymmetrical -- basically an uneven look.
"It looked like a high school stadium," he said.
That's not quite the way Earl Santee remembers it. Santee is the senior principal of Populous, the Kansas City-based architecture firm that did the project.

"Their pride became really big," Santee said. "They had Johnny Manziel. The crescendo happened after the first year in the SEC. That hit and you could tell their pride was just getting huge."

Santee said he originally pushed for a capacity of 95,000. Once that Aggie ego got done with the concept, the structure that exists today has room for a possible expansion to 120,000
According to Sharp, to make Kyle symmetrical meant adding more seats. There are giant brick towers on each corner of the stadium that suggest more of a fortress than a football house. The end product conveniently was 274 seats larger than Tennessee, 912 more than Alabama and 2,714 more than Texas.
"We had one regent who wanted to go to 110,000," Sharp said. "Our concern is one day we'll have to add onto [the stadium]."
It's the cost of doing business these days. A&M is surrounded by schools/rivals who have ramped up the cost of winning football. Baylor, which plunked down $250 million to build a new stadium, is ranked No. 4 in the country. No. 13 TCU has also renovated its stadium. Houston spent $120 million to erect two-year-old TDECU Stadium. The Cougars are getting national love, ranked for the first time since 2011.
Texas has struggled since playing for the BCS title in 2009. Despite a 100,000-seat stadium, one source told CBS Sports that Texas athletics needs hundreds of millions of dollars in upgrades. A new basketball arena is in the works.
"Some of our physical plant is now somewhat older," admitted interim Texas AD Michael Perrine.
All of it begs the age-old chicken-or-the-egg question: Does athletic success provide momentum for facilities upgrades, or do upgraded facilities provide momentum for success?
"This is a heck of a bold move," Slocum said. "It has some danger in it. We could fall flat on our faces."
Former Texas AD DeLoss Dodds used to say "we are the Joneses" when folks would talk about keeping up with the Longhorns. Now it's all about a multi-million-dollar flow chart to attract top recruits that lead to top performances that lead to full stadiums.
Sitting behind his desk in that swank Bright Complex, Sumlin had to agree.
"If you're going to do the same thing you've always done, it's the definition of insanity, right?" the Aggies' coach said. "How can you expect different results? If you want to compete with the Joneses, you better be up there with the Joneses."