Being Keenan Reynolds
Between orchestrating triple options and joint cyber warfare operations, Navy's Keenan Reynolds may have made himself into an NFL quarterback.
Being Keenan Reynolds
Between orchestrating triple options and joint cyber warfare operations, Navy's Keenan Reynolds may have made himself into an NFL quarterback.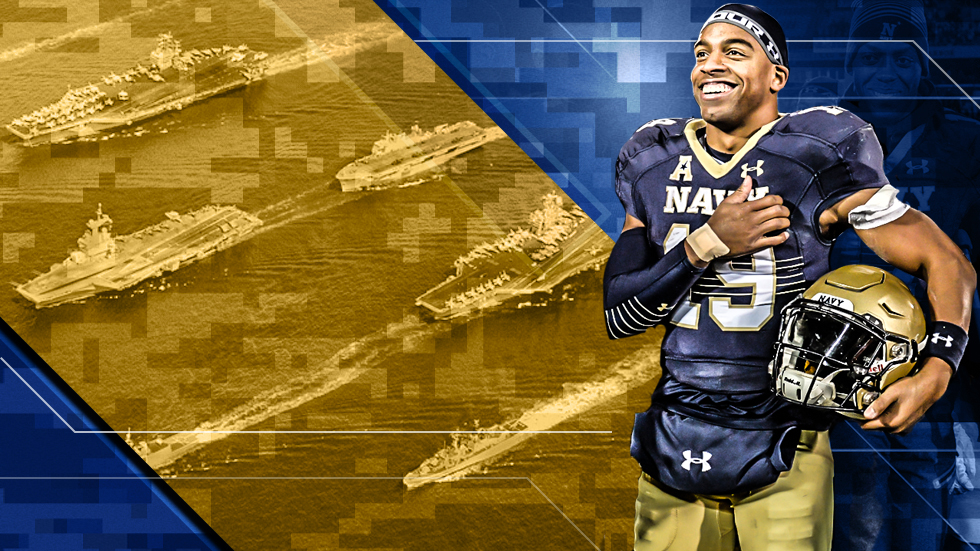 ANNAPOLIS, Md. -- A dispute emerges in the East China Sea between China and Japan over some uninhabited islands that both countries claim. The islands -- known as the Senkaku in Japan and the Diaoyu in China -- are located near rich fishing grounds and potentially huge oil and gas reserves.
As this dispute occurs, there are Chinese "patriotic hacker" activities happening against Japan. Ambiguity and incomplete information are concerns. No one quite knows if the cyber activities are endorsed and/or funded by the Chinese government.
You're the United States Navy. What do you do during this developing situation?
This was the scenario during a war game exercise involving Navy quarterback Keenan Reynolds and his classmates in a course called National Security Decision Making in the Cyber Age. While Reynolds makes split-second decisions in Navy's triple-option offense as its record-setting quarterback, these are the kinds of far more significant questions he could face in the near future.
The intelligence briefing was laid out by visiting professor David Gompert, who served as Principle Deputy Director of National Intelligence from 2009 to 2010 and has briefed President Barack Obama. After getting the intelligence, Reynolds and three classmates huddled for 15 minutes to consider their options and jot down a plan on a dry-erase board.
When it was time to respond, Reynolds served as his group's spokesman. He talked about how a response by the US was in order, but worried about the threat of escalation and a cyber war. Reynolds' group proposed a joint naval operation with Japan to be conducted off the coast of Okinawa because that's Japanese territory.
Selling this operation to Americans must be considered, Reynolds cautioned. Given that there's so much media attention on ISIS and the Middle East, he worried America could face domestic criticism about a buildup over an issue the country may not believe is warranted.
"Do we have conversations about reworking the treaty?" Reynolds asked. "Do we go right to presence and then go to diplomacy? These are questions higher-ups have to consider. The biggest thing is do not act unilaterally. Unless you are directly threatened, there should be no action by US or Japanese naval forces."
Later in the class, Gompert laid out the next move for the students to tackle in a couple days. The plan included deploying a US military presence and the fear that such an action might cause Japan to act unilaterally and respond on its own. Reynolds smiled broadly when he heard the next stage.
"What we said pretty much lined up with what they're doing so that was pretty cool," Reynolds said. "We were right about that. We were in the ballpark."
***
Once a year, college football fans become acquainted with the service academies. The Army-Navy game arrives on its own stage. Stories are told. Patriotism shines. Pageantry gets sold. It's a feel-good game that serves as a brilliant three-hour infomercial for the military.
Every so often, a rare service-academy player cracks through the bubble of major college football. The player accomplishes something so special on the football field that only then do we pay attention to who he is off it.
Meet Keenan Reynolds, the face of the Naval Academy.
Students whisper when Reynolds is nearby and often ask him for autographs. The athletic department unsuccessfully pushed to make him a Heisman Trophy finalist by marketing his integrity -- the Heisman uses the word in its mission statement -- as much as his football abilities. Navy had hoped to get the image Saturday night of Reynolds hopping on a helicopter after the Army-Navy game in Philadelphia to fly to New York for the Heisman ceremony.
That's not going to happen, of course. Reynolds was not named a finalist. But that doesn't diminish anything he's done, or certainly the things he will do in the future.
Navy athletic director Chet Gladchuk calls Reynolds the "beacon" for what Navy stands for and the profile of a typical Midshipman. Navy coach Ken Niumatalolo says Reynolds is such a great ambassador for Navy "that it's movie-like, it's almost a fairy tale. You could have a Walt Disney movie."
Reynolds is well aware of how he's being marketed. He does countless interviews like the one for this story to detail his life. In the process, his story helps to sell the US Navy like few other people could.
It's a hell of a pitch. Americans love apple pie, patriotism and football, in no particular order.
"It is what it is," Reynolds said of his celebrity. "I'm thankful. I think once you start resenting who you are, that's when you've got to take a step back and really think about things coming your way. It's definitely a blessing. There are times it can be a little bit -- I don't want to say annoying, but ughh. But at the end of the day, it's part of what comes with it."
This isn't to suggest Reynolds' story is manufactured. It's just that digging deeper into who Reynolds is provides a far more nuanced and interesting perspective than any well-intentioned Heisman pitch by Navy.
"If Keenan goes to the right system, he could do Russell Wilson things. I've stopped saying what this guy can't do."
To understand Reynolds, it's imperative to know this: He has a vision for his life and hates being told what he can't do.
He's too small to play quarterback in college? Reynolds stunned Navy coaches by becoming a starter as a freshman during plebe year, a brutal time for any Midshipman. All he did for the next four years was set NCAA records for most career rushing touchdowns and total touchdowns (83 and counting for both stats).
He can't be a real passer and is only a runner? Reynolds completed 13-of-16 passes for 312 yards in Navy's recent 52-31 loss to Houston. Here was Navy, an option team, facing a crowded box and Reynolds displayed his ability to throw the ball, too.
"He can throw the ball. We just choose not to," Niumatalolo said. "Intellectually, he's so focused and dialed in as a person. His inner strength is so strong and his belief in what he can do is remarkable."
Donnie Reynolds, Keenan's father, describes his son's motivation this way: "He told me once he doesn't wear a chip on his shoulder, his chip is in his heart. He tells me, 'Daddy, anybody can knock a chip off your shoulder, but it's hard to reach your heart.'"
When you talk to Reynolds, he's not that interested in discussing his football accolades. There will be a time, he says, to reflect on his career. Not now. There's mostly looking forward by Reynolds, who watches documentary videos of people like Muhammad Ali and Ray Lewis to understand how they made themselves successful.
That chip in Reynolds' heart? Nobody could yank away his goal of getting information warfare as his post-graduation service assignment. Information warfare is a military concept involving the management of information and communication technology to pursue an advantage over adversaries. Receiving that assignment was one more goal Reynolds achieved after being told he couldn't do it.
According to Reynolds, 25 physically qualified Midshipmen interviewed for five spots within the very competitive community. Reynolds said he has a 2.7 grade-point average due to a slow start at the academy, but he's at 3.6 this semester.
"Some people said, 'Oh, there's only a few spots they're taking, and I don't think you're qualified; maybe you should switch to another option,'" Reynolds recalled. "It was another case of I worked as hard as I could, talked to as many people as I could and showed how much I want to be a part of it."
Navy defensive end Will Anthony, Reynolds' roommate for four years, said Reynolds was "sweating bullets" about his assignment. "I heard more about information warfare than I did about football because that will be the rest of his life," said Anthony, who was drafted for submarine, his third pick.
Did being Keenan Reynolds help him get his top choice? "Honestly, I don't know why they picked me," he said. "They liked me, I guess. A lot of people are 3.0 or higher. I'm smart, but I'm not that smart. I get the job done. But those guys and gals, the Navy has some sharp people. I'm just trying to learn from them."
Sometime in the coming months, Reynolds will learn where he gets deployed after graduation in May and basic training in Pensacola, Fla. Reynolds' top choices are Augusta, Ga. (only seven hours from his home in Tennessee) and San Antonio (he believes the mission at that base is "pretty cool" but hesitates to explain why because he thinks it's classified).
Graduates of the Naval Academy serve a minimum of five years in the Navy or Marine Corps. Reynolds understands the commitment he agreed to and would also love the opportunity to play in the NFL.
Former Navy teammate Joe Cardona, a fifth-round pick last year of the New England Patriots, is juggling the NFL and military this year. He's the Patriots' long snapper and works at the Naval Preparatory Academy in Newport, R.I., where he's a staff officer and mentors students.
Depending on who drafts or signs Reynolds, assuming a team wants a 5-foot-10 quarterback who throws nine passes a game, the secretary of the Navy could create a path for Reynolds to play and serve simultaneously.
"What they've made clear to us is don't ever tell a guy if you're drafted you're done with your military obligation," Niumatalolo said. "I think if Keenan goes to the right system, he could do Russell Wilson things. I've stopped saying what this guy can't do."
***
There is nothing comparable in major college football to the service academies. Army, Navy and Air Force operate in completely different worlds with far different missions, except when they step onto the field.
"We're trying to get a peanut butter and jelly sandwich, and you see some of these schools where they hire these guys to make their own personalized shakes," Niumatalolo said. "I think the coolest thing is when you talk to other coaches -- and I've been in this profession a long time -- most of their players are at the football building all day. The NCAA can only mandate four hours a day, but they're coming at their own accord. These guys (at other schools) aren't going to class. There's no such thing as online courses here. These guys [at Navy] are still going to class here and they're still taking hard courses."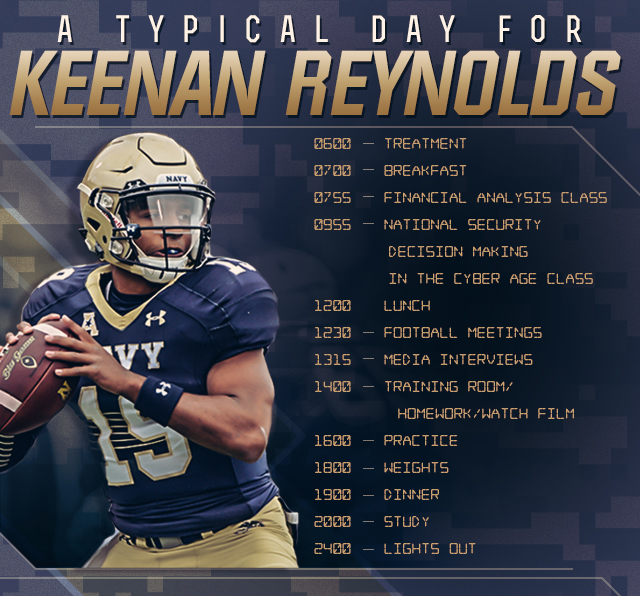 Since Midshipmen are active-duty members of the Armed Forces, they get paid $1,027 per month, according to the Naval Academy website. Requirements are attached to those payments, such as buying uniforms and everything else the students must wear. Still, it's an NCAA setting in which Navy football players are allowed to get paid.
"These other schools need to catch up to where we are," joked Gladchuk, Navy's AD.
Reynolds views his life at Navy as working three jobs -- serving in the military, playing football and being a student. It's a trial-by-fire deal that either you learn with help from others, or you don't. He doesn't write down what he needs to do next; he just instinctively knows what's next in his life.
Reynolds estimates he spends 15 hours a day on football, school and military obligations. Now that he's a senior, that workload is reduced from what it used to be. Since Reynolds wears three bars on his uniform, he can leave campus on Tuesdays and Thursdays. Seniors basically are free from 1 p.m. Friday until 6 p.m. Sunday.
"It's a lot more freedom than you'd expect," he said.
Reynolds never grew up wanting to be in the military. That's not how this story goes. He attended Navy because of the opportunity to play football and he made a calculated decision on his future.
Memphis and Vanderbilt showed interest in Reynolds as a wide receiver, but he never got offered and wanted to play quarterback. Reynolds also considered offers from Wofford and Air Force. He visited Navy during his spring break -- "What kid visits Navy on spring break and doesn't go on vacation?" Niumatalolo said -- and ultimately felt at home there. Most importantly, he eyed Navy as a way to open doors for job opportunities.
"Most kids look at the military like, 'I'm going to war,'" said Donnie Reynolds, Keenan's father. "He looked at it as a way to establish himself in a job world and not have to worry about the end of college and where he's going to be in life."
During the recruiting process, Reynolds' parents had concerns about whether Navy coaches prevented players from starting as a freshman. No, Navy told them, it just rarely happens because of plebe year, when first-year students transition from civilians into Midshipmen. Reynolds' mother, Jackie, told Niumatalolo that her son was going to start as a freshman.
"I'm like, yes, ma'am," Niumatalolo said. "What do you say? You can't be rude. We've never had any true freshman not only start but play at quarterback. You come in freshman plebe summer and it's brutal. You don't even factor [starting] into the equation."
This year's Navy team has one freshman who has made a start (cornerback Sean Williams, one game). After Reynolds considered quitting during plebe summer, he started the final eight games of that 2012 season. He led Navy to fourth-quarter comebacks over Air Force, Army and Indiana.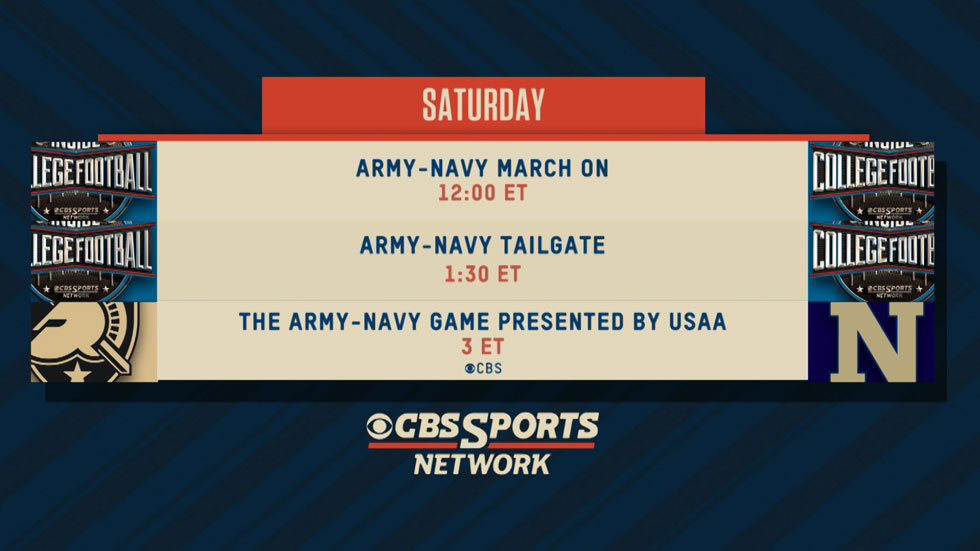 It seemed unthinkable for Navy to find a quarterback as a freshman who could be trusted to make the right decisions in the triple option. In Navy's offense, each pitch, each dive, each throw has added significance because the Midshipmen need to limit possessions for a chance to win. There's an incredible comfort level for Navy coaches knowing Reynolds can get them out of a bad play at the line of scrimmage by noticing the defensive look.
"His mind is so far ahead of a lot of guys I've coached with the mental aspect of just staying in the moment," Navy offensive coordinator Ivin Jasper said. "He has a very expansive rolodex in his mind. He stores things in his brain that I'll [have mentioned] to him weeks ago and he'll bring it up in a meeting and I would have forgotten about it."
When Reynolds started playing football at 5 years old on a team that included 6 year olds, his youth coach made Reynolds the quarterback. "I said are you sure?" his father said. "The coach said he remembers plays better than anybody. We won the championship."
Reynolds' mind is a security blanket for Navy, especially in 2015 during its first year playing in a conference. After 134 years of independence, Navy joined the American Athletic Conference because, well, some things do change even for service academies in college sports.
"To be hung out right now as an independent would be non-relevance," Gladchuk said. "We are a program of national stature. We're not a top-10 program, but we're the United States Navy and Marines."
In recent years, Navy invested more money into facilities and resources. Extra strength and conditioning coaches and football staffers were hired. Navy coaches no longer have to lick the envelopes on recruiting letters. Navy had a 7-1 league record in its first season in the American and had a chance to play for the conference championship but lost to Houston.
This year, Navy could finish ranked in the AP Top 25 for the first time since 2004. Before that, it last happened in 1963. Air Force hasn't finished in the top 25 since 1998. Army has done it only once (1996) over the past 57 years.
The impact Reynolds has had on Navy football could be long lasting. Needless to say, Navy coaches recruit off Reynolds. They try to show recruits that there are far more important things at Navy than football, yet that doesn't mean football can't succeed.
"Keenan has put us into mainstream football," Niumatalolo said. "It's kind of cool seeing ESPN having a story about Alabama and then there's a story about Keenan Reynolds. Keenan has led us to places where, really in modern football, people didn't think you could take a service academy to."
Even Reynolds' teammates can't escape the attention. At times students give Anthony, his roommate, footballs to take to Reynolds for autographs.
"I just give him crap and say thank you for letting me be in your presence by being in the same room as you," Anthony joked.
Navy went into this season trying to get Reynolds the FBS rushing touchdown record, previously held by former Wisconsin Badger Montee Ball, who finished his career with 77 rushing TDs. Four years of pounding have taken a toll on Reynolds' body. He averaged 23.1 rushes per game in 2013 and 22.7 in 2014. This year it's 20 carries a game.
"It's just wear and tear when you score [83] touchdowns," Jasper said. "He has taken a lot of shots to where this year I'm trying to be smart and not have him carry the ball as much. You can tell he's a lot slower."
The idea was for Reynolds to break the record at Memphis, a homecoming game for him. At one point, Navy had first-and-goal and Jasper planned to call four straight quarterback sneaks. Instead, Reynolds saw a crowded box and changed the play, opting for a toss sweep touchdown by a teammate.
"We're like, 'Keenan, what are you doing?'" Jasper said. "He said, 'Coach, I'll get the record, but they were just packed in there so toss the ball outside.' It's not about the record. He wanted to get a lead to where it was unquestionable we'd win the game. That's just who he is."
***
The most interesting question about Keenan Reynolds: Who is he going to become? He has the intelligence, drive, personality and leadership skills to succeed in different avenues of life.
Niumatalolo could see Reynolds becoming a "phenomenal" coach or being a very wealthy businessman. Anthony could also envision Reynolds coaching, something Reynolds has told people close to him he might one day do. His father, who installs security cameras, hopes Reynolds gets an NFL shot and has heard his son talk about the NSA, CIA and FBI.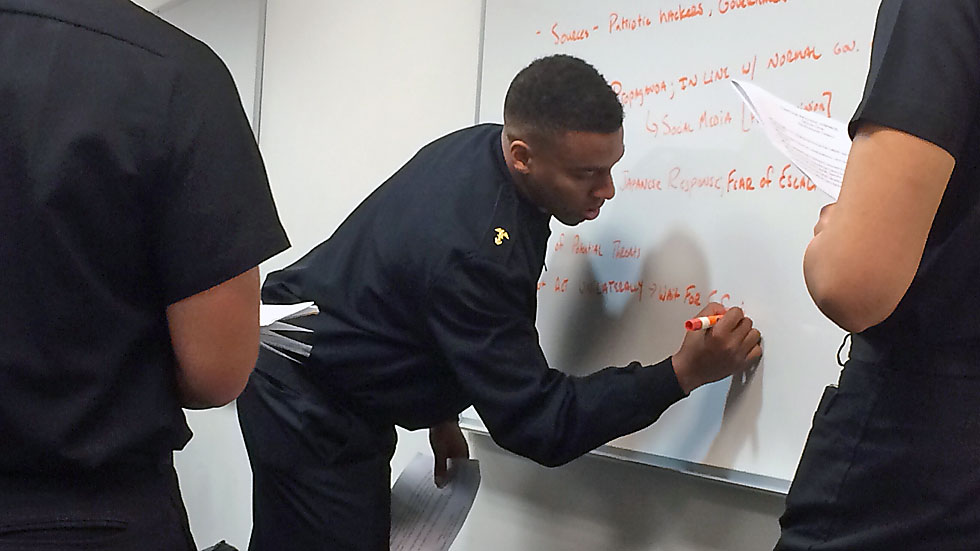 Keenan Reynolds leads an exercise in his National Security Decision Making in the Cyber Age class. (CBS Sports)
Reynolds, an international relations major, isn't sure where he'll end up. Maybe, he says, he'll work in the private sector. Perhaps, he suggests, he will go to law school after his five-year military commitment and try to connect law with cyber technology. He doesn't have all the answers yet, nor should he.
"I want to work my whole life to set myself up to give back in some capacity," Reynolds said. "So many people helped me along the way. What good are these blessings if I can't pass them down to someone?"
He is fascinated by where all of this is headed -- not his life, but the world. He enjoys discussing the policies and politics associated with national security decisions as they relate to cyber.
As a freshman, Reynolds planned to go into the intelligence community until he met an information warfare officer. Reynolds learned it's a growing field and kept gaining interest as he took classes, including some that taught students how to jam signals and do coding to spread virus attacks.
"Very, very basic, like Level 1 coding," Reynolds said. "We were attacking each other's computers. It was tough, but it was interesting."
The recent war games exercise Reynolds went through with his classmates will count 20 percent toward their final grade. They get graded based on a paper they each turn in and their rationale when explaining each move. Ultimately, the threat level will rise to the point that the students must decide whether the US Navy should hack China.
"Cyber is the next frontier," Reynolds said. "We don't know enough about cyber warfare. We know about airplanes. We know about war. We know about guns. We know about bullets. But we know just a little bit about the capability of cyber networks."
As college football says goodbye to Navy's quarterback just as most of us meet him, we are only beginning to learn the capabilities of Keenan Reynolds.
Follow and read more from Jon Solomon on Facebook and Twitter.