President Tressel
The man who rebuilt Ohio State football is back where he first built his legend, and the challenge is unlike any he's ever faced.
President Tressel
The man who rebuilt Ohio State football is back where he first built his legend, and the challenge is unlike any he's ever faced.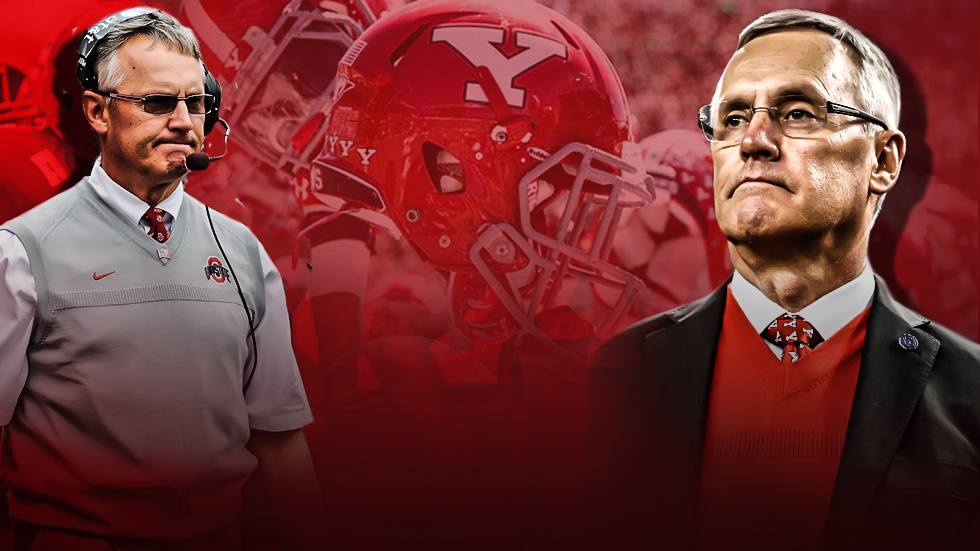 A few months after Jim Tressel was named president of Youngstown State University, he and a close friend, Paul McFadden, went on a fundraising trip. McFadden is the president of the Youngstown State University Foundation, an independent non-profit that raises money for scholarships, construction projects and academic programs. He had been working on one potential donor for years. This donor, an elderly man in Florida, had been reluctant, and McFadden had only been able to have short conversations with him on the phone. One day last year, McFadden called the donor. I'm flying down from Ohio, he said. I'm going to have our new president with me.
The donor perked up. "I want to meet Jim Tressel," he told McFadden. After that meeting, the man put a $2 million donation to the foundation in his will.
Another gift, a $2.5 million donation to the engineering school, came from a 95-year-old steel baron. Tressel met with him too. Many times. In fact, during YSU's first year with Tressel as president, the foundation hosted more than 100 fundraisers at Tressel's home. He's gone on at least eight trips to raise money. Fundraising has doubled. And he's just warming up. "To be honest," says McFadden, "we really want to ride his back."
Jim Tressel speaks in a fairly monotone voice, but he has a gift for connecting with people. He remembers names and details with astonishing recall. He'll talk with people beforehand, and then bring them up by name during a speech. As a result, people don't just turn out to see him, they stay. They listen. And then they give. "It's his ability to communicate and empathize. He never talks about himself," says McFadden. "People like him."
If you met Jim Tressel, you'd like him too.
Everybody I meet in Youngstown tells me this. Zack Goist, a 19-year-old sophomore at Youngstown State University, met Tressel at a leadership event held by his fraternity, Sigma Alpha Epsilon. "He made his speech mean something to us," he says. "I know he's an extremely busy man. For him to do that, it's pretty cool."
"Everybody believes he walks on water," says Dr. Chet Cooper, a microbiology professor.
"Everybody likes him," says Jae Rim, who owns an urban clothing store on Federal Street. "He [doesn't have] the Ph.D. as you know, but he became president anyway."
"He's a good man," says his wife Young.
"He beat Michigan," says Jae.
Even someone who is at odds with YSU's administration likes him. Gabriel Palmer-Fernandez is a philosophy professor who was the chief negotiator for the faculty union, which initially supported Tressel's hiring. Tressel came to YSU just before the union signed a new labor contract, which provides paltry pay raises. Fernandez does not like the deal. But he likes Tressel, who he's known for 20 years. "He's an extraordinary coach, and an extraordinary person," he says.
In early 2014, after just seven months on the job, YSU president Randy Dunn left to take the presidency at Southern Illinois. Tressel, who had won five total national titles as head football coach at YSU and Ohio State, was then the Executive Vice President for Student Success at the University of Akron. He wrote a letter to the trustees at YSU. "It seems only right to see if the time and fit is right for the Tressels at Youngstown State," he concluded. In May 2014, the trustees voted unanimously to hire him as president.
Ohio Governor John Kasich, who was running for reelection, came to his inauguration that August. Governors in Ohio typically do not go to such events. "I was invited by Jim Tressel a few months ago," he said. "I was really kinda surprised and shocked that he would have thought about me."
Others at the inauguration pointed to hard numbers. "When I posted a picture of Jim Tressel and me on Facebook," said Eric Shehadi, a student trustee, "it got more likes than anything I had ever posted."
"Jim Tressel, extraordinary coach and extraordinary human being, has a lot of work to do."
I meet Tressel, by chance, after only 20 minutes on campus. A door opens and he comes bounding out of Tod Hall, walking underneath a canopy of trees. He looks much the same as he did when he was the football coach at Ohio State. Gray hair. Transitions eyeglasses. Crisp button down shirt. A red tie that is, after closer inspection, covered in Y's, not O's. It is too warm outside for a sweater vest.
I catch up and introduce myself. "Walk with me," he says, immediately. He is heading to a meeting in Kilcawley Center, and moves swiftly as he scans the room numbers. He is meeting with the head of the Youngstown-Warren Regional Chamber later, but first, he has to give a talk to some resident assistants. They have important jobs.
"It's crazy on college campuses, with the sexual assault things, Title IX," he says. "The training you have to have with your people is important. They're just students."
I ask if he's meeting with the same people who were here in the 1990s, when he was the football coach at YSU. "Oh gosh no. I was gone for 14 years," he says. "Most of the people my age are retired."
He tells me to talk to his secretary, Cindy, to arrange a longer interview. Cindy later informs me that President Tressel is very busy, but he should have some free time to call me back. In a month. After repeated emails and phone calls, Cindy informed me that the next month was booked solid too, and later informed me there was just no time for an interview at all.
This may not have been an exaggeration. Trustees say Tressel frequently works 18-hour days. He sometimes attends three or four events in a single evening. He doesn't hold press conferences. When businessmen offer to take him to a Cleveland Cavaliers game, he often says no. Too much to do. He has visited nearly every high school in the area, from Liberty to Lordstown to Lorain County, sometimes three in a day. He connects with teenagers, even those who didn't know he was a coach. "A lot of our kids aren't aware of that," says LaBrae High School principal Jeff Starkey, whose students got a visit from Tressel in April.
Kids who do know Tressel are often starstruck:
so jim tressel is at my school

— alyssa (@alyssa_zeee) March 13, 2015
Speaking to the Mohawk Warriors this afternoon. pic.twitter.com/FAn88bNMlc

— Jim Tressel (@JimTressel5) November 3, 2015
Football made Jim Tressel famous, but he's no longer a coach. He hires them. He is confronting unhappy unions. He's dealing with a multi-million-dollar shortfall. And he's facing the long-standing idea that Youngstown State University is not anybody's first choice for college. "He walked into a hornets' nest," says Cooper.
All of that has landed in the lap of a man who has never led a university before. A man whose coaching career ended because he did not confront a problem in his program, but rather, chose to ignore it, then hide it. This man is now in charge of the education of more than 15,000 students. Yes, he can raise money. He can make you listen. He is bringing attention to a school that hasn't had much since he left town 14 years ago. But is that good enough for YSU?
"Jim Tressel, extraordinary coach and extraordinary human being," says Palmer-Fernandez, "has a lot of work to do."
***
"Have you seen this scoreboard?" asks Dan McCauley, 73, a former adjunct professor, his eyes looking upward at the videoboard inside Youngstown State's football stadium. "Brand new scoreboard," he says. Real nice. He also points out the new lights and the loges upstairs, which are also real nice.
"You been to the WATTS center?" No? "You gotta go inside there," he says.
The WATTS center is a gorgeous $14 million indoor football practice facility that opened in 2011. It's so nice, he says, that the San Francisco 49ers practice there when they make east coast swings. WATTS, he explained, is the Watson and Tressel Training Site. It's named for Tressel and his wife Ellen, and Frank and Norma Watson, Ellen's parents. Both families donated a combined $1 million to the project.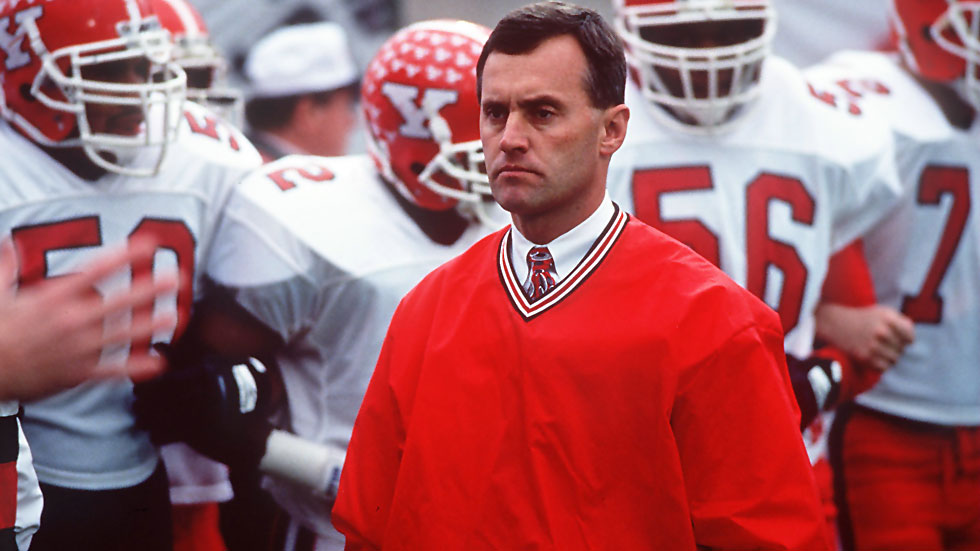 Jim Tressel led Youngstown State to four Division I-AA national titles in the 90s. (Getty Images)
McCauley is the sort of person you'd expect to be at Youngstown State practice on a Tuesday at 4 p.m.: retired, bored, and prideful. After talking a lot about the infrastructure of the stadium, he starts talking about the infrastructure of the team. "Have you heard about this transfer?" he wonders, before stating, twice, to just look at the size of this offensive line.
As McCauley talks, the Youngstown State Penguins are holding football practice on the field inside Stambaugh Stadium. The home grandstand, which can hold more than 17,000 fans, is the tallest building in Youngstown. Bo Pelini, in his first season as the Penguins' head coach, stands, hands on hips, on top of a giant cartoony Pete the Penguin logo painted on the artificial turf. He opened practices to the public for the first time in years. On this day, six people who were not required to be there showed up. Still, there hasn't been this much excitement for McCauley since Tressel was coach. "It's a win-win," he says. "Between Tressel and Pelini, we've elevated our status."
It's impossible to overstate how big football used to be at Youngstown State, where Stambaugh Stadium is not the house that Tressel built, but rather the one that he filled. In 1987, the season after Tressel arrived, the Penguins made their first playoff appearance in eight years. In 1991, YSU won the first of four 1-AA (now Football Championship Subdivision) national titles. During his 15 years as coach, Tressel took a school known mostly as the answer to obscure trivia questions (Where did Ron Jaworski play in college? What school was the first to introduce the penalty flag?) to national prominence.
After he was named head coach at Ohio State in 2000, his legend and popularity grew beyond the Mahoning Valley. It peaked when the Buckeyes won the national championship in 2002. He beat Michigan nine times and only lost once. When the scandal hit Ohio State in 2011 -- it was revealed that Tressel did nothing despite knowing his players were trading memorabilia for tattoos against NCAA rules -- Ohio State's then-president, Gordon Gee, responded to questions about whether he'd fire Tressel with an infamous line: "I'm just hopeful the coach doesn't dismiss me." Two months later, though, Gee was among those who forced Tressel to resign.
Still, Tressel's success in Columbus only made his legend in Youngstown grow. He'd been able to replicate what he had with the Penguins -- quietly powerful football, a calm demeanor, and a seemingly genuine concern for the lives of his players -- at the highest level of college football. Cooper, the chair of YSU's academic senate and the faculty representative to the NCAA, has a name for this: The Tressel Standard.
The two coaches that followed at YSU, Jon Heacock and Eric Wolford, did not live up to the Tressel Standard. Heacock made the playoffs in 2006. Wolford coached the Penguins to their first win against a BCS team, a victory over Pitt in 2012. But the expectations set by the YSU teams of the 90s were too high. "People kept on trying to live the dream without Jim Tressel here," says Cooper.
Once Tressel returned as president, one of his most visible decisions was to hire Pelini, who he had tried to recruit to YSU as a free safety in the late 1980s. The coach, fired after going 67-27 over eight seasons as the head of Nebraska's football program, called it a homecoming. He graduated from Youngstown's Cardinal Mooney High School. His wife's parents live nearby. But Tressel played a big part. "I have a president who understands football," Pelini said at his introductory press conference. "I haven't had that before."
The Penguins went 5-6 this season. And Tressel, for the most part, has stayed away from the football program. He goes to home games. He traveled to the 2015 opener at Pitt. But he is not at practice. He rarely talks to Pelini. Still, it's hard not to see his influence. In the football office underneath the stadium, the four national championship trophies are still on display. There's a sketch in one display case, showing a ring with "Tressel" engraved in block letters on the side.
Tressel does not want to be called coach anymore. People will still say it -- Hey, Coach Tressel! -- and he'll respond by gently saying that he's the president now. He doesn't even like the term President Tressel. Call me Jim. He still brings up football occasionally, as a metaphor for something else, or when an old story can make a new point. He did attend an Ohio State game this year after his induction into the OSU Athletics Hall of Fame. But during his first state of the university address this August, an hour-long speech where he bragged about every department and seemingly name-dropped every dean, professor and student, football never came up.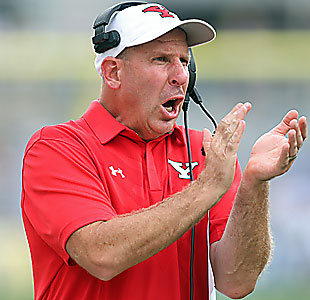 Coming from Nebraska, Bo Pelini brings more big-name credibility to Youngstown State. (USATSI)
And yet, a football coach's mentality may have led to the first decision that truly made people upset. Tressel's demeanor as a coach seems to have stayed with him; those who work with him say he doesn't yell, and is deliberative, thoughtful, even funny. But even a mild-mannered coach has a despotic grip on a football team. A university president has hundreds, if not thousands of students, faculty, trustees, boosters and townies who can not only question decisions, but overturn them.
"When he first came, you could tell he wasn't used to that," says Michael Slavens, who graduated in the spring and served as the president of YSU's Student Government Association. Tressel said the hiring of a provost was crucially important, since he admittedly did not have an academic background. He pored over resumes and research.
"He always prepared for things," Slavens continued. "That's what really freaked me out."
But when it came time to choose, Tressel ignored a search committee's recommendations and picked Dr. Martin Abraham, a widely respected dean in the engineering school.
About the process, Slavens says, "People were upset."
YSU's academic senate brought up, but did not pass, a vote of no confidence in Tressel. Outside of YSU, the view is different. Slavens remembers taking a road trip to the Ohio Statehouse with Tressel. They stopped at a Subway outside of Columbus for lunch, and Tressel's mere presence shut the place down for 15 minutes. Workers and customers mobbed him, asking for selfies. The statehouse was only a little more restrained. Lawmakers knew who he was. They called him coach. They wanted autographs. And, importantly, they paid attention.
"They listen that much more to Jim Tressel," Slavens says.
The statehouse may be where Tressel has to do the most work. Gov. Kasich, who gushed over Tressel at his inauguration last year, has said he will "take an ax" to the funding of state universities and colleges unless they keep costs and tuition down. At Youngstown State, Tressel has cut administration and open faculty positions, and reduced a $10 million deficit to $3 million. Still, enrollment had been steadily dropping since the fall of 2011, and fewer students has meant less state money. A one percent drop in enrollment effectively meant a $1 million loss to the university, says Palmer-Fernandez. In 2014, Ohio lawmakers changed the formula, tying funding to course completion and graduation rates, which have traditionally been low at YSU.
"You can look up the numbers," Slavens says. "But they're really bad."
Enter Tressel, the fundraiser and recruiter. "Jim would have the shortest learning curve of any individual appointed to the presidential post and would make an immediate positive impact on YSU's reputation and stature," said a February 2014 letter from the YSU Foundation, encouraging Tressel's hiring. "We believe the appointment of Jim Tressel would create a direct correlation to increased enrollment and philanthropy."
Increasingly, university presidents nationwide are devoting more and more time to schmoozing donors. But McFadden and others say fundraising doesn't solve all the problems. Donations are usually tied to specific things. People dictate how they want their money spent. Nobody wants to give to, say, the university's general fund to pay for things like electric bills and maintenance.
"Does [fundraising] alleviate the budget burden?" says McFadden. "I don't see a direct correlation."
There also doesn't seem to be a direct correlation between Tressel's reputation and stature, and his messy exit from Ohio State. Before his resignation, the NCAA hit him with five-year show-cause penalty, which basically keeps him from coaching until December 2016.
Tressel, who says he'll never coach again (and that may not even be up to him given the baggage he would bring to a program), said he didn't know his players at Ohio State were trading memorabilia for tattoos, even though he did. Before that, there was Ohio State running back Maurice Clarett, a Valley native, who took money and cars from boosters at Ohio State. And before that, there was another booster, at YSU, who gave money to the quarterback who led the Penguins to the first of Tressel's four I-AA national championships. Tressel, in all cases, stated that he did not know what was going on, even though possibly all but the most willfully ignorant college football fans has an idea of what's going on inside the NCAA's largest programs.
"He's not going to get by [as president] by saying 'I didn't know,'" says Bertram de Souza, a Youngstown Vindicator columnist. "He has to know."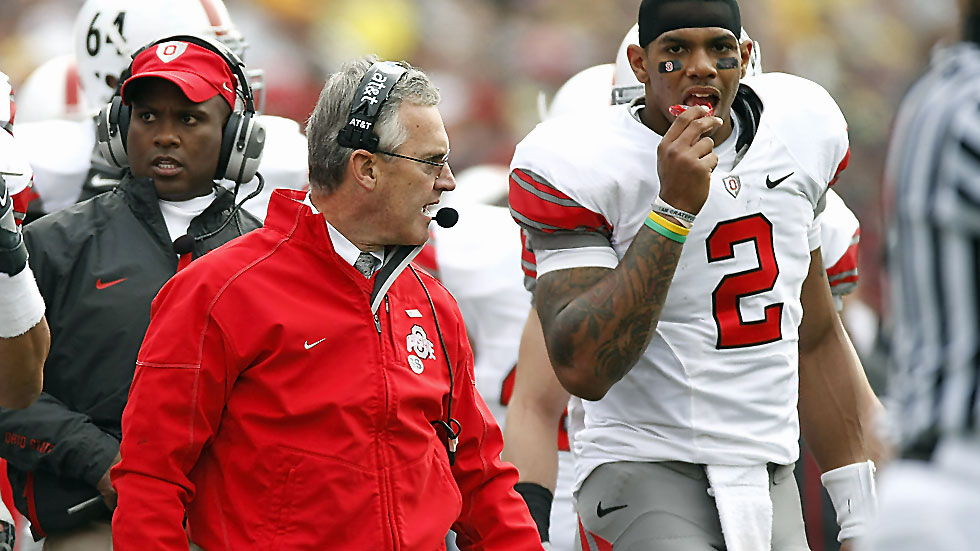 For better or worse, Jim Tressel and Terrelle Pryor will always be linked. (Getty Images)
In other places, those things might give pause to college administrators and fuel sports radio discussion about how a man can be president of a university while simultaneously being banned from coaching at it. The NCAA investigator who had Tressel's case at Ohio State called his new job an "incredibly unique circumstance" (The same investigator also said the rules that Tressel's players broke were "silly"). Kasich, though, recast Tressel's controversy as "adversity." In Youngstown, it seems, the return of prodigal sons like Tressel and Pelini is met not with opposition, but with open arms.
Maybe it's because people here are tired of being ignored. Youngstown lies halfway between Cleveland and Pittsburgh, and is overshadowed by both. Youngstown's population shrunk by 100,000 people between 1960 and 2010, when cheap foreign steel caused nearly every one of the Mahoning Valley's once-booming mills to close. Today, the median home price is $64,300, more than half the price it is in Columbus. It is a place where the corruption and mafia ties were once staggering: During one decade, there were more than 82 bombings -- "Youngstown Tuneups" -- all of them unsolved. It is also a place where the desolation leads to humorously absurd ideas. In 2004, the head of the local film commission tried to lure production companies to Youngstown, suggesting several abandoned buildings that could be dramatically blown up.
It is the place where having a suspect past can almost be a badge of honor. Take the case of James Traficant, who, as Mahoning County sheriff in the early 1980s, was caught on a wiretap accepting bribes from the mob. He defended himself in court, and won. He became a toupeed folk hero, and was elected to Congress eight times. In 2002, though, he defended himself again against bribery, tax evasion and racketeering charges, and lost. And yet, he ran for his old seat on Congress and got 15 percent of the vote. From federal prison. His death in 2014 was named by the Vindicator to be the third biggest news story of the year.
Tressel's hiring was number one.
***
"Mostly, my grandparents talked about it," says Isabel Sherwood, 19, a sophomore at Toledo who took summer courses at YSU. "They know the name Jim Tressel." Sherwood, who grew up just across the state line in Pennsylvania, says the university was simply too close to home for her. "Youngstown the city has a little bit of an image problem," she says. "It's not the most vibrant city out there."
Things are beginning to change, albeit slowly. Federal Street, a few blocks from campus, is now alive with beeping dump trucks and construction cranes, building new apartments downtown. There are new restaurants opening up. A technology incubator and the fracking boom has brought some jobs back to an area where unemployment has been high for decades. And as Youngstown goes, so goes the university.
"YSU wasn't really my first choice. Or my second. Or my third," says Goist, the sophomore chemistry major from nearby Austintown, who's sitting on campus filling out a financial aid form. "I came here because it's really affordable. It's close to home."
Youngstown State University has long been a point of reluctant pride in the Mahoning Valley, which provides three-quarters of its students. For a long time, it had open enrollment; if you graduated from high school in the state of Ohio, you could get in. As a result, YSU's acceptance rate in 2013 was 86.5% (For comparison, Ohio State's was 55.5%). There are two valid ways to read that. One: for a lot of people, Youngstown State is a fallback school. Some people in the valley end up there after struggling at, or flunking out of, other colleges. Or, there's another way to see it: YSU provides opportunity that nobody else will give. Students there tend not to fit the stereotype. Three out of four have jobs. Nearly half are older than 21. More than half are first-generation college students. And 88 percent receive financial aid, even though tuition is the lowest among Ohio's 11 public comprehensive universities.
That creates a paradox for faculty, Cooper says. Professors enjoy working with disadvantaged students, but those same students also fail at a higher rate. "That leads to a bad rap," he says. Indeed, there's a longstanding joke in the Valley, that YSU stands for You Screwed Up.
Goist had heard all of this and more before he started class. "The month leading up to it, I was like, I don't want to go there," he says. "There's nothing there. It's in the middle of Youngstown. Who wants to be down there?
"Now that I'm here, it's a beautiful campus, everyone's really friendly," he says. "The professors are always there for you."
And with Tressel now the president, YSU is getting something it needs: a second look from potential students. A second look might lead them to YSU's leafy campus with its limestone and brick buildings; an oasis among Youngstown's crumbling old mill houses and rusting, abandoned, blackened steel mills. If Tressel's name, speeches and enthusiasm can get them on campus, maybe the campus can change their minds. "Call that the Tressel Effect," says Palmer-Fernandez. "He grabs young people and says 'You have to come to my school.'"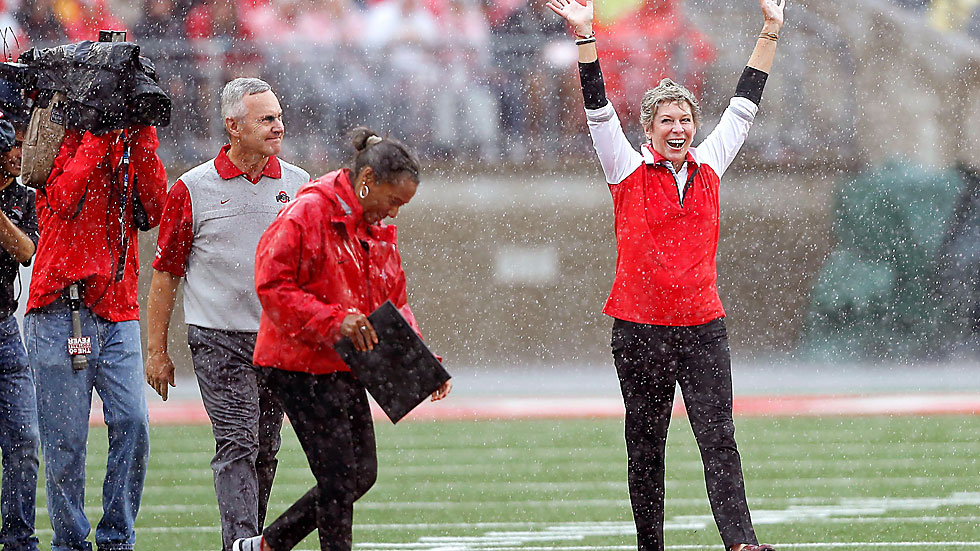 Jim Tressel returned to Columbus this year after being inducted into the OSU Hall of Fame. (USATSI)
Indeed, fall enrollment was up for the first time in years, a combination of both Tressel's relentless recruiting and a decision to market the university beyond the Mahoning Valley. To keep its funding, YSU needs more students, and better students from all over Ohio. Admission standards are tightening, and at-risk students are encouraged to try a nearby community college first. Tressel is widening his recruiting base, just like a coach would, speaking to excited crowds at high schools around Cleveland and Columbus. He also testified in favor of the state's recent takeover of the perpetually failing Youngstown City Schools, which traditionally sends a lot of students to Youngstown State.
The buzz has changed Isabel Sherwood's outlook on YSU already. "It's Jim Tressel," she says. "Would he go someplace that really sucks?"
***
Dr. Cooper, along with several others, gave Tressel an A grade on his first year as president. "He's still on a learning curve," he says, "but he's willing to learn." (The president himself told the Vindicator he deserved a B-). But nearly everybody I talk to says it's too early to tell what kind of lasting impact Tressel will have. In his state of the university address, Tressel said he wants to give raises to workers whose unions have given him votes of no confidence. He wants to retain and graduate more students, because that will give the university more money. He froze tuition. He wants to see a brand new Honors College grow. He wants to work more closely with the people he ignored when choosing a provost. And, of course, he wants to raise more money. He's good at that. "My view is that Jim Tressel can walk into your house, walk out with your money, and you'll ask him to come back again," says Palmer-Fernandez.
And yet, the fact that he had so much success at football could be part of his undoing. "It's a double-edged sword for him," says Cooper. "People expect that YSU will become the university in Ohio."
Deeper cuts could be ahead at YSU, and Palmer-Fernandez doesn't see Tressel, now 62, as a long-term solution. Neither does de Souza, who initially was unhappy with Tressel's hiring but, like many others, has come around. He wonders if Tressel's chances to win a U.S. Senate seat might be more likely than another university presidency. "Where does he go from here?" he asks.
On the day that I meet him, Jim Tressel is going to the Hynes Room in Kilcawley Center. He chats up a few students waiting in the hallway, then walks inside, where a room full of resident assistants is waiting for him.
"How many of you are returning?" he asks the RAs.
Tressel is here to give a pep talk. "It's an exciting time because we're building more housing," he says. Typically, only one of ten students at YSU lives in a dorm. That, says Tressel, has to change. YSU is building a four-story apartment-style dorm. "You have to make sure those people are dying to stay on campus."
It's a tough job, he explains, what with the newfound freedom and all. "Mom and dad aren't around. Whoa, look out!" he says, and the room laughs. The ten minute talk is punctuated by giggling and rapt attention, and when he's finished, the next speaker sounds bewildered. "Man, I have to follow that?" he says, and it is clear, as the president rushes out, off to his next appointment, that Jim Tressel still knows how to work a room.