Opportunity, USA
Along the desolate landscape of junior college football, everyone has a story, along with one last chance to rewrite it.
Opportunity, USA
Along the desolate landscape of junior college football, everyone has a story, along with one last chance to rewrite it.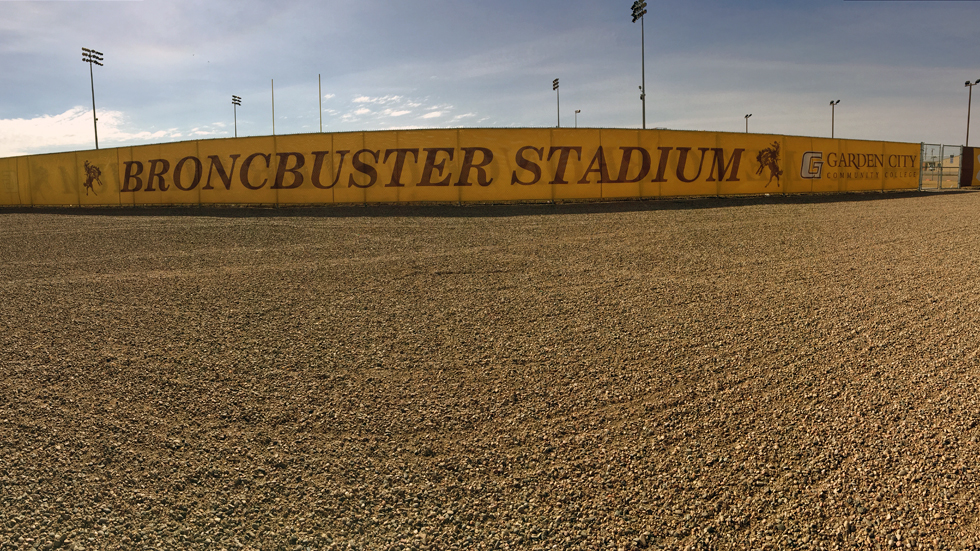 GARDEN CITY, Kan. -- Go ahead and judge. Junior college football is used to it.
You know the rep: Juco is for renegades, the dregs, the castoffs, the flunk outs. At least that's the perception.
"It's like a different vibe," said Alex Figueroa, a Garden City (Kan.) Community College linebacker by way of the University of Miami. "At first I smelled cow s--t. They said, 'It's the smell of money. You'll get used to it.' Still, right now, I'm not accustomed to it."
That's not the worst of it. Not here in this Southwestern Kansas town of 30,000. Walk a mile in any direction and you might as well be on the moon. It's you, your thoughts and the horizon. You can roll a marble all the way to the Colorado border.
If you're enrolled as a Garden City Broncbuster, this is your Last Chance Saloon -- a frayed safety net. Screw up here and there's nothing to catch you. This two-year juco powerhouse is something of a metaphor for what it means to be a junior-college athlete.
"There ain't nobody like us," Garden City coach Jeff Sims screamed at a recent 7 a.m. team breakfast. "Be different."
And so they are. The kid who may be Sims' starting quarterback has done six months in jail. Figueroa landed here after being accused of sexual battery. There are other stories, good and bad, always different.
Every recruit, every player, every coach can't help but pass a giant U.S. map right outside Sims' office labeled "Opportunity, USA." From Washington State to Florida Atlantic, all 128 Football Bowl Subdivision schools are marked with a tiny logo. The intimation is as clear as the inscription: "From Here You Can Go Anywhere."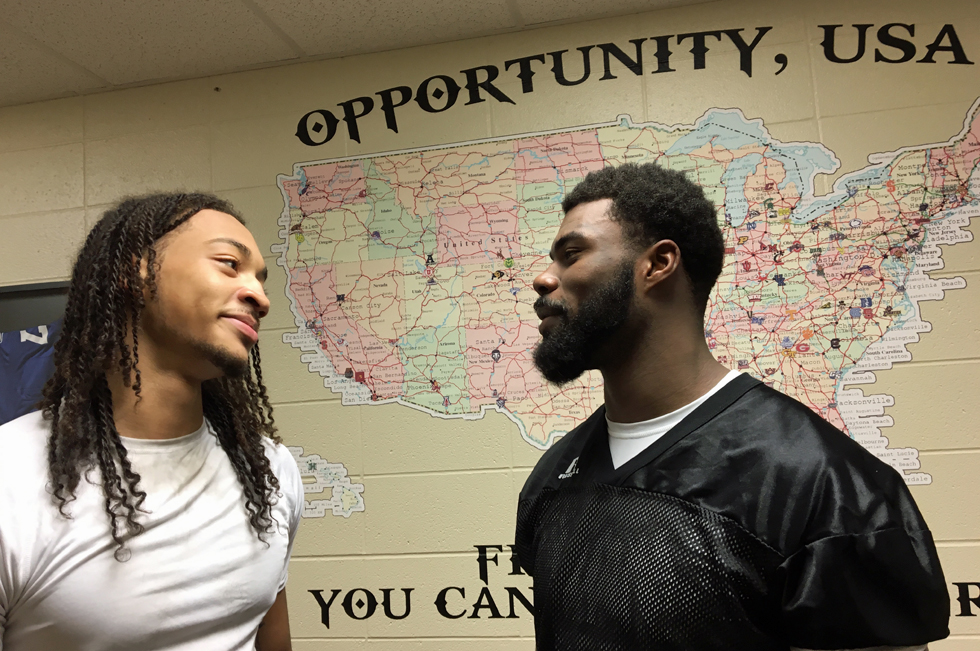 "There's three types of junior college athletes," Sims said. "There's overachievers. Those are guys who they think should have been recruited by someone bigger so they're coming here to prove themselves.
"There are tremendous athletes who academically aren't prepared. The third type is the guy who has to reform himself because he's done something stupid."
Go ahead and judge this particular circus and its ringmaster. They're used to it. Sims is a 43-year-old dervish who calls himself "as good a fundamental coach as there is in the country." His office resembles a 12-year-old's bedroom adorned with inspirational messages from Nick Saban and his mentor, Indiana coach Kevin Wilson.
Thirty-four of Sims' former players have played in the NFL. He was the losing coach in 2009 when some Blinn (Texas) College quarterback named Cam Newton beat his Fort Scott (Kan.) Community College Greyhounds to win a national juco title.
Cam got the glory. Sims got back on the phone trying to recruit the next Cam. Future All-Pros Lavonte David (Tampa Bay Buccaneers/Nebraska) and Jason Pierre-Paul (New York Giants/South Florida) played on the same defense for Sims at Fort Scott. Last year, Sims coached the national juco defensive player of the year in his first season at Garden City. Defensive lineman Jeremy Faulk is now at Baylor.
If junior college football is about second chances, Sims is the living embodiment. This is his 12th job since 1995. He was associate head coach at Florida Atlantic when Carl Pelini resigned amid allegations of drug use. (Pelini adamantly denied the allegations and sued the school.)
Fort Scott got a postseason ban from the NJCAA soon after Sims left to become an assistant at Indiana in 2011. Following a 3-8 debut under Sims in 2015, Garden City last month was docked eight scholarships after an NJCAA investigation. Sims was not named in either penalty.
That 21-year career has included high school, NAIA, juco, Division II and FBS. Sims worked at Indiana under Wilson, who pounded these words into his head: "Working hard is a talent." There is no other choice at a place where the too-small weight room has to be used in shifts.
The résumé makes him no different than thousands of coaches leading this vagabond life. Neither does his ambition.
"I want to be a Division I head coach," Sims said.
Don't judge. Sims might just make it to D1, joining the dozens of players he has pushed there.
***
Jeff Sims will never forget where he came from. North St. Louis County -- decidedly middle class. The region is touched by both the Mississippi River and the Michael Brown shooting in Ferguson.
"My value was, 'Can I beat you up? Can you beat me up?'" Sims said.
Mom was a hairdresser. Dad did time in prison.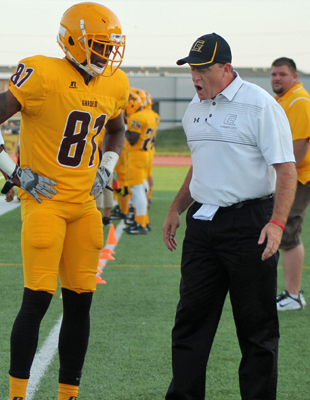 Garden City coach Jeff Sims has seen 34 of his former players make it to the NFL. (Garden City CC)
"Where I grew up in St. Louis, I've seen police officers come in my house roll a joint and smoke it with my dad," Sims said matter-of-factly. "He did five years for conspiracy to commit murder."
You understand, then, how Sims believes he can save anyone, if for no other reason than just about everyone deserves a shot at salvation. Take Figueroa, who says the sex he had with a 17-year-old in a Miami dorm room was consensual.
Or quarterback Jayru Campbell, who had plenty of time in jail to think about why he body-slammed a security guard and assaulted his girlfriend. Both acts were caught on tape at his high school so there's no doubt about what happened.
"I didn't worry about the future," Campbell said, recalling his first day in prison, "because the present was terrible."
The juco defensive player of the year came out of here last season. Faulk -- who, as mentioned, is now at Baylor -- landed in Garden City because of a GPA that sources here freely say hovered around 1.0 at Florida Atlantic.
Current star linebacker Gabe Luyanda's only sin was not having the grades to qualify for an FBS scholarship in the first place. He arrived here after a 14-stop bus ride from Tampa, Florida.
"Our president stood up in the booster club meeting and said, 'Coach Sims, you go and recruit whoever you have to if you feel you can save their life,'" Sims said.
Praise the Lord and pass the Gatorade.
"Outside of a major criminal activity, that's why we're here," said that president, Herbert Swender. "I think that's what changes lives. Some of these people, their switch hasn't been turned on yet."
Really, though, what makes this picture we're painting all that different from the average big-time program? Miami officials let Nevin Shapiro run wild inside their program for years. North Carolina is awaiting an NCAA verdict on what has been called the largest case of academic fraud in history. Bobby Petrino lost his job and almost wrecked his marriage at Arkansas.
Whether culpable or not, Rick Pitino was in charge when recruits were allegedly hooking up with hookers.
At least at that level, the miscreants and violators have somewhere to land when they fall -- and sometimes fat wallets to cushion them.
As Sims like to say, "There's no juco, for juco."
There are 68 football-playing schools in the National Junior College Athletic Association. There are another 69 in the separate California Community College Athletic Association. There are hotbeds in Utah, Arizona and Mississippi.
Keyshawn Johnson, Aaron Rodgers and O.J. Simpson -- all first-round NFL Draft picks -- were juco guys. So was Heisman winner and Hall of Famer Roger Staubach. Clemson defensive coordinator Brent Venables is a proud Broncbuster (a juco All-American making 276 tackles in two seasons).
"Guys didn't grow up dreaming to go to Dodge City or Arizona Western. We're a means to an end."
Garden City is a proud member of the Jayhawk Conference, a 93-year-old Kansas-based league that claims a Heisman winner (Mike Rozier), heavyweight champion (Buster Douglas) and Olympian (Tyson Gay).
Think of a junior SEC connected in one state by wide expanses of flat interstate. Mostly it is a football incubator, a foundational stronghold for the higher elevations. All of junior college football is basically a rehab clinic for the not-quite-good-enoughs who fall short academically, physically or socially.
They end up here because they haven't achieved the NCAA initial eligibility minimums. They end up here if they're an inch short or 15 pounds light. They end up here when -- for them -- there is no place else to go.
"I believe that junior college football is the most effective place right now in changing people's lives," Sims declared.
It changes programs, too. Ask how Alabama-Birmingham is rebuilding, for instance. The program has signed 32 juco transfers since December -- a number allowed by the NCAA to quickly repopulate the dormant program that is returning in 2017.
Ask about Jemarcus Hardrick, who went from his native Mississippi to Sims at Fort Scott to starting left tackle at Nebraska. He's currently in the CFL.
Lavonte David had one shirt -- one -- until Fort Scott coaches went into their pockets and out to Wal-Mart one day to upgrade his wardrobe. David Garrett remains the toughest player Sims has ever seen. The dogged 5-foot-8, 175-pound defensive back from Ohio became a three-year starter at Kansas State.
A year later he was shot and killed outside a Cleveland bar. Every day, Sims fondly thinks about the kid they called "Rat."
"On average I'll get 50 requests to play football here," Sims said proudly. "Random dudes, all over the country."
That would be 50 requests per day.
The Jayhawk used to be known for schools "placing" recruits who fell short academically out of high school. The idea was for those prospects to "bounce back" to their original FBS schools after a juco car wash. Not so much anymore. Recruiting is too refined. The competition is too intense.
Hutchinson (Kan.) Community College is a regular power. Dodge City (Kan.) Community College had 10 players sign FBS scholarships in December. Players from 71 FBS programs have signed out of five-time national champion Butler County Community College in El Dorado, Kansas.
Butler's football offices are nice enough to pass for lower-end FBS. They've been the class of the league, winning five of the past six conference titles. There is a trophy case displaying those five national championships from 1998-2008.

The difference, of course, is that not many FBS schools practice across the street from a cemetery, next to a feed lot and in the shadow of a (sometimes smelly) oil refinery.
"Guys didn't grow up dreaming to go to Dodge City Community College or Arizona Western or Butler," Dodge City coach Gary Thomas said. "We're a means to an end."
You come here to brush up, to improve your body, grades or rap sheet.
Sometimes all three. Former Auburn and NFL star Rudi Johnson once rushed for seven touchdowns in a game for Butler. Nick Marshall led Auburn to the 2013-14 BCS title game after getting booted out of Georgia and landing in Garden City.
"There's nine guys that don't make it for every time [a star] makes it," Sims said. "It's almost kind of God's trick on you, that you're going to quit and then you save one. Usually, when you save one, it's a tremendous story."
Some of them have no other choice but to be saved.
"There's three ways to get here -- by plane, by car, by bus. Usually the best players come by bus with only one bag. Why? Because they're hungry," Sims said.
"The guy who shows up here with two parents and they put his stuff in his room, is going to get ate alive."
Sims loves hungry. In 2007, Robert McField was kicked out of Minnesota after being convicted of armed robbery. He did five years in a St. Louis prison. Near the end of his sentence, his mother sent out 30 emails to coaches.
One responded -- Sims.
"I'm in an orange jump suit with handcuffs on," McField recalled. "I'm looking him in the face, 'You don't understand. I don't have anywhere else to go.'"
McField starred at Fort Scott, got a Division II scholarship to Pittsburg (Kan.) State. With the NFL in his future, the last play of McField's life turned out to be the catch of a two-point conversion pass to send a playoff game into overtime. A week later McField found out he had been playing with non-Hodgkin's lymphoma.
"Had a tumor that almost cut off my windpipe," he said.
Today, he is in remission, pursuing a master's doing motivational speaking.
"Coach Sims," McField said, "saved my life."
You can judge that, too. Sims is proud of the fact that 27 of his players have graduated from high school ... while attending junior college. (Yes, it's possible.) That list includes Pierre-Paul, who, Sims says, earned 51 credits in a 13-month span. Apparently, that's possible too.
Figueroa might be the best player Sims has had since Lavonte David. The pleasant 20-year-old works at the local Buffalo Wild Wings in his spare time. He needs the money to pay the final $300 owed for his pre-trial diversion requirements. Those included 100 hours of community service and completing the Mentally Disordered Sex Offender program.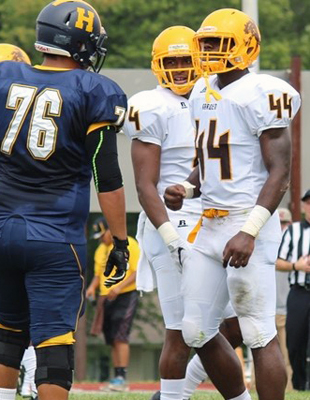 Alex Figeuroa, No. 44, was dismissed from Miami in July 2014. (Credit: Garden City CC)
The case is complicated and all but resolved. A spokesman for the Florida state attorney general's office told CBS Sports: "Once you complete a pre-trial diversion, you're not convicted [of] anything."
"I'd tell her, I forgive her," Figueroa said of the alleged victim. "At a certain point I had a lot of hate for her and everybody that I felt, like, did me wrong. I hope that everything she's doing works out the best for her."
You may have seen Campbell body-slamming that security guard, then attacking his girlfriend.
"Before they came I was really hesitant," said Holly Chandler, a Garden City reading specialist who works with athletes. Chandler is also a mother of two.
"You're not really sure what to expect. Once I got to know them, I really appreciate them. I have a high respect for them."
It's obvious. Chandler donates her time to the athletes during her planning period. She knows their schedules, their grades. They need her. If nothing else, Holly Chandler is another rung up the ladder.
The NCAA requires only a junior college associates degree and a 2.5 GPA to transfer out of this limbo. But that can be easier said than done.
"I've got kids testing in at a third-grade reading level," Chandler said. "Not to offend anyone but a lot of it is ... because a lot of people tend to think they're pushed through [high school] more."
Campbell had it all, winning two high school state titles at Detroit's Cass Tech. Michigan State offered him after his sophomore season. To call him a high school hero in Detroit wouldn't be out of line.
"I grew up in the rough neck of the woods," he said. "One time a lady pulled me over and she just came from the liquor store with whatever drink she had in her bag. She pulled it out and handed me the brown paper bag and said, 'Can you sign this for me.' It made me feel a little special."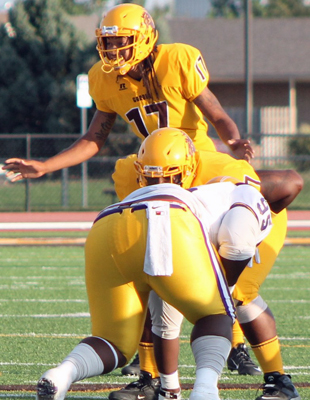 Garden City QB Jayru Campbell committed to Michigan State before ending up in prison. (Garden City CC)
To make sure he nails down the Garden City starting job, Campbell rises early, practicing his accuracy by throwing at a soccer goalpost -- in the dark.
So, yeah, there's this perception about juco football. There's also a desperation. As a freshman at Miami, Figueroa started two games and was projected as a starter in 2015. In his new life, Figueroa has played all of one game at Garden City (foot injury in 2015). He's rehabilitating like mad, hoping to make good on Sims' projection that he could be in the NFL next year.
Be advised, there are standards.
"Just had one that wanted to come here who was a 'digital rapist,'" Dodge City president Harold Nolte said of a prospect he turned away. "I've never heard that term."
Butler College coach Tim Schaffner says anything to do with a weapon or sex -- "pistol or penis" he calls it -- raises a red flag in recruiting.
That may or may not include Zach Mettenberger, who was exemplary as a person and a quarterback for Butler County in 2010 before transferring to LSU. Mettenberger -- now in the NFL -- was dismissed from Georgia and pleaded guilty to two misdemeanor counts of sexual battery.
"We don't do the mercenary thing here," Schaffner said. "It's more about the culture. We'll take a three-star and make him a five-star."
Schaffner kicks himself for once being dazzled by the recruiting services. He took a chance on Davon Durant, a top linebacker recruit from the Class of 2013.
"From the moment he walked on campus it looked like he could play in the NFL," the coach said. "We thought we had to start chasing stars [next to players' names]. Those are the guys from the moment they get there, they don't want to be here."
Durant played in only 11 games in two seasons at Butler. He was booted by Arizona State coach Todd Graham in May after pleading guilty to misdemeanor disorderly conduct. He was originally accused of domestic violence and aggravated assault of his girlfriend.
"I'm not going to say anything to a recruiter," Schaffner said. "If you don't ask me why he only played in six games [his last year], I'm not going to bring it up. It's your job to do all this. Nobody did. Nobody asked."
Dodge City linebacker Gary Johnson is the antithesis of all this negative perception. Undersized out of Douglas, Alabama, he recently got an offer from Alabama.
"I handle my business out here with nobody watching," he said.
Somebody's watching. Among those 10 December Dodge City signees was second-team All-American tailback Mark Thompson, now at Florida. All of them played in a stadium shared by the local high school.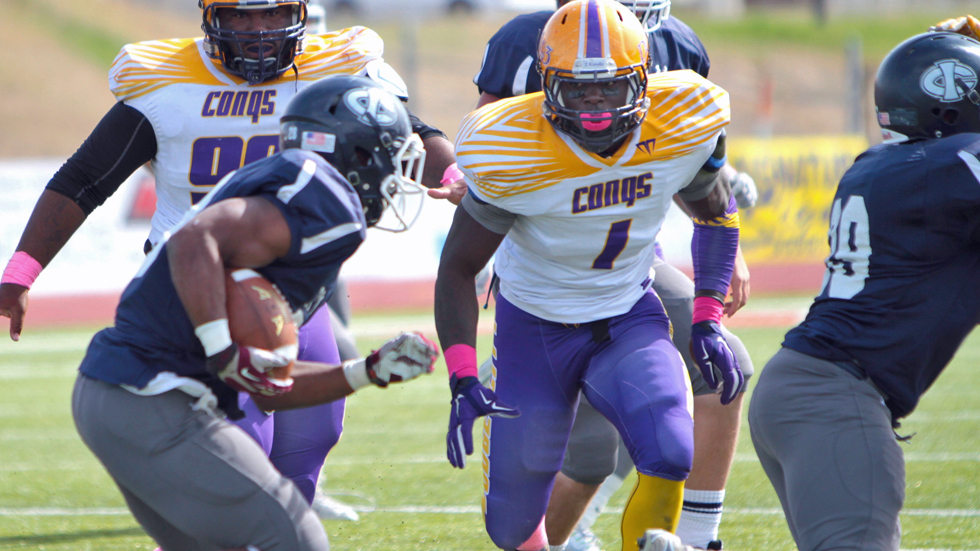 Dodge City LB Gary Johnson has an offer from Alabama. (Jeanie Rose/DC3 Athletics.)
Be advised, there have to be standards.
"I won't take any walk-ons from Colorado," said Thomas, whose Dodge City campus is 100 miles east of the state where marijuana has been legalized.
"As a walk-on who isn't going to be on our active roster on Saturday they have the ability to go home. So then you become this drug mule who goes home and gets stoned out of his mind on the weekend."
Yes, this is the Dodge City of Wild West fame. The Dodge City celebrated in National Lampoon's Vacation. Yes, the main drag features the bright lights of -- wait for it -- Wyatt Earp Blvd.
Neal Cole fits in. The Dodge City campus security director is nicknamed "Barney Fife." Cole dresses in military garb. A 9 MM Sig is strapped to his side. Cole says he was shot at while working in military intelligence in Kosovo and Iraq.
By the looks of the campus and the conference, the only crime is a lack of trees in the vastness of this Pure Prairie League. Bread crumbs are optional.
"Nobody shot at me yet here," he said, smiling.
For all of them, this time of year has sort of a Waiting for Godot feel to it. Salvation is coming to town. The second chances wear polo shirts as college assistants from across the country scout the Jayhawk -- and all junior colleges -- during spring practice.
This is their way out. For a lot of them, it has to be now -- or perhaps never. National junior college signing day is in December.
Sure, it's a meat market. How is that any different from all those polished 7-on-7 camps, those Elite 11s, those over-the-top high school all-star games? Not much except most of the time they all handle their business out here with nobody watching.
"You're showing them," Sims drilled into his Broncbusters at that crack-of-dawn breakfast, "why they should scholarship you."
Go ahead and judge them. This is Opportunity, USA.