LSU football coach Les Miles is a bad guy -- literally, a subspecies of human being -- but make no mistake about this: I'm not calling him a cheater. Miles is a bad guy, but he's a bad guy with the official approval of the NCAA.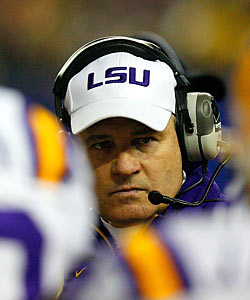 So I guess I'm calling the NCAA a bad guy as well. But that fits, seeing how the NCAA won't let college prospects eat a cheeseburger under certain conditions -- but will let Isiah Thomas be on the New York Knicks' payroll as a consultant while also coaching the Florida International basketball team. The NCAA is made up of a lot of people, men and women, who are smart and kind and classy -- but as a whole, the NCAA is full of crap.
Which brings me back to Les Miles, who's so full of crap he needs a full-body enema. A bad guy, I'm telling you, and in a minute I'll tell you why. And when I'm done, you'll agree with me.
But don't get smug over there, fans of Miami or Ole Miss or Alabama. Your coach is a bad guy, too. Randy Shannon? Honest as he can be, but a bad guy. Houston Nutt? Not sure how honest he is. Positive he's despicable. Nick Saban? He follows the NCAA rulebook to a 'T,' yet is two evolutionary stages below a lizard.
All of them have run players off their team, and out of school, because the players were guilty of, well, nothing. The players were academically sound. They were solid citizens. But they were the odd man out after their coach -- Miles or Saban, Nutt or Shannon -- signed too many players and had to go all grim reaper on someone.
At LSU, Les Miles went grim reaper this year on three different someones -- none more appallingly than Elliott Porter. Porter is a freshman offensive lineman from Waggaman, La., who signed with LSU in February, qualified academically, reported to summer school in June and started taking classes. After two months as a member of the LSU football family, Porter was summoned last week from his dorm room to Les Miles' office to hear that he wasn't part of the family anymore. Sorry, son. You're out. The NCAA allows a team to add 25 scholarship freshmen, and LSU had gone over that limit. Someone had to go, and that someone was Elliott Porter.
Miles is getting good at this. In March, when he first started to suspect that he had signed too many players -- he intentionally went over the 25-signee limit, assuming several would fail to qualify -- Miles took away the scholarship of linebacker Houston Bates, who went to Illinois. Last month, still needing to whittle down to get his overall roster to the NCAA-allowed maximum of 85 scholarship players, Miles cut redshirt freshman quarterback Chris Garrett. That slash of his scythe was especially galling, seeing how one year earlier Miles had talked Garrett out of his oral commitment to Mississippi State. Last week Garrett, after being screwed out of two SEC schools by Les Miles, transferred to Northwestern State. I don't know what NCAA division that school is in. Not even sure what state it's in.
All I know for sure is this: Les Miles is a bad guy.
So is Houston Nutt. He's the worst serial offender of this trend known as over-signing. Sounds almost harmless, doesn't it? Over-signing? The "solution" also has a nice little sound to it: a grayshirt. A grayshirt, technically, is a player who doesn't get a scholarship for whatever reason, but has an agreement with the coaching staff that if he stays on campus for a semester, or even a year, he will get his scholarship eventually. Sounds civil, doesn't it? Never mind that the player was promised a scholarship and then he turned down other schools -- and other scholarships -- to sign with a team that, oops, didn't have a scholarship for him after all.
Nutt's the worst. The NCAA allows 25 scholarship freshmen to report in the fall, but Nutt found a way around that. He'd sign well over 25, and then figure out which losers to cut loose. Two years ago he signed 37 recruits, binging on high school kids like a drunk binges on beer, and that was enough. The SEC passed what is known in coaching circles as "The Houston Nutt Rule," limiting its schools to 28 signees. That's a start, but it's still not good enough. Bad men like Les Miles and Nick Saban will binge by signing those 28 players, then purge the excess.
Saban has had to get rid of people every year he's been at Alabama, worst of all in 2008 when he signed 32 players -- again, the NCAA allows only 25 to report on scholarship -- and was saved, if you want to call it that, when some of his players were arrested or injured or run off the team by Saban himself. Last year Saban grayshirted three freshmen. This year he limited himself to only one, tight end Harrison Jones. For that, Saban deserves applause. Just like you'd applaud a seventh-grade bully who beat up three little kids yesterday but cut back to one bleeding first-grader today.
At Miami, meanwhile, Randy Shannon added two sensational late signees -- two of the best 15 recruits in the country, defensive back Latwan Anderson of Glenville, Ohio, and offensive tackle Seantrel Henderson of St. Paul, Minn. -- but found himself over the 85-player limit. So he cut senior defensive end Steven Wesley, who had redshirted as a freshman at the coaching staff's request and then had his fifth-year senior season taken away ... just because.
Because "The U" added Anderson and Henderson. Because Shannon couldn't make the numbers work without getting creative with his scalpel and removing Steven Wesley like a benign tumor.
This has to stop.
The rest of the country has adopted the SEC's "Houston Nutt Rule" limiting teams to 28 signed players, but that's still three too many if only 25 scholarship players are allowed to report to campus -- and if the solution to the dilemma is what happened to Elliott Porter.
In his dorm room. On campus. Lifting weights and taking classes. Called into Les Miles' office and told to go home.
It's indefensible, and it ought to be illegal. Next time it happens, I don't want to call Les Miles a bad man.
I want to call him a cheater.