Somebody at USC needs to put a sock in it. Fans, conspiracy buffs, message board loons. As unfair and lengthy and divisive as the Reggie Bush case has been, it's over.
The NCAA's rejection of the school's appeal came down Thursday and no one -- including USC -- should have been surprised. No more whining, no more arguing, no more incendiary emails to Indianapolis.
What does that accomplish? Life isn't fair. We know this because Oprah has her own network. Deal with it. Move on. Judging by the reaction from the people that matter at USC -- Pat Haden, Lane Kiffin, etc. -- that's exactly what is happening. They get it. Any existing animosity they've stuffed down in that place where mob bosses stow payback.
But this shouldn't be about bitterness and retribution. USC took its shot -- essentially arguing that one rogue player took down the program -- and failed. It went down throwing adverbs around like ninja throwing stars. Is it possible to "vehemently" disagree with the findings and be "gravely" disappointed while "respectfully" accepting them?
More on USC

Bryan Fischer
Trojans never stood a chance after taking NCAA's best shot. Read More >>
Related links
Deep breath, Troy. Feel better? Next up on USC's we-got-screwed docket is the public spanking awaiting Ohio State. If Ray Small is to believed, Jim Tressel oversaw a wide variety of pawn stars. The NCAA says it doesn't compare cases when applying penalties but that won't stop USC from doing just that.
Instead, let's take a potty break from the infractions committee hearing room, shall we? If you're a Trojan fan -- if you're a college football fan -- you want to cut to the chase. You want to know how soon USC can get back to being USC.
The answer is as uncertain, wordy and drawn out as the NCAA's 27-page appeals report.
First, you have to consider whether USC football has bottomed out as a result of the penalties. The obvious answer is, not even close. The program has barely begun to suffer from the scholarship reductions. By appealing, USC delayed the imposition of the cuts until 2012.
Debate that strategy, if you will. It is what it is. USC is about to wade further into one of the most crippling penalties in NCAA history -- short of The Big Haircut, NCAA style. In March, Haden showed me what looked like a 500-page binder. It might as well been labeled The Book of Hope. It was an evaluation of the 2010 season from his coach. Player evaluations. Academics. Even the future.
"He's got a plan," Haden said.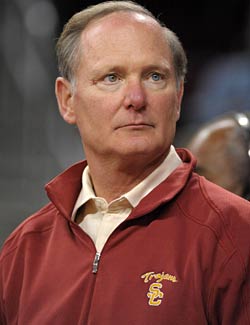 It had better be a good one.
Oklahoma received similar penalties in 1989. It went through four coaches in 11 years before winning a national championship in 2000. That was considered a fast recovery. In 2009, Alabama went on probation for the fourth time in 14 years. It won a national championship two years later. That's speed-of-light bounce back.
Maybe that's an Alabama thing. Maybe USC is in that category. It can only hope. These sorts of things are kind of the great unknown because there are only a handful of schools that can handle such debilitating penalties. USC is seemingly among them, but there are enough footnotes to that statement to give any Trojan fan pause.
•  We don't know if the NCAA is through with Kiffin. Thanks to his alleged transgressions at Tennessee, he will appear before the infractions committee on June 10 -- ironically, a year to the day after USC got its penalties.
•  We still don't know yet whether Kiffin can lead any program to greatness. Let's be blunt: We have no idea if he is any good as a head coach. He is 15-11 in two years as a head coach at two schools. At one (Tennessee) he left NCAA violations. At the other, his career arc moves forward while digging out from underneath NCAA violations.
The man is smart, accomplished, good-looking and a heck of a recruiter. He'll need to dial up those attributes to 11. Meanwhile, USC fans everywhere are hoping the evil brew of penalties combined with a still largely unproven coach don't equal ... Paul Hackett.
"He's going to have challenges that other coaches haven't had here," Haden said of Kiffin on Thursday.
"I think we can be competitive," Kiffin said.
Competitive? That's an assumed expectation at USC. Even with 75 scholarship players (10 under the max allowed) there should be enough talent to break even in Pac-12 games. Kids will always want to come to Troy because they can still get to the NFL from there. In a four-year period (1980-83), USC was hit with three postseason bans. It then went to the Rose Bowl in 1984, 1987, 1988 and 1989.
But can USC fans stomach a couple of 8-4s on the road to recovery? Will it be OK to be a non-factor in the conference race until 2015? Is 10 years too long to wait until the next national championship?
All of that is a reasonable glimpse at USC's future. What's unreasonable today is to want payback against anyone but Oregon. The Ducks are the ones who won by three touchdowns in the Coliseum last season. They're the ones who lost the national championship at the gun.
They're the ones threatening to take over the Pac-12.
They're the ones about to become the new USC.