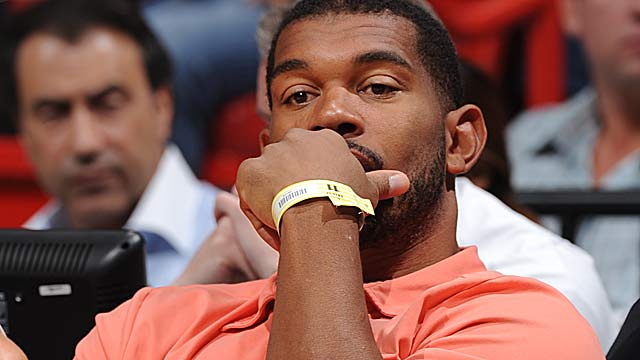 The free ride is over for North Carolina. It was good while it lasted -- but why it lasted so long, I can't say. It's astounding, how this academic scandal could go on for so many years and help so many UNC athletes without being stopped.
Where was North Carolina's leadership in all of this? Where was the UNC president, the athletics director, the coaches for football and -- yes -- basketball? Where were they?
Where was the NCAA?
Where was the media?
Where was I, for crying out loud?
More on UNC controversy
Related links
More College coverage
Well, I know where I was: in disbelief that what seemed to be happening at North Carolina actually was happening. I've been hard on UNC athletics in recent years, challenging the school to fire Butch Davis among other things, but this was different. This was an indictment of UNC academics, and that didn't jibe with me, maybe because I didn't want it to jibe. We tend to believe what we want, and since my sister graduated from UNC-Chapel Hill and loved the school so much that she still lives nearby, I didn't want to believe this school -- her school -- could be so shameful.
But it is. The school's cover is blown. The free ride, as I said, is over.
And to North Carolina's shame on so many levels, the cover was blown by a fan at North Carolina State.
Think about that. UNC football -- and probably basketball -- is going down, and it'll go down in part because a member of the PackPride message board found a damaging transcript belonging to a former UNC athlete. Humiliating, and not just because the whistle was blown by a fan of N.C. State, a school many UNC graduates look down upon.
Humiliating also because it underscores just how ignorant North Carolina wanted to be. UNC officials didn't want to know what was happening, so they stuck their heads in the dirt -- and it just got worse. How bad?
Maybe the ugliest academic scandal in NCAA history.
This one is worse than what happened in 2007 at Florida State. I mean, it's not even close. Florida State had some numbers that looked bad -- 61 athletes from 10 different teams -- but this UNC scandal dwarfs it.
FSU had 61 tainted players, almost all from the same class.
North Carolina has at least 54 tainted classes.
How many athletes were given free grades from the Department of African and Afro-American Studies? We don't know. UNC never wanted to find out, but the school has no choice now. The school mustered a halfhearted search for the truth earlier this year when it found those 54 tainted classes, but its search went back only to 2007. Despite efforts from the Raleigh News & Observer that suggested otherwise, the school held firm that the academic fraud started in 2007.
Enter the N.C. State fan and the found transcript. It belonged to former UNC two-sport star Julius Peppers.
See what we have here? We have evidence not only of grades being given to athletes for at least a decade -- but also that UNC academic support staff steered athletes to those classes. This can't be dismissed as the rogue actions of a man named Julius Nyang'oro, the embattled former head of the Department of African and Afro-American Studies. If it was just him, well, that could be explained away to a certain extent. The school would be vulnerable to NCAA sanctions, but one man running amok? That's not horrible.
So what actually happened at North Carolina?
This is horrible.
Academic advisers steering athletes to Nyang'oro's department. Athletes staying eligible by getting grades in some classes that didn't even exist. Athletes who played football and men's basketball.
Did the coaches know? Well, ask yourself this: Are we to believe that academic advisers were steering famous athletes to bogus classes behind the backs of the millionaire coaches who recruited, coached and needed those athletes to remain eligible?
Answers are coming, but already we know this: The scandal spanned the decade from 2001-11. Know what happened that decade? The UNC men's basketball team played in three Final Fours. It won national titles in 2005 and '09.
Did any players on those NCAA championship teams attend bogus classes? According to the News & Observer, almost 67 percent of the students in those 54 classes were athletes. Most played football, but the newspaper reported that UNC records showed "basketball players had also enrolled. In two of the classes, the sole enrollee was a basketball player."
See, this is so much worse than what happened at Florida State -- and Florida State vacated two seasons of saintly Bobby Bowden's victories, suffered scholarship restrictions and received four years of probation.
What happens to North Carolina? Well, that depends. First, the NCAA has to show it cares. Incredibly, to date, the NCAA has not. Trained NCAA investigators missed the very stuff that is seeping out now, including that transcript discovered by a single N.C. State fan. Remember, the NCAA already has investigated UNC for violations that included -- but were not limited to -- academic fraud. The NCAA poked around, found some stuff, but didn't find this.
The NCAA didn't find 54 bogus classes from 2007-11, or the unknown number of classes dating to 2001, filled mostly by UNC athletes. The NCAA hasn't uttered a peep in recent days about these new allegations, either. Neither has the school. Not Roy Williams. Not anybody. The biggest response has been the creation of a website attacking the Raleigh reporter who is all over this story, including the Julius Peppers revelations. The website was created by a man named Carl Carey. Julius Peppers' agent? A man named Carl Carey.
Could be a coincidence. Someone will find out, because what happened at North Carolina was bad -- real bad. Looking the other way worked for a while, but like I said, the free ride is over.
It's time for the NCAA to start digging. In the meantime, North Carolina should get a head start on some of its own chores.
For starters? There are some banners at the Smith Center that need to come down.