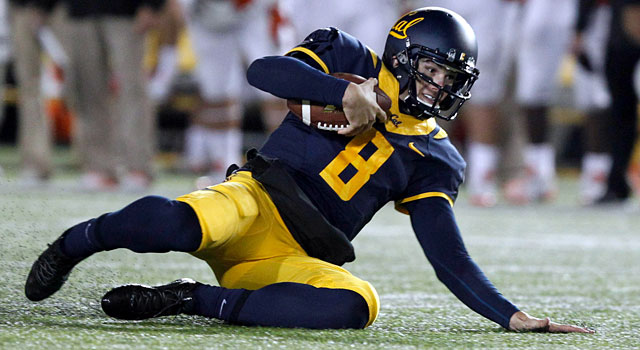 The weekly BCS race sparks debate about the best teams, but the worst should not be overlooked.
As a result, the four-team playoff comes a year earlier than expected.
The Worst Teams Playoff Bracket seeds the four teams with the most underwhelming performances among the six BCS automatic qualifying conferences.
You get the vote for the champion ... er, the worst of the worst.
Sorry, Kansas, Virginia, Kentucky, N.C. State, Arkansas, Colorado and Temple. You were bad, but not quite as bad as Purdue, UConn, Cal and Iowa State. The stench of an eight-team Worst playoff would be unbearable, so some teams couldn't make the cut.
This playoff doesn't account for the five so-called smaller conferences (or non-AQs). We know FIU and Southern Miss are bad. They don't need to be debated here. Schools from BCS conferences have loftier expectations, more resources, so the losses are more painful.
Below are the schools, complete with a breakdown of why each team is seeded as such. If you're a fan of one of these teams, you can help them – if they deserve it, of course.
No. 1 seed: Purdue (1-9). The Boilermakers have earned their top seed. They are outscored by an average margin of 38-13 while failing to score more than 10 points half the time. The 31-24 loss to Notre Dame was Purdue's only loss within a 10-point margin. The offense gets 65 rushing yards a game. The sheer ineptitude in several areas has Darrell Hazell ready to start Year 2 in a hurry.
No. 2 seed: Connecticut (0-10): The Huskies never could recover from the season-opening loss to Towson. UConn hung tight with Michigan and USF but is still the only BCS team left without a win. The 41-12 trouncing by Buffalo expedited Paul Pasqualoni's firing. The only FBS team worse than UConn's 38 sacks allowed? Idaho.
No. 3 seed: Cal (1-10): Cal showed promise in non-conference play against Northwestern and Ohio State. But several injuries occurred, confidence disappeared and the Pac-12 schedule swallowed the Bears up. Cal's turnover margin is -1.36, second-to-last in the country, and the Bears allow 44.4 points per game. A five-point loss to Arizona was Cal's only close conference game. Expect serious improvement under Sonny Dykes next year.
No. 4 seed: Iowa State (1-9): The Cyclones are not always bad. They've played Texas Tech, Texas and TCU tight in conference play. They might be better than Kansas. But it's hard to justify Kansas over ISU with the Jayhawks getting a win over West Virginia last week. This is a young team that's thin at the skill positions (no rusher or receiver above 520 yards). Losing to Northern Iowa was not a good look.