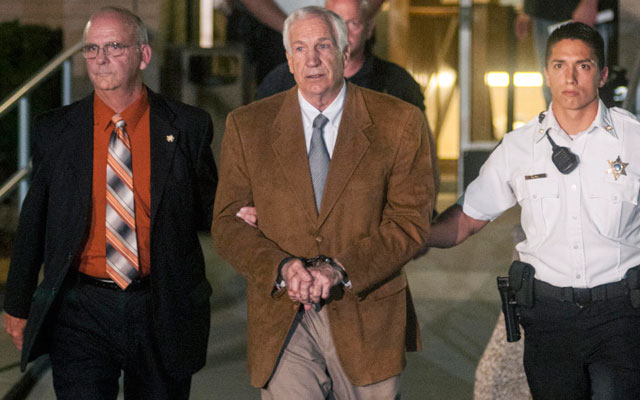 Jerry Sandusky is getting another appeal.
The former Penn State assistant coach, currently serving 30 to 60 years in prison after being convicted on 45 counts of child sexual abuse, will have a hearing later this month on May 20, according to the Associated Press. In that hearing, Sandusky's lawyers will present a case claiming that prosecutors lied, withheld evidence, and leaked secret grand jury information to find additional victims in Sandusky's original trial.
Judge John Cleland approved of the appeals hearing, saying it would "provide the defense with an opportunity to prove" the claims, as they continue to seek having the original charges against Sandusky dismissed, or to get a new trial.
The major part of the appeal involves the closing argument of prosecutor Joe McGettigan. In the argument, McGettigan referred to "others unknown to us, to others presently known to God but not to us." According to Judge Cleland, Sandusky's defense could be trying to prove this was a reference to Victim 2, who was not named, and did not testify at Sandusky's original trial.
Victim 2 was the boy that former Penn State assistant Mike McQueary testified to having seen Sandusky attacking in the team shower.
This is not Sandusky's first attempt to appeal his sentencing. He has lost direct appeals to both the Pennsylvania Supreme and Superior Courts, and is now appealing under the Post-Conviction Relief Act. The law is meant to address newly found evidence, constitutional violations or ineffective lawyering.