A ghost from the grave is running the Alabama football program ... and running the program at UAB into the dirt.
Oh, wait. That's no ghoul. It's not Bear Bryant, who died in 1983.
It's his son, Paul Bryant Jr.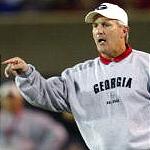 Little Bear wouldn't return messages from CBS SportsLine.com, so this will just have to be said without a rebuttal: Paul Bryant Jr., with a murky background and clear conflict of interest, has no business exerting influence over the football program at UAB.
We'll get to Little Bear's background in a minute, but for now, understand something. The UAB football program just made the most dreadful hire of the offseason, hiring someone with questionable experience and character. His name is Neil Callaway, the offensive coordinator at Georgia, which you might have noticed was horrible this season on offense. The last thing Callaway did of note was plead guilty to DUI charges in 2003.
This is the new UAB coach. He's a lousy choice. Which is apparently what Little Bear wanted.
Little Bear sits on the University of Alabama Board of Trustees. From there, he wields all sorts of authority over Alabama and its state step-sister, UAB. Little Bear, who once gave $10 million to the Crimson Tide athletics department, is close friends with Alabama AD Mal Moore, who keeps his job despite a proven inability to pick a quality football coach.
What happens to Alabama football, however, is not our concern. Bear Bryant Sr. built the Crimson Tide into the South's most fearsome franchise, and if his boy tears it all the way down, well, there is symmetry in that.
What has happened this month to UAB, however, is an outrage. Essentially, Little Bear's Board of Trustees blocked UAB from hiring the football coach it wanted. Twice. And the second time, Little Bear's Board stopped UAB from hiring the coach it wanted because, presumably, the coach UAB wanted -- Jimbo Fisher -- might also be wanted by Alabama.
Ugly, but that's the deal, based on SportsLine.com conversations with sources close to the situation.
After being blocked by the Board of Trustees in its quest to promote assistant coach Pat Sullivan, who became head coach at Samford, UAB turned to LSU offensive coordinator Jimbo Fisher. UAB and Fisher agreed on basic contractual terms, with half of Fisher's annual UAB salary -- ballpark: $600,000 -- to be subsidized by private boosters.
UAB was going to get the coach it wanted, a coach whose rumored arrival already was waking up the comatose UAB football program -- yet would have been on the hook for less salary than ex-coach Watson Brown, who made $375,000. It was perfect.
Little Bear's Board of Trustees said no. You want to know why? So do I, but Little Bear wouldn't return my messages. So here's the theory I'm working on, a theory based on conversations with multiple sources with a vested interest in UAB football:
Alabama also is in search of a football coach. The Crimson Tide has gone a month without one, raising the obvious possibility that its next coach has been selected but cannot be unveiled. Someone like, say, Miami Dolphins coach Nick Saban, whose NFL acumen is debatable but college resume (Michigan State, LSU) is beyond reproach.
When he was at LSU, Saban's offensive coordinator was Jimbo Fisher. If he's going to return to college football, his choice for offensive coordinator would likely be Fisher. By making Fisher its head coach, UAB would have stood in the way of that, making the Alabama job less attractive to Saban. Alabama can't afford that.
And who does UAB think it is, anyway? The Board of Trustees did the Blazers a favor in 1996 by letting them become a Division I-A football program, but magnanimity has its limits, and for Little Bear's Board, this was a line UAB was not going to cross.
Little Bear's board told UAB it would not approve the hiring of Jimbo Fisher.
What kind of man is capable of such a plot? Not sure. But here's the kind of man Little Bear is:
He made a fortune from dog tracks, including the notorious track at Coeur d'Alene, Idaho, which closed in 1995 after reports of monstrous dog abuse. He's a catfish kingpin whose farm processes 700,000 pounds per week. He's a Civil War buff who has been a ranking member of the controversial Sons of Confederate Veterans, which "is dedicated to the promotion of traditional Southern ideals ... to hold in perpetual remembrance all that was great and good."
Yeesh.
In 1989 Bryant was quoted in Esquire as describing the clientele at his Alabama dog track as "a low-class, low-income crowd ... generally your lower class of blacks, your welfare blacks, you want 'em to have enough room to get in and out, but at the same time you want to get as many in as possible."
In 2000 the Legislative Black Caucus seized on those comments to try to block his appointment to the Board of Trustees. Little Bear said Esquire invented the quotes. Little Bear got his way -- he got onto the Board of Trustees.
UAB has the football coach to show for it.