MIAMI -- It doesn't get better than this for Louisville, and before you get all warm and mushy, Louisville fans, understand the danger in that statement.
It doesn't get better than this. It can't. It won't.
Louisville finished off the best season in school history Tuesday night, beating Wake Forest 24-13 in the Orange Bowl. The Cardinals have a school-record 12 wins, a school-first BCS bowl victory and a program-best national ranking that will be somewhere in the top five when the final polls are released next week.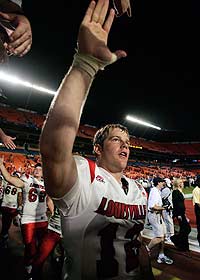 For Louisville, this isn't the start. This is the end. This is the apex of one of the most impressive climbs in college football history. Nine years ago Louisville was a 1-10 joke. Today Louisville is a 12-1 monster.
Tomorrow? Tomorrow isn't guaranteed to anyone, as you know, but that's especially true of a Louisville football program that could lose its stud quarterback, its best running back and its top two receivers to the NFL. And if all of that comes to pass, do you really think Bobby Petrino is going to stick around when his coaching stock is at an all-time high?
Not to dredge up too much history, but Petrino has spent the last several years suggesting that Louisville won't be his final destination. When it comes to flirting with other schools, Petrino is such a tramp that I'm guessing he carried his cell phone on the sideline Tuesday, just in case Alabama or the Miami Dolphins were trying to reach him.
As great as Tuesday night must have been for a Louisville fan, that is how uncomfortable the coming days are about to get. Quarterback Brian Brohm, the Orange Bowl MVP after throwing for 311 yards, is only a junior but could be the No. 1 overall pick in the 2007 NFL Draft if he turns pro. Leading receiver Harry Douglas (70 catches, 1,265 yards) is also a junior who pro scouts drool over.
Then there's No. 2 receiver Mario Urrutia (58 catches, 973 yards), who was unimpressive Tuesday, but he's 6-foot-6 and 228 pounds. He's fast, and he's only 20 years old. He's eligible for the draft because he's a redshirt sophomore, and if he lasted past the second round I'd be stunned. Same goes for junior tailback Michael Bush, who missed most of this season with a broken leg but could be the 2007 draft's Willis McGahee, meaning a player talented enough to be drafted in the first round despite a major injury.
Be thrilled, Louisville fans. Be proud. But be realistic, too. Those of you who were at the Orange Bowl seemed to understand the stakes. Seconds after the game ended, as soon as Kool & and The Gang's Celebration was done playing over the loudspeakers, thousands of you chanted, "One more year, one more year."
Who were you chanting at? Everybody, near as I could tell. Brohm, Bush, Urrutia, Petrino. Brohm addressed the issue afterward, and not in a positive way. Asked if he would return to school, Brohm said he didn't know. If that first domino falls, watch out.
Douglas is gone. So is stud defensive lineman Amobi Okoye, a senior who is just what the socially deteriorating NFL needs. Okoye is only 19, but he's already graduated from college after reporting to Louisville at age 16. He's smart, he's classy, he's talented. And he's gone. So are four of the Cardinals' top five tacklers, and that assumes junior linebacker Malik Jackson doesn't check out his NFL stock.
Petrino might have been too good at his job, if you want to know the truth. He recruited the deepest collection of talent Louisville has ever seen, so deep that the Cardinals survived Bush's injury and Brohm's two-game absence and still came within a three-point loss at Rutgers of playing Ohio State for the national title.
Petrino is so good, he fended off the best pure coach in college football, Wake Forest's Jim Grobe. With its high academic standards and low tradition and middling (but improving) facilities, Wake Forest will never be able to attract as many talented players as most of the ACC teams it beat this season, or Louisville for that matter. If Wake Forest had won Tuesday, it would have been the least talented team in college football history to win a BCS game. Louisville has NFL talent and size all over the field. At every spot but head coach, Wake Forest could pass for a team from the MAC. Or the Sun Belt.
Just how unimpressive, physically, are the Deacons? The three worst teams in the ACC are Duke, North Carolina and North Carolina State. Altogether they went 6-30. Wake Forest beat that trio by 10 points. Combined.
The Deacons throw all kinds of ugliness against the wall, hoping some of it sticks to the scoreboard and some of it sticks to the other team and at the end of the night enough of it has stuck in enough places for Wake Forest to have a few more points than the other team. That happened in the ACC title game, when the Deacons beat Georgia Tech 9-6 in a zero-touchdown game of gook. It looked like something similar was going to happen to Louisville, but Petrino met Wake Forest's sludge by smacking back with a Brohm-to-Douglas sludge hammer.
This was an ugly game, but you could see it coming. For one thing, there was the Wake Forest factor. And then the week got off to an ugly start when Louisville offensive coordinator Paul Petrino used his bowl-sponsored press conference to inanely promote himself as a head coaching candidate for whatever job might come available.
Believe me, believe me, believe me, if Paul Petrino had anything to do with Louisville's record-setting offense, he already would have been offered a head-coaching position somewhere. Or he at least would have been interviewed somewhere. Anywhere. But Bobby Petrino calls the plays and Jeff Brohm coaches the quarterbacks, which means Paul Petrino is Louisville's offensive coordinator in name only. Know your place, Little Brother. Don't call attention to yourself.
Then again, along with vacancies at quarterback, receiver and running back, Louisville might just be in the market soon for a head coach.
Be scared, Louisville fans. As soon as you're done celebrating, of course.