1992-2012: 20 most meaningful bowl games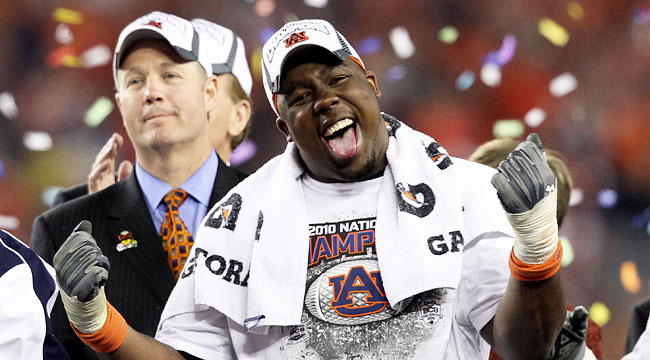 Auburn wins the national title. (US Presswire)
By Brett McMurphy
In a season filled with comebacks, allegations and NCAA investigations for Auburn, the Tigers' season ultimately was decided by a freshman running back, who refused to stay down on the ground.
Michael Dyers' 37-yard run -- part Barry Sanders and part Tasmanian devil -- set up Wes Bynum's 19-yard field goal with no time remaining, giving Auburn a 22-19 victory against Oregon.
Tied at 19, Dyer raced around right end and was grabbed by Oregon's Eddie Pleasant, who wrestled Dyer to the ground. However, as they spun toward the slippery University of Phoenix Stadium slippery turf, Dyer landed on Pleasant. His knees, shins or elbows never hit the ground so Dyer rolled off Pleasan -- the Tigers' most famous roll west of Toomers Corner -- and darted down the sideline.
After the victory, Auburn quarterback Cam Newton (responsible for the comebacks, allegations and investigations) waved up into the east stands. He then climbed over the short wall and went into the stands, past the "Eat More Duck" sign until he found his father, Cecil. Cam then celebrated with the man who the NCAA determined had shopped his son to Mississippi State for $180,000.