1992-2012: 20 most meaningful bowl games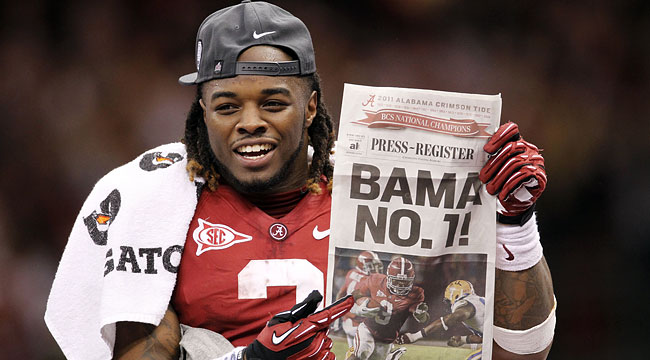 Alabama gets revenge and beats LSU in an all-SEC Championship game. (US Presswire)
By Brett McMurphy
The rematch? More like the Snooze in the Superdome.
With a game featuring two teams from the same conference in the national championship game for the first time in history, college football's BCS was once again under the microscope, wondering if its formula made the right decisison.
Alabama dominated LSU 21-0 for the 2012 BCS national title, giving the SEC its sixth consecutive BCS national title.
During the regular season, LSU was being touted as possibly one of the greatest teams of all-time. The Tigers had defeated a record eight nationally ranked teams. Against Alabama, the Tigers didn't even make eight first downs. The Tigers ended up with five first downs and crossed midfield exactly one time.
Watch hightlights of Alabama's win
It was so bad former NFL quarterback Bobby Hebert, who works for a New Orleans radio station and is the father of LSU reserve offensive lineman T-Bob Hebert, made more noise than LSU's offense. In the postgame press conference, Hebert fumed at LSU coach Les Miles stating: "I'm 51 years old, and I guarantee I could have gotten more than five first downs," Bobby Hebert said.
Alabama got its revenge from the 12-9 regular season loss in Tuscaloosa. The Crimson Tide outgained LSU 384 to 92, limiting LSU to 2.1 yards per play. The Tigers ran 44 plays on offense and only two were longer than 9 yards.