1992-2012: 20 most meaningful bowl games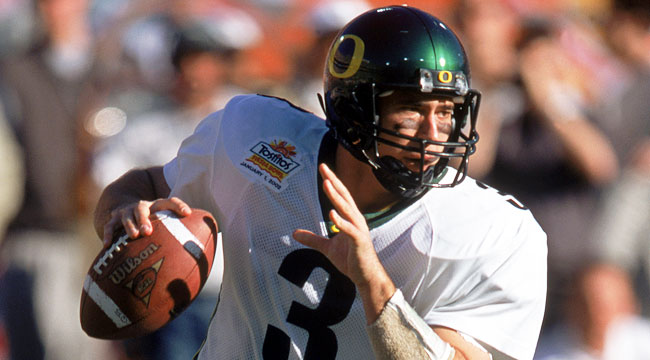 Joey Harrington and Oregon should have had a shot at Miami in the Rose Bowl. (Getty)
By Dennis Dodd
You want to know the silliness of the BCS? Exhibit A: The 2002 Fiesta Bowl.
Nothing against the desert classic but the AP No. 2 (Oregon) and No. 3 (Colorado) teams had to play somewhere in possibly the most outrageous ending during the BCS era. The game itself was a clunker, 38-16 Oregon. It's what the BCS couldn't accomplish that riled critics. Colorado finished third in the BCS, a then-record 0.5 of a point behind No. 2 Nebraska.
Which had just lost to Colorado by almost four touchdowns.
You can see where there would be a problem with, you know, faith in the system.
Colorado had just finished off Nebraska and Texas in consecutive games to win the Big 12. (CU had lost to Texas earlier that season.) Oregon had won the Pac-12, its first outright title in seven years and first under Mike Bellotti. (The Ducks shared the title in 2000). None of that made any difference when the BCS computers got hold of things. Nebraska -- fourth in the polls, No. 2 in the BCS -- was allowed to play in the national championship game, hot off a 26-point loss at Colorado. That 62-36 loss looks worse today because it began a long, slow decline for the Huskers. They still haven't won a conference title since 1999. In 2001, Nebraska didn't so much as win its division in the Big 12 but, by golly, they were deemed good enough to play in the BCS title game. It was a flaw in the BCS that would be exposed in 2003 (Oklahoma) and 2011 (Alabama).
As for the Fiesta Bowl, it will be remembered as Joey Harrington's walk-off. The Heisman candidate with his own banner draped in downtown Manhattan, threw for 350 yards and four touchdowns.
"It was difficult to tell my team why we're not [in the Rose Bowl]," Bellotti said. 
Watch highlights from the 2002 Fiesta Bowl | Watch highlights from Miami's Rose Bowl win.
Colorado? No doubt distracted. The Buffs started the season with a two-point loss to Fresno, but finished with a flourish. They did it without a 1,000-yard rusher or an 800-yard receiver. The immortal Bobby Pesavento completed 11 of 27 passes against Oregon before being replaced by Craig Ochs. And, yes, they qualify as answers to trivia questions.
Colorado was at the beginning of at least tying for the Big 12 North title in four out of five years. Four years later, coach Gary Barnett would be out of a job, caught up in a recruiting scandal.
While Nebraska was preparing to get beat by Miami in that polluted BCS title game, it should have been the Buffs -- or the Ducks.