1992-2012: 20 most meaningful bowl games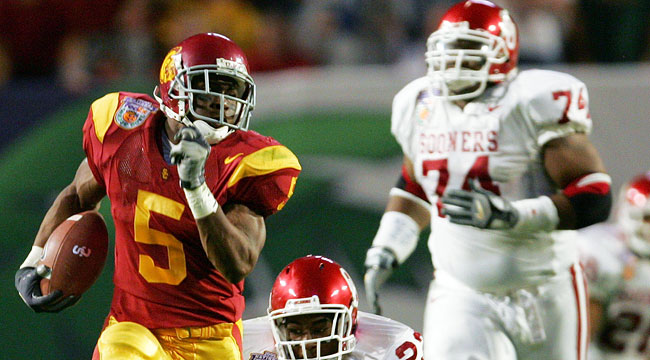 USC was later forced to vacate the 2005 National Championship. (Getty)
By Bryan Fischer
Perhaps no game symbolized the Pete Carroll era at USC better than the 2005 Orange Bowl -- a masterful combination of great offense and defense, which was later vacated by NCAA sanctions. Of course, the same is true of the BCS system in general as well. On paper, the game figured to be one of the best title games in recent memory but ended up as a rout that left many questioning whether the computers and pollsters had matched up the two best teams.
Watch highlights from USC's win.
Featuring quarterbacks Matt Leinert and Oklahoma's Jason White, the game marked the first time the past two Heisman Trophy winners would face each other in a game. After a slow start, the Trojans ran away with the game in the 2nd quarter and never looked back, bottling up running back Adrian Peterson while setting a host of BCS and Orange Bowl records on offense.
The blowout led to many questioning whether the BCS system got it right, as Auburn ran the table but was left out of the championship game and was sent to the Sugar Bowl instead. Although the Tigers tried to lobby for a split national title like the season before with USC and LSU, the convincing nature of the Trojans win made them wire-to-wire No. 1. The controversy with three undefeated teams is said by some to lay the groundwork for a later four-team playoff.