1992-2012: 20 most meaningful bowl games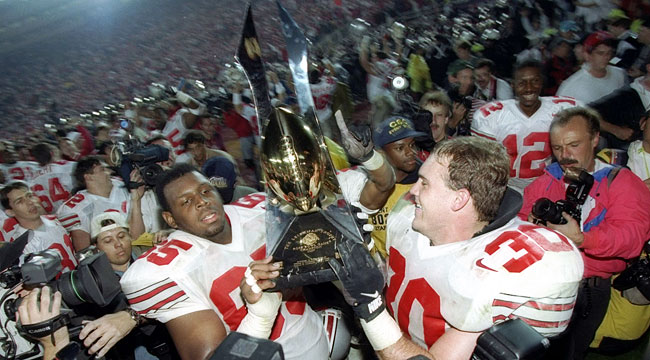 Ohio State rallied to win the Rose Bowl to prevent a split national title. (Getty)
By Bruce Feldman
Before there was the good ol' BCS, there was the short-lived and forgettable Bowl Alliance. It did give us one of the most riveting games of the past 20 years though, when No. 2 Arizona State, the Pac-10 champs, faced No. 4 Ohio State. How'd a No. 2 not get in the title game? Oh, and you thought the BCS was a mess. The Bowl Alliance had a pact with the other major bowl games (the Orange, Sugar and Fiesta Bowls), but the Rose was separate. BTW, there was another rematch that winter too. Because of the Pac-10 champ being locked into the Rose Bowl, Florida got another crack at No. 1 FSU.
The 11-0 Sun Devils instead got the 10-1 Buckeyes. ASU, who had scored over 40 points eight times in the regular season, was led by All-American QB Jake Plummer while linebacker Pat Tillman was the heart of a defense, which proved to be a lot better than anyone had expected. They made a big statement when they shut out then-No. 1 Nebraska 19-0 in Week 3 and rolled through their conference schedule without facing another ranked squad.
Ohio State managed to make a two-QB system work with Joe Germaine and dual-threat quarterback Stanley Jackson. All-world tackle Orlando Pace anchored the offense, while shutdown corner Shawn Springs sparked a stacked defense that also including celebrated true freshman middle linebacker Andy Katzenmoyer (who was a really big deal back then) and future NFL star Mike Vrabel.
Watch entire 1997 Rose Bowl | Ohio State's game-winning drive
Springs showed why he was the Big Ten Defensive Player of the Year by limiting Plummer's go-to receiver Keith Poole to one catch all day. Jake the Snake though, still managed to lead ASU, down 14-10, on a late scoring drive spurred by a clutch fourth-down pass to Lenzie Jackson. Plummer appeared ready for the hero role in leading upstart ASU to an apparent national title when he scrambled into the end zone from 11 yards out. Problem was, he left too much time on the clock. Germaine and the Buckeyes got the ball back at their own 34 with 76 seconds remaining.
OSU's passing QB connected several times and was also aided by two pass interference penalties on ASU to move the ball down to the Sun Devils' 5. Germaine then hit David Boston, the Buckeyes hulking freshman wideout for the game-winning score to make it 20-17. Time would soon run out on Jake the Snake and ASU's title hopes. Ohio State had its first Rose Bowl win since the Archie Griffin days.
The next day, Florida would capitalize on ASU's defeat by smashing FSU, 52-20 in the Sugar Bowl to vault to No. 1 and grab its first national title while ASU missed its shot to be AP National Champs.