1992-2012: 20 most meaningful bowl games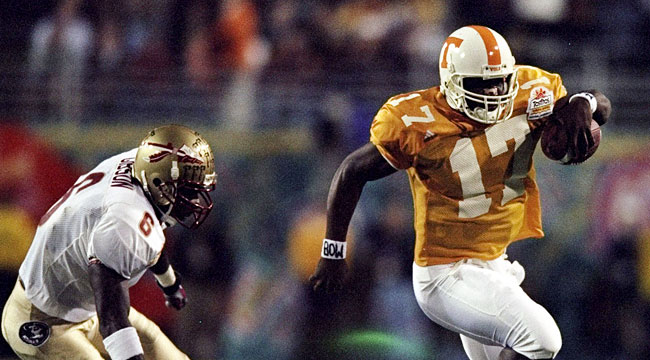 Tee Martin leads Tennessee over Florida State in the first official BCS Championship. (Getty)
By Chip Patterson
Phillip Fulmer, along with offensive coordinator David Cutcliffe (now head coach at Duke) and defensive coordinator John Chavis (now at LSU), put together 45-5 record over a four year span. Three of those years involved all-time everything Peyton Manning, but the Volunteers' most recent title came thanks to Tee Martin and a 23-16 win over Florida state in the first BCS National Championship.

Peerless Price broke open a defensive battle with a 79-yard touchdown early in the 4th quarter to put the Vols up 20-9. Florida State wide receiver Peter Warrick was mostly shut down Tennessee's defensive backs, including a memorable first half performance from cornerback Dwayne Goodrich - who earned defensive MVP honors in the win.
Video: Watch highlights from the 1999 Fiesta Bowl

As the first title game of the BCS era, the 1999 Fiesta Bowl serves not only as a reminder to Fulmer's impressive four-year run at Tennessee - and finally getting past Florida with Martin, when Manning could not - but also the system which should be very different after the 2014 season.