1992-2012: 20 most meaningful bowl games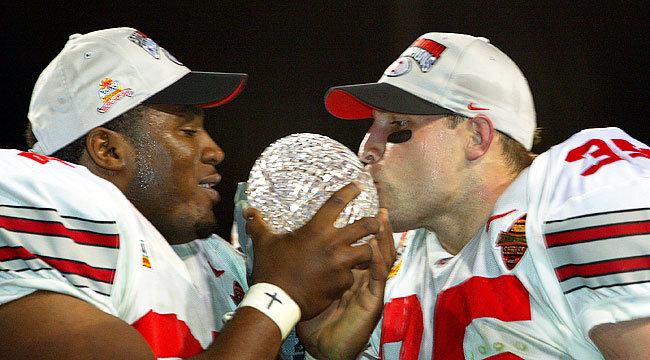 The 2003 Fiesta Bowl was the only BCS Championship game to go into overtime. (Getty)
By Dennis Dodd
What I'll remember is a bitter, disconsolate Kellen Winslow II sitting underneath the stands at Sun Devil Stadium. The mighty Hurricanes, big favorites to win a second consecutive national championship, lost to Ohio State in the only BCS title game decided in overtime.
"The best team," Miami's tight end snarled, "didn't win."
Perhaps.
Video: Watch overtime of the 2003 Fiesta Bowl
Miami had won 34 in a row. It had sliced its way through the 2002 season. Only two teams (Pittsburgh, Florida State) had come within eight points of the Canes. This was a team for the ages, which was saying a lot considering Miami's glorious history. Twenty-six players were drafted from that Miami squad, 12 of them first rounders.
But history fumbled on the way to the record books. Yes, Miami was perhaps victimized by Terry Porter's call in the end zone. Yes, it could never put away the Buckeyes. But Miami had itself to blame for the game being so close. There were four turnovers and five sacks that night. That night Ohio State's Maurice Clarett showed loads of character, a trait he would lack off the field.
Looking back, it sure seems like Miami underestimated the Buckeyes. Ohio State was no slouch in terms of talent. The Bucks had 22 future draftees themselves, including three first rounders.
Thirty-seven of the 44 combined starters were drafted. Fifty-eight of the 100 total players who saw action played at least one game in the NFL. Before it started this game was more even than it seemed.
So, no, K2. There are no excuses. The best team won that night. The most talented team didn't which sticks in Miami's memory to this day. The Canes have played in only one other BCS game since that night (2004 Orange).