1992-2012: 20 most meaningful bowl games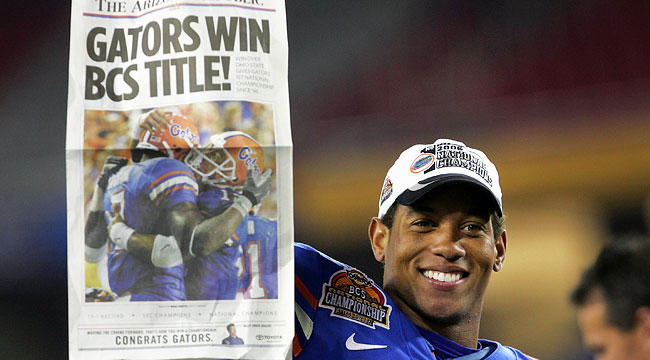 The Gators win the first of six consecutive national titles for the SEC. (Getty)
By Brett McMurphy
When Ohio State's Ted Ginn Jr. returned the opening kickoff against Florida 93 yards for a touchdown, it was the turning point of the 2007 BCS national title game. Instead of it being the key play that led the Buckeyes to their second BCS title, it led to their collapse.
Ginn was injured during the celebration and didn't play the rest of the game. The Buckeyes led 7-0 after only 16 seconds, but the rest of the night belonged to the Gators.
Florida stormed to a 34-14 halftime lead on its way to a 41-14 victory, giving Florida coach Urban Meyer his first championship against the team he would be coaching in 2012. The Buckeyes had no answer for Florida's defense. Ohio State was limited to 82 yards offensively and Heisman Trophy winning quarterback Troy Smith completed only four passes for 35 yards.
Video: Watch highlights from the game.
Before the game, there was some controversy whether the one-loss Gators should be in the national title game ahead of one-loss Michigan. After the game, there was no doubt they belonged.
"Honestly, we've played a lot better teams than Ohio State," Florida defensive end Jarvis Moss said after the game. "I could name four or five teams in the SEC that could probably compete with them and play the same type of game we did against them."
The national title was the first of what would be six consecutive national titles by the SEC.