1992-2012: 20 most meaningful bowl games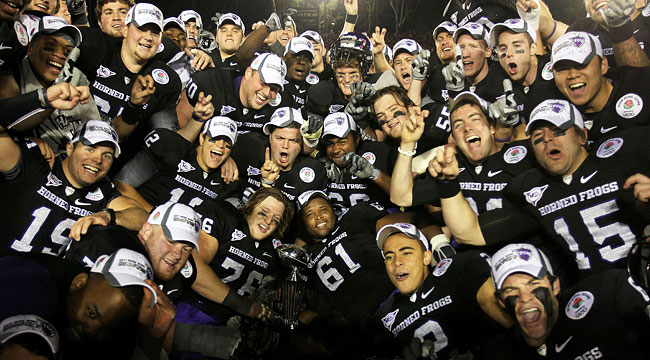 TCU finished the season undefeated, but didn't get a shot at the national title. (US Presswire)
By Tom Fornelli
It's amazing how a break in tradition can sometimes help lead to change. Following the 2010 season, the Pac-10 champion Oregon Ducks were ranked second in the nation and would go on to play Auburn in the BCS Championship Game.
This left an open slot in the Rose Bowl, and partially because it had to, the Rose Bowl selected undefeated TCU to take on Wisconsin, which had won the Big Ten with an 11-1 record. While the game was close and came down to the last series, it's lasting impact was felt a week later when the final polls came out.
Despite finishing the year with a 13-0 record, TCU finished second in both major polls and never had a chance to play for a national title. Considering that the Horned Frogs had just beaten a Wisconsin team that was ranked fourth at the time, it was hard to argue that TCU, despite playing in a non-AQ conference, wasn't as good as Auburn or Oregon.
While this wasn't the only instance of an undefeated team finishing the season without a chance at a national title, it was one of the latest examples that helped set the current talk of a college football playoff in motion.