1992-2012: 20 most meaningful bowl games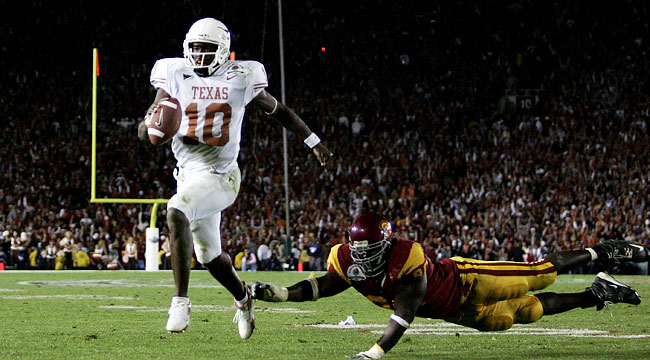 Vince Young scored on fourth down to lift Texas to a national title. (Getty)
By Bruce Feldman
The BCS was created to give the nation a No. 1 vs. No. 2 matchup. And in the 2005 season, it worked so well, it gave us the greatest championship game in the sport's history. (It was certainly the most riveting game I've ever attended.)
USC came into the game on a run for the ages, riding a 34-game winning streak. With a backfield featuring a pair of Heisman Trophy winners in QB Matt Leinart and RB Reggie Bush, the Trojans, who had scored 50 points or more seven times, were being touted by some as the best team in college football history.
Texas came to Southern California riding a 19-game win streak of its own and were led by its do-everything quarterback Vince Young, who had lost out in the Heisman voting to Bush a month earlier.
Video: Watch the fourth quarter from the 2006 Rose Bowl
The game featured a little of everything, including Bush at one point trying a downfield lateral to Brad Walker, a USC player who so unknown he wasn't even listed in the game program. That move didn't work so well, but the Trojans still took a 17-16 second half lead after bruising running back LenDale White scored his second touchdown of the game. However, Young answered with a TD of his own to put Texas back in front, 23-17. Turns out, the UT star was just starting to get warmed up.
Leinart, though, had a big night too, going for 365 yards, connecting on 29 of 40 attempts. And when the senior QB connected with Dwayne Jarrett for a 22-yard pass play, USC went up by 12, 38-26 with just 6:42 remaining. Meanwhile, Young stood on the Texas sidelines, just bobbing his head, waiting for his chance to be a hero.
The 6-foot-5, 235-pound QB proceeded to shred an exhausted Trojan D, which simply couldn't contain him. Young accounted for all 69 yards of a Longhorn scoring drive to bring UT within five with 3:58 remaining. The Horns defense then did its part, stuffing White on a fourth-and-two from the Texas 45-yard-line.
Young had one more chance, and, again, led the Horns down the field. But the drama ratcheted up further when Young and the UT offense faced a fourth down of its own, a fourth-and-five from the USC 9. Young dropped back. He couldn't find an open receiver so he darted towards the goal-line and sprinted into the end zone. He subsequently scored on a 2-point conversion to give Texas a 41-38 victory and its first national title in 35 years.
Young not only accounted for every single one of the 125 yards of Texas' final two scoring drives, but he finished with 200 yards rushing and 267 passing to go with three TDs. It was the greatest performance by any college football player in a big game. Years later, Bush would have to give back his Heisman after an NCAA investigation into the Bush and his family and the USC program declared the star tailback retroactively ineligible.