1992-2012: 20 most meaningful bowl games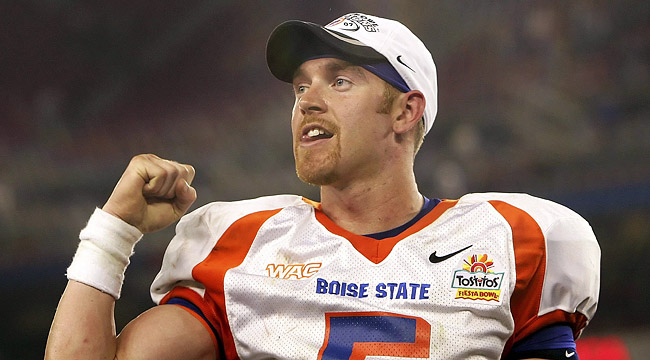 Jared Zabransky and Boise State changed the way the nation looked at non-BCS teams. (Getty)
By Dennis Dodd
Lost in the whole mega-upset, player-proposes-to-cheerleader, overtime madness of 2007 Fiesta Bowl was Karl Benson.
You didn't see him. Few people did. I'll remember Benson that night not as the then-WAC commissioner celebrating one of the biggest upsets in the sports' history. I'll remember a former Boise State shortstop practically skipping through the press box.
For him, the ol' alma mater had won. Changed the game, really, when it beat Oklahoma. Boise sure as hell changed Benson.
Video: Watch the entire 2007 Fiesta Bowl | Watch final two minutes and overtime
You have to remember, the man was lying on a couch recovering from eye surgery in 1999 when he was informed that half of his league was leaving to form the Mountain West. Those were the days of the 16-team WAC before anyone had ever coined the term "super conference."
Benson was proud and should have been. He had hustled Boise State into the WAC in 2001, five years after it had entered I-A. It would become a theme. Whenever his league was threatened with defections, Benson always seemed to be able to reinvent it.
This particular addition practically reinvented college football. Looking out on the field in pregame, I was stunned by the obvious size advantage for the Sooners. When you can see that sort of thing from the press box, it means something.
Except it didn't on that night. Boise was better, more motivated, more creative. It raced out to an 18-point lead, then let Oklahoma rush back to nudge ahead by a touchdown. Boise tied the game with seven seconds on a hook-and-ladder gadget play. That was nothing, as we would find out.
The game was won in overtime as immortal quarterback Jared Zabransky ran the most immortal Statue of Liberty play in the sport's history -- the quarterback handing off to running back Ian Johnson. You know what happened from there. Johnson scored, Boise won by a point and the game was changed forever.
How big was it? Boise's entire football budget ($3.5 million) was as much as Bob Stoops' salary. How big was it? A sport with virtually no Cinderella finally had one. Since that day, Boise has won 60 games in five years and become the shining beacon of hope for the unwashed. The Broncos, a team with five years of I-A experience, had beaten one of the sport's superpowers.
More than that, it proved that the game's have-nots deserved a place at the table. A couple of years previous Tulane president Scott Cowen had argued -- under the threat of Congressional intervention -- that non-BCS programs needed better access. It was a case of fairness.
Boise State was a case of craziness. The night before the game, Zabransky had guaranteed a win at a Boise pep rally. During those pre-Twitter days, the word simply never got out. When it actually happened, Boise had established itself as a new, unlikely college football power, Oklahoma had to do rehab on its ego, and a former Broncos' shortstop skipped to the press elevator to join the celebration on the field.