1992-2012: 20 most meaningful bowl games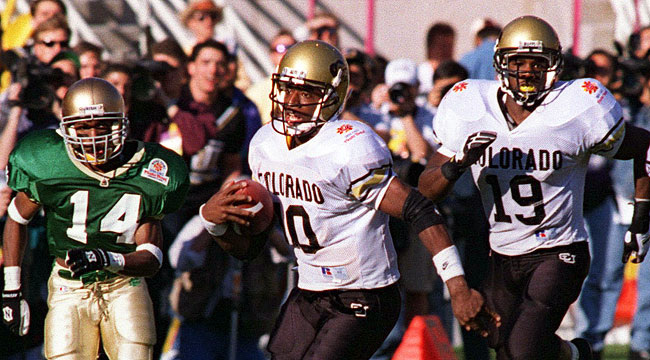 Kordell Stewart and Colorado blasted Notre Dame 41-24 in the Fiesta Bowl. (Getty)
By Tom Fornelli
These days seeing Notre Dame lose in a bowl game is not a memorable occurrence, but back in the 1994-95 season, the Fighting Irish weren't all that far removed from a national championship and were still a national power.
But that perception changed quite a bit in 1994. The Irish, despite finishing the season with a 6-4-1 record and unranked, were invited to face 10-1 Colorado in the Fiesta Bowl.
The Buffaloes had no problem disposing of the Irish, building a 31-10 lead heading into halftime and winning the game 41-24. Now, while there wasn't much about the actual game that was memorable, it did impact the future of college football.
The Bowl Coalition gave way to the Bowl Alliance following this season in part because nobody was sure Notre Dame would be able to win six games each season and become bowl-eligible. The Bowl Alliance would last a few years before becoming the BCS, which includes the rule that Notre Dame must finish ranked in the top eight to receive an automatic bid.