1992-2012: 20 most meaningful bowl games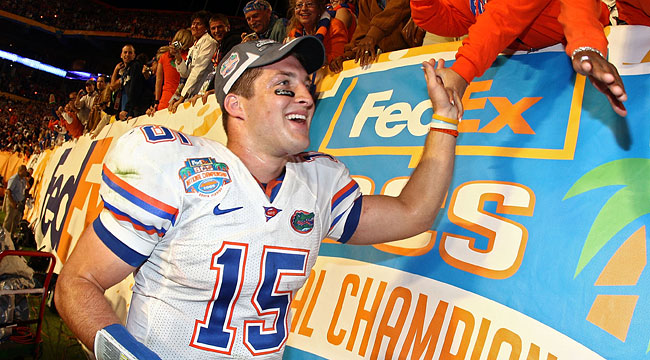 Tim Tebow's kept his promise, delivering another national title for the Gator Nation. (Getty)
By Jerry Hinnen
Before he became the sports world's most visible lightning rod for issues as diverse as 1. the role of religion in the public space 2. the value of advanced passing statistics in evaluating NFL quarterbacks, he was just Tim Tebow -- one of the greatest players to ever see a college football field.
A statement like that one ceased being hyperbole on January 8, 2009, when he led his Florida team to a 24-14 victory over Oklahoma in the BCS National Championship Game, earning the Gators their second national title in three years. Tebow threw for 231 yards and two touchdowns and rushed for 109 more, earning MVP honors and capping a 10-game, championship-claiming winning streak that began with "The Promise" -- Tebow's emotional post-game statement following a 31-30 Week 4 loss to Ole Miss that "you will never see a team play harder than we will the rest of the season."
While that sort of thing can't exactly be verified, what can be is that from that point on the Gators became arguably the greatest team of the BCS era. Their 10-game run to close the season included six games against ranked teams, four against teams ranked in the top 10, and two ranked No. 1. Florida won them all by at least 10 points, including a 49-10 annihilation of No. 8 archrival Georgia and a 31-20 win over No. 1 Alabama in the SEC championship game.
That was followed by the toppling of the top-ranked Sooners, strengthening the SEC's hold on the national title (this was the league's third in its ongoing run of six) and denying Bob Stoops what may have been his last, best shot at a second national title of his own. But in the end, the game will be remembered first and foremost as the moment Tebow went from being "just" a Heisman winner and national champion to something even more transcendent.