1992-2012: 20 most meaningful bowl games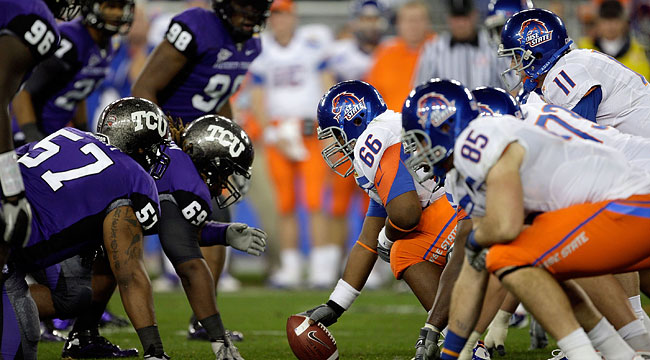 TCU vs. Boise State featured the first two non-BCS teams to play each other in a BCS Bowl. (Getty)
By Matt Hinton
In January 2007, undefeated Boise State ambushed mighty Oklahoma in a wild, overtime comeback that went in the books as an instant classic. In January 2009, undefeated Utah ambushed mighty Alabama in a rout that earned the Utes nearly 25 percent of the first-place votes in the final AP poll. By January 2010, the heavy-hitting conferences had had enough of the ambushes, and took the opportunity to let the undefeated Broncos and undefeated Horned Frogs take out their resentment on one another.
The pairing was the first between two teams from outside of the "Big Six" power conferences in a BCS bowl, and despite protestations from bowl officials that they'd "taken a chunk out" of a perceived glass ceiling, it still carried the distinct whiff of a consolation game for two proven commodities denied a shot at the national championship.
Still, even for a tight, competitive match that came down to the final 20 seconds, the game itself didn't recommend either side for any protest votes. The promised shootout between two of the highest-scoring, most balanced offenses in the country quickly devolved into a no-fly zone, yielding almost as many punts (16) as points by both offenses combined (20). Asked on the post-game podium if Boise State – just the second Division I team in more than a century to finish 14-0 – had made a compelling case for No. 1, Bronco MVP Kyle Efaw answered honestly: "Probably not."
But combined with earlier "mid-major" success, Boise's perpetual bid for perfection was compelling enough to convince a certain segment of fans, pundits and pollsters that an upstart from outside of the traditional power conferences could deserve more than a pat on the head at the adults' table. The following year, the Broncos began the season ranked No. 3 in the preseason polls, joined by TCU in the top ten; the following January, TCU knocked off Wisconsin in the 2011 Rose Bowl to finish No. 2. By January 2012, both were on their way to securing larger slices of the pie in major conferences.