1992-2012: 20 most meaningful bowl games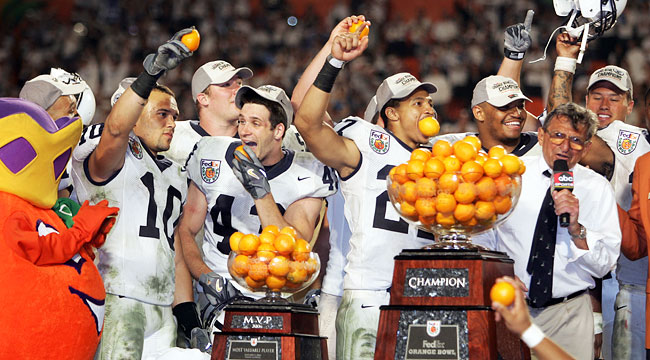 Joe Paterno and Penn State celebrate after winning an three-OT thriller at the Orange Bowl. (Getty)
By J. Darin Darst
At the time, the 2006 Orange Bowl was remembered for Penn State winning a wild 26-23 game over Florida State, which featured four missed field goals, three overtimes, 21 penalties and 20 punts.
It was a strange enough game on the field, but now it will forever be known as the last matchup between legendary coaches Bowden and Paterno. It also marked the last BCS victory for Paterno and the last appearance in a BCS game for Bowden.
The Orange Bowl posted its highest-rated non-championship game in the BCS era that night. Penn State's Kevin Kelly connected on a 29-yarder in the third overtime to give the Nittany Lions the victory.
The following season, Florida State started its downward spiral, posting 7-6 records the next two years. Many of those wins ended up being vacated for academic misconduct. In 2009, Florida State had enough of Bowden as coach and he was forced to retire.
Paterno still enjoyed success in the Big Ten, winning the conference title in 2008 and getting his team back to the Rose Bowl one final time. But last season, Paterno was fired over the Sandusky scandal and died at 85.
We will always have that moment in Miami when the two coaches shook hands on the field for the final time.