1992-2012: 20 most meaningful bowl games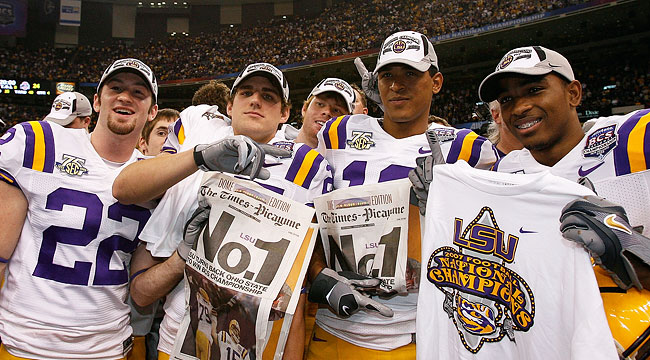 Despite losing two games during the regular season, LSU went on to win the national title. (Getty)
By J. Darin Darst
Usually when a team loses the final game of the regular season, it spells doom and gloom for the national championship game. But not for LSU.
Despite earning its second loss of the season, falling 50-48 to Arkansas in the regular-season finale, LSU still found its way into the BCS Championship against Ohio State. Nobody thought the Tigers would find a way to get back into the title game and even Verne Lundquist said, "The dream dies for LSU." after the game against the Razorbacks.
All West Virginia had to do the following week was beat Pittsburgh and we would have had an Ohio State vs. West Virginia national title game. The Mountaineers ended up losing 13-9 and the nation waited to see what the computers and polls spit out the following day.
LSU vaulted into the No. 2 spot in the BCS, beating out Virginia Tech and Oklahoma. LSU ended up beating Ohio State 38-24 behind Matt Flynn's four touchdown passes in the championship game to become the first school in history to win two BCS National Championship games and the first school in history to win the national title with two losses.