1992-2012: 20 most meaningful bowl games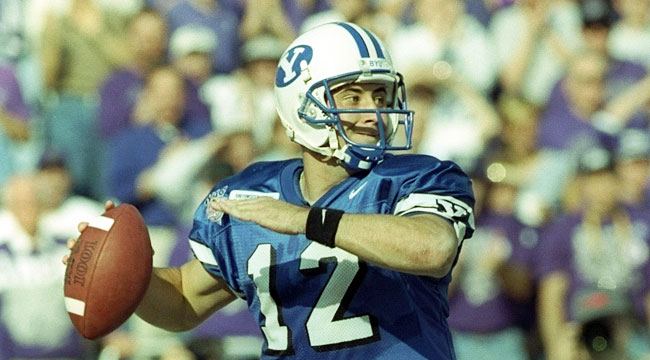 Despite being ranked No. 5 in the AP poll, BYU was left out of the Bowl Coalition. (Getty)
By J. Darin Darst
In a game that featured two teams who had never received a New Year's Day bowl initiation, the 1997 Cotton Bowl was quite an accomplishment for BYU and Kansas State.
But BYU shouldn't have been in the Cotton Bowl. At 13-1 and ranked No. 5 in the AP poll, the Cougars deserved to be in the Fiesta Bowl instead of Big Ten runner up Penn State or even Big 12 champion Texas, which was ranked 20th.
The Bowl Alliance, which was created in 1995, didn't allow so-called "mid major" teams in the major bowl games, so BYU was forced to play in the Cotton Bowl. In what amounted to a must-win game to prove it deserved to play with the big boys, the Cougars did just that.
Trailing 15-5 heading into the fourth quarter, BYU scored 14 points in the fourth quarter led behind quarterback Steve Sarkisian's two touchdown passes.
The WAC ended up going to Congress with a copy of the Sherman Antitrust Act and forced a political concession. Republican Bob Bennett, from Utah, led the assault on the Alliance. Bennett noted that three years ago -- after Louisville faced exclusion from a major bowl despite a 7-1 start -- the alliance opened the two at-large slots to give all teams a theoretical chance to play in the big New Year's Day show. It was a rule change that didn't work.
"You said, 'Trust us,' and you failed," Bennett told Bowl Alliance chairman and Southeastern Conference commissioner Roy Kramer. "That's why we don't trust you now."
Within the next year, the Bowl Alliance started to crumble. College football had to provide a way for the smaller conference teams to be included, which ended up as part of the BCS agreement in 1998.