They're still there, you know. The crazies. The wackos. The lunatic fringe of Razorback Nation. They're still there, lurking in their small towns and conniving on their message boards, and they deserve to be punished.
This weekend, lunatic fringe. This weekend, you get punished.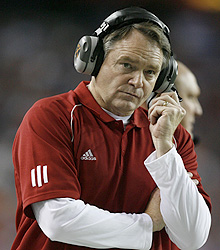 Ole Miss
visits
Arkansas
on Saturday, and if there is any justice in the world, former Arkansas coach Houston Nutt will turn his Ole Miss Rebels into an instrument of vengeance and hang half-a-hundred on the Hogs in front of their home crowd.
And then he'll score again. And again. And again.
Run it up, Houston Nutt. That's what I'm saying. That's what would be appropriate. That's what the lunatic fringe in Arkansas deserves. Run it up so badly that Arkansas fans in attendance leave in the third quarter because they can't stand the sight of your fist in the air. Run it up so badly that Arkansas fans elsewhere turn off the television and the radio and even the computer, because not even the cowardly company of the meanest message board will get them through this beatdown.
Run it up, Houston Nutt. Run it up, but not necessarily because you were always right.
Run it up because they were always wrong.
Ole Miss could do it, you know. The Rebels and Razorbacks have identical records overall (3-4) and in SEC play (1-3), and this game is at Arkansas, but Ole Miss already has gone on the road to beat No. 5 Florida and to nearly beat No. 2 Alabama. Arkansas played Alabama and Florida at home and lost by a combined 87-21.
So run it up, Houston Nutt. Run it up until you start to feel a pang of sympathy, and when you do, think about Thomas McAfee. He's the computer specialist from Little Rock who scuttled off a message board to request Nutt's phone records through the Arkansas Freedom of Information Act, and then wrote up his findings in a letter to the University of Arkansas Board of Trustees.
Run it up, Nutt, and when you feel a twinge of remorse, think about "Pork Rind Jimmy," the yokel who crashed a spring practice in 2007 as a pretend reporter. "Pork Rind Jimmy" asked Nutt an embarrassing personal question, had a friend videotape the whole thing, and put the exchange on the Internet.
Sympathy? Remorse? Nutt should have neither. Not for these people at Arkansas, where he won 75 games and three SEC West titles from 1998-2007 but still bolted after the 2007 season for Ole Miss -- one of the three worst jobs in the SEC -- to get away from the lunatic fringe as well as meddling bosses and parents.
That includes everyone involved in December 2006 when athletics director Frank Broyles met with the parents of three disgruntled players who wanted to vent about Nutt's offense. One of those parents, Beck Campbell -- whose son, Mitch Mustain, had lost his starting job at quarterback -- then had the gall to issue a self-serving 554-word statement about the meeting.
Run it up, Nutt, and do it for Broyles. And for Beck Campbell, who also put out an FOIA on Nutt's phone records. And for Mustain, who called Nutt a "dork" in a book that came out when Mustain was still the dork's quarterback. Mustain is the little boy who chose Arkansas because Nutt hired his high school coach, Gus Malzahn, then got angry when Nutt decided Malzahn's spread pass attack wasn't the right system for a team featuring future NFL running backs Darren McFadden and Felix Jones. Mustain is at Southern California now, not playing for the Trojans. Think how upset little Mitch's mommy must be. Watch your back, Pete Carroll.
Sportsmanship? Saturday? Saturday doesn't call for sportsmanship. Saturday calls for justice -- or, if you like, revenge. These people made Nutt's life a living hell at Arkansas, even as he was coming off a 10-win season in 2006. Nutt wasn't an innocent bystander as his time at Arkansas crumbled, but he didn't deserve the way he was treated. He didn't deserve the clumsy fury of Arkansas's lunatic fringe.
He didn't deserve to be betrayed by a friend of the family, Teresa Prewett, who was allowed on the sideline at home games and abused her insider status by writing a nasty e-mail about Mustain and firing it off to a local newspaper as well as to Nutt's wife -- who then approvingly forwarded the e-mail to a friend. One day later, Prewett wrote a vicious e-mail directly to Mustain, questioning his toughness and even his sexuality and begging him to transfer. Mustain's mother cited those e-mails among the reasons for his transfer.
So run up the score on Saturday because of "friends" like Prewett, and also because of enemies like John David Terry, the Mount Ida resident who filed a lawsuit against Arkansas' chancellor and president, demanding an investigation into that whole Prewett e-mail scandal. And don't forget Terry's attorney, Eddie Christian Jr., who subpoenaed the hard drive on Nutt's computer. Just because.
Your Turn: Reader Rip
DoyleisGhey: Gregg, Why don't you go ahead and come out of the closet? You have an agenda that you fail to mention anything about. "Gregg Doyel was born in Hawaii. He grew up in Mississippi where his father was a law professor at the University of Mississippi. "Enjoy your man love of Houston Dale and your skewed facts on the situation. I hope Petrino backhands you if he's ever gracious enough to let you in his presence.
Writer Retort
Gregg Doyel: Very few people in my family have good memories of Ole Miss, or of Oxford, and that includes me. So while I see your conspiracy theory, I don't subscribe to it. But I'm honored that you would concoct an entire CBSSports.com persona in my (misspelled) honor. Are you asking me out?
Click here for more Community reaction
Run it up, because Arkansas needs a good example of what lies ahead. Bobby Petrino is the new coach there, but not for long. Petrino is long on ability but short on character, and just as he didn't jilt Louisville for the Atlanta Falcons only to see Michael Vick end up in jail, likewise he didn't jilt the Falcons for Arkansas to lose for these freaking people. Petrino is gone just as soon as he can go, and once he's gone, it'll be over for Arkansas. The SEC is a place where struggling football programs go to die.
So run it up, Nutt. Show no mercy. None was shown to you by anonymous fans on message boards who noted that one sure way to get rid of you as head coach would be to kill you. None was shown by the less deranged but still deluded fans who spent $5,000 for a half-page advertisement in a state newspaper asking you to "step down immediately."
Run it up for the Arkansas fan who tried to use FOIA power to get your credit card records. Run it up for the two fans who did get your phone records and then dialed every number on there, just to see who you'd been calling.
Run it up, Houston Nutt. Give Arkansas and its fans a beating they'll never forget -- even if it won't be half the beating they deserve.