What a fraud. What a scared little kid. Greatest player of all time? This guy? Nope. Not now. Not ever. Not even if LeBron James wins five rings in the next five years -- which he should.
He'll win those rings, but it'll be beneath him. It'll be beneath a player of his talent to win a title with -- and only with -- fellow free-agent mercenaries Dwyane Wade and Chris Bosh. When LeBron James wins the 2011 NBA title with the Miami Heat, it'll be like a breast augmentation for Jessica Biel. Sure, she'd be even sexier with bigger boobs. I guess. But it wouldn't be sincere. She'd no longer be real.
Same with LeBron and the rings he's about to start collecting. They'll be flashy. Stupid people will be fooled. But not me. Hopefully not you. Because those rings he's about to win, they won't be real. They'll be trinkets. Worthless. When he's not wearing them, he can store them in a box of Cracker Jack.
Miami Heat fans, you're forgiven for not liking my opinion. Seriously, I get it. You just landed the biggest free-agent combo in the history of sports. Your team won 47 games last season ... and just added Chris Bosh and LeBron James. If everyone stays healthy, your team could win 77 games next season. So you're excited. I get it. Be happy. You've done nothing wrong. This isn't about you.
This is about him.
I can barely write his name, I'm so disappointed in him. James just gave up his claim to all-time greatness. He obviously doesn't know it, but that's what he did. He just put an asterisk by the titles he'll win in Miami, because when he wins those five titles in the next five years, we'll know he couldn't do it like Michael Jordan did it. He couldn't do it like Tim Duncan did it. He couldn't do it like Larry Bird, Isiah Thomas, Magic Johnson or Hakeem Olajuwon did it. Hell, he couldn't even do it like Kobe Bryant did it.
Analysis

Ken Berger
LeBron's decision to go to Miami, as I've made clear in the past, was the wrong one. No surprise. Read more

Mike Freeman
Think the Heat are an automatic lock for titles? Think again. Egos will ruin this championship ride. Read more

Gary Parrish
Cleveland is left jilted after LeBron opts to skip town and play with the Heat. Read more
Those guys played the hand they were dealt, and they made it work. Some of those guys were dealt better hands than others, but they weren't all playing royal flushes. Some of them were holding a bunch of 3's and 4's until their team found Scottie Pippen or Joe Dumars hiding in the deck. LeBron couldn't do it that way. He couldn't attract anyone to Cleveland. You saw what happened this offseason: Bosh chose Miami. Carlos Boozer chose Chicago. Joe Johnson stayed in Atlanta. There are rules as far as the salary cap goes, but there are sign-and-trade possibilities to get around those rules, and anyway, things can get done if the players want it done. But nobody wanted to join LeBron in Cleveland, so he sold out and hopped on Pat Riley's bandwagon in Miami.
Now, winning a title isn't simply a possibility for James. It's a mandate. This is the Biggest Three, the likes of which we haven't seen in the NBA since the Lakers of the 1980s had Magic, Kareem and Worthy. Don't tell me about the Celtics' Big Three, because that's a joke compared to this one. Paul Pierce, Ray Allen and Kevin Garnett are all future Hall of Famers, and they won their title, but only Pierce was in his prime when that trio came together in 2007. This trio now? Bosh and Wade and James? Average age: 26. They're future Hall of Famers, and they're in their prime.
Los Angeles had a better supporting cast than whatever pieces Miami will be able to put around its trio, but as far as star power goes, Miami is like the Lakers of the 1980s. The Lakers traded for Kareem Abdul-Jabbar in 1975. They drafted Magic Johnson in 1979. They drafted James Worthy in 1982. That took some work, some patience and, sure, some luck. But that's how it happened in Los Angeles.
How did it happen for Miami? They pulled out their checkbook and convinced Wade to stay. They grabbed their platinum MasterCard and charged Chris Bosh. And then they hocked their grandmother's engagement ring to buy LeBron James. That's great for the Heat, really. This is not me ripping the Miami Heat, because they played by the rules and put together the NBA's best trio in a quarter-century.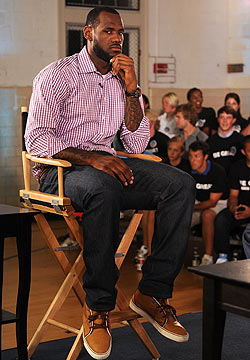 This is me ripping James, because -- stupid me -- I thought he had the guts to pursue an NBA championship without taking such a blatant shortcut. But in the end, James is no different from baseball's Alex Rodriguez, whose megalomania is such that he has been photographed kissing his image in the mirror. James' megalomania is such that he became the first athlete to require an hour of prime-time television to announce his next career move.
Both were too scared to win a title the right way. After failing admirably in Seattle and then failing dishonorably in Texas, A-Rod freaked out and hooked up with the best team money could buy, the Yankees, and finally got himself that championship ring.
James failed in Cleveland. He failed admirably at first, dragging his modest little team into the 2007 NBA Finals, and then he failed dishonorably, pouting his way off the court after the 2009 Eastern Conference Finals and then disappearing in the 2010 Eastern semis. Both years the Cavaliers had the best regular-season record in the league. Neither year did they reach the NBA Finals.
James bailed. Followed the stars to South Beach. And he'll win his ring in Miami -- lots of them. Anything less than a ring-a-year for James, and this will have been a disaster. That's how high the bar should be set for the Heat while James, Wade and Bosh are in their primes. How many years do they have at that level, five? Then the Heat should win five rings.
I hope they win none.
Nothing against the Heat. Nothing against Wade or Bosh.
But LeBron James is a coward, not a king. And I can't root for a coward.