Fantasy Baseball: Is Luis Severino figuring it out?
After two impressive starts, Luis Severino is a must-add Fantasy pickup. Should we expect more of the same from the Yankees' young fireballer?
Striking out 10 batters in two consecutive starts isn't a common outcome for a major-league pitcher, but it's not necessarily proof of anything.
Looking at pitchers who accomplished the feat in 2016, elite pitchers like Justin Verlander, Chris Sale, and Max Scherzer managed to do it, which is no surprise. However, we also saw the likes of Drew Smyly, Mike Leake, and Robbie Ray do it, and they hardly went on to stardom after that.
In fact, Smyly struck out 11 in his second and third starts of the season, leaving him with a 2.91 ERA and 27 strikeouts in his first three starts. And he finished the month of April with a 2.60 ERA and a whopping 32.0 percent strikeout rate. It looked like the start of a long-awaited breakout for a talented young pitcher, but Smyly was tagged for a 5.44 ERA over his final 25 starts, as the wheels came off.
Now, I'm not saying Luis Severino is the next Smyly, but there are some parallels. Severino's 4.05 ERA through three starts isn't quite as pretty, but he has struck out 27 with just two walks in 20 innings, including 21 strikeouts over his last two starts. Severino certainly looks like he is at the beginning of a breakout, but there's no guarantee of that.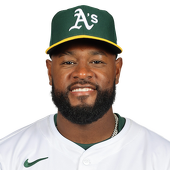 Have I tempered expectations enough? Okay, good. Now let's get excited.
Severino came to the majors with some hype, and it wasn't all just because of the stylized "NY" on his hat. He more than held his own as a 21-year-old for the Yankees in 2015, posting a 2.89 ERA in 11 starts, armed with a mid-90's fastball and a pair of solid secondary offerings. He struggled to keep the ball in the yard, and didn't miss quite enough bats to be viewed as a potential ace, but there was a lot to like about the total package.
Things weren't quite so positive last season, as Severino earned a trip first to the minors and then the bullpen after a rough start. He had to fight for a rotation spot this spring, but won it, and has shown more upside in his first three starts than ever before. And it all starts with his fastball.
Severino has always been armed with plus velocity, but he has taken it to another level so far this season. Among pitchers who have thrown at least 100 four-seam fastballs, nobody has topped Severino's 96.8 MPH average to date, per PITCHf/x data from Baseball Prospectus. When you include sinkers, only Noah Syndergaard has Severino bested. That's not bad company to keep, especially when he sports a 10.9 percent swinging strike rate with the pitch, an above average rate.
However, where Severino has struggled in the past is with the secondary offerings, but that hasn't been an issue so far. Severino has actually lost a few ticks on his changeup and slider velocity, which isn't necessarily a bad thing. Increasing the gap between your fastball and your secondary offerings is one way to increase their effectiveness, and it seems to have worked for Severino.
Among 44 pitchers who have thrown at least 50 sliders this season, Severino's 20.8 percent swinging strike rate ranks 12th. That is nearly double what it was coming into the season, and is the kind of improvement that can help Severino sustain this improved strikeout rate.
The changeup hasn't been quite as effective in racing up swings and misses yet, but Severino's track record suggests that shouldn't be an issue for him moving forward. The slider has been a bigger issue for him in the past, so the development with the slider is a bigger positive sign right now, especially given Severino's history of reverse splits. If his slider can really be a weapon against right-handed batters, that changes his outlook significantly.
This may not stick for Severino, but 21 strikeouts over the course of two outings is too much to ignore. If you didn't add him after the first start, he's still out there in 19 percent of CBSSports.com leagues. Again, there is no guarantee these apparent improvements stick, and two big strikeout games in a row don't necessarily portend big things.
But, you'd be foolish to ignore what he's done over the last two starts. Combine that with the stuff and pedigree, and Severino is a young pitcher worth getting excited about. 
Second base is as deep as any infield position these days, but it's lacking in true standouts....

First base has traditionally been the deepest position in Fantasy Baseball, and some newcomers...

Check out Scott White and Heath Cumming's first batch of rankings for the 2018 Fantasy sea...
Buster Posey has been a fixture atop the catcher rankings since breaking into the league in...

Is Bryce Harper a better bet than a waiver claim like Justin Bour or Jacoby Ellsbury? Scott...

The end of the regular season makes for some curious pitching choices, which of course only...