Fantasy Baseball Spring Training Takeaways: Timetables still murky for J.D. Martinez and David Dahl, but Jon Gray's greatness is crystal clear
Jon Gray and Jerad Eickhoff turned in dominant efforts this weekend while Tyler Glasnow re-entered the rotation conversation. Scott White looks at the latest spring happenings.
Now, J.D. Martinez is down.
For how long? The Detroit Tigers won't know until he meets with a foot specialist, but foot sprains are rarely a day-to-day thing.
We've known for a while now David Dahl won't be ready for the start of the season because of a stress reaction in his rib, but he did offer a little bit of encouragement over the weekend.
"I honestly haven't felt it in a week and a half or so, really doing anything," he told MLB.com. "Hopefully, I'll get some good news, and it shows that it's healing up, and I can start progressing, doing more."
He should receive an update in the next couple of days, but he's hoping to miss just "a week or two" of the regular season. Of course, now he'll have to unseat the hot-hitting Gerardo Parra for the starting job, but for as much upside as Dahl offers in that venue, he's still worth a mid-round pick in mixed leagues.
No Gray area
Jon Gray looked brilliant at times last year, putting together six double-digit strikeout efforts and a 13-start stretch from May 26 to Aug. 2 in which he compiled a 2.61 ERA, 1.04 WHIP and 8.8 strikeouts per nine innings.
And if his performance this spring is any indication, that's just the tip of the iceberg.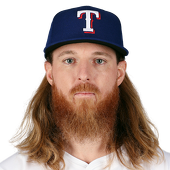 Jon Gray
SP / Colorado (spring training)
ERA:
1.42
WHIP:
0.79
IP:
12 2/3
BB:
4
K:
16
It's not all in the numbers either. Gray has continued to evolve his arsenal to maximize his 98-mph fastball.
"Last year, it was pound the zone, and get to the slider to put them away, but right now there's so much more going on," said Gray. "It's more pitching, and I love it. I think it's smart."
The big question is how well that arsenal translates to Coors Field, but as the third overall pick in the 2013 draft, Gray is arguably the most talented pitcher the Colorado Rockies have ever had. And he found some success at Coors Field last year even as mostly a fastball-slider pitcher:
Home: 4.30 ERA, 1.12 WHIP, 10.1 K/9
Away: 4.91 ERA, 1.40 WHIP, 9.7 K/9
His ERA may wind up being a bit on the high side for a pitcher with his peripherals, but you shouldn't rule out Gray becoming a full-fledged Fantasy ace this year. He has had arguably the most impressive spring of any pitcher.
Effect-ive change
The knock on Jerad Eickhoff coming up through the minors and the reason he was just a throw-in in the Cole Hamels deal back in 2015 is that he didn't have a changeup.
Of course, we all found out last year it didn't much matter. His curveball is so good that he managed to put together a 3.65 ERA and 1.16 WHIP regardless.
Then again, his strikeout-per-nine-inning ratio was on the low side, in part because he didn't have that put-away pitch against left-handed batters, throwing a changeup just five percent of the time.
He's throwing it a great deal more this spring, to fantastic results: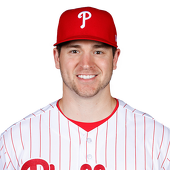 Jerad Eickhoff
SP / Philadelphia (Sunday at Rays)
IP:
6
H:
4
ER:
2
BB:
0
K:
9
The line is one thing, but just look how baffled the Rays were by his atypically varied arsenal.
"I've always been trying to make something of it, get some movement with it," he told MLB.com. "I don't know about the movement, but the speed difference was definitely different and I got some swings and misses. That tells you a lot." 
There are already so many pitchers I'm targeting in the late rounds, but Eickhoff is rising among them. If this changeup can make him more of a swing-and-miss guy, he could be something on the level of a Jose Quintana .
Pairing Sox
What do you know? Drew Pomeranz is hurt again.
He was making only his second start Sunday after dealing with the aftereffects of last year's strained forearm when he departed after two innings with a tight triceps. He downplayed the injury afterward, saying he'd be able to take his next turn.
"I don't think this is going to really affect too much," he told MLB.com "I was one inning shy with what I was supposed to do so I'll just make up for it next time."  
If it restricts his innings buildup in any way, though, it again calls into question his role to begin the year, which is unfortunate given David Price's uncertain availability.
This is undoubtedly good news for Eduardo Rodriguez , though. The 23-year-old, who looked like he'd be on the outside looking in prior to Price's injury, is coming off a two-hit effort over four innings in his last start and has had a terrific spring overall: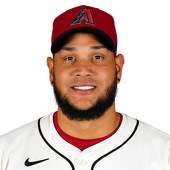 Eduardo Rodriguez
SP / Boston (spring training)
ERA:
2.08
WHIP:
1.08
IP:
13
BB:
5
K:
13
It's only building off his performance over his last 11 starts last year, when he compiled a 3.30 ERA, 1.05 WHIP and 9.6 strikeouts per nine innings.
The former top Orioles prospect has a killer changeup and a top-of-the-rotation outlook, and if he just takes care of business while Price and Pomeranz are ailing, the Boston Red Sox will be unable to pry him from their starting five.
Glasnow or later?
Pittsburgh Pirates pitching coach Ray Searage issued Tyler Glasnow a challenge prior to his March 13 start, according to MLB.com. If he was behind in the count, he could throw nothing but fastballs. The result was Glasnow's third straight disastrous outing of the spring, seemingly delivering the finishing blow to his rotation hopes.
But the goal was to keep Glasnow from falling behind in the count, and if his start Saturday at the Phillies was any indication, the 23-year-old top prospect got the message.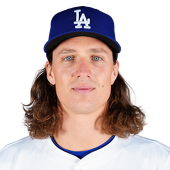 Tyler Glasnow
SP / Pittsburgh (Saturday at Phillies)
IP:
4
H:
4
ER:
1
BB:
2
K:
5
Not only did he work ahead in the count, but he also did a better job mixing his pitches, working mostly off his two-seam fastball and mixing in some changeups.
"This is the first time I've really been able to realize how effective a changeup is," Glasnow said.  
Rotation front-runner Drew Hutchison got blasted in his last start Friday, so Glasnow is still very much in the rotation mix. And with his talent, he could turn this nasty spring around quickly.
If Wood could chuck
Even with Scott Kazmir floundering and Julio Urias seemingly destined for extended spring training, I found it surprising when Los Angeles Dodgers beat writers began speculating that Alex Wood would fill the final rotation spot behind Brandon McCarthy . After all, Hyun-Jin Ryu is pitching again, and Wood is the one with bullpen experience.
But Wood seemed to validate their thinking with his best outing of the spring Friday at the Padres, striking out five over 4 1/3 two-hit innings.
And I wouldn't say I'm disappointed with his front-runner status. Prior to him hurting his elbow last May, I couldn't have been more effusive in my praise.
He had tweaked his mechanics earlier that year, helping him find a more consistent release point, and it was making him the deceptive, bat-missing force he was with the Braves early in his career.
Here's how he finished season, including four relief appearances after returning from the injury last September: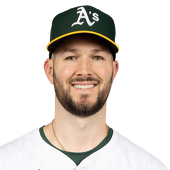 Alex Wood
SP / L.A. Dodgers (last 10 appearances, six starts, in 2016)
ERA:
2.52
WHIP:
0.99
IP:
39 1/3
BB:
9
K:
54
Pretty impressive stuff -- and with a playoff-caliber lineup backing him up, no less.
I don't know who will be the odd man out once Ryu is back up to speed and Urias is ready to go, but Wood is good enough to lock down the role in the meantime and maybe deserving of some late-round looks.
Is Hunter Renfroe's three-homer game reason enough to add him? Scott White says now may not...

Scott White assesses Adrian Beltre's unexpected return from a "season-ending" hamstring injury...

The Twins have terrific matchups in Fantasy Week 25 (Sept. 18-25), as do the Athletics and...
As the number of six-man rotations increases and the off days become more frequent, a quality...

If you wrote off Carlos Gonzalez earlier this year, it's time to take note again, according...

Some closer situations are up in the right air now, but Scott White sees one clear newcomer...