Fantasy Baseball Waiver Wire: Jose Berrios, Sonny Gray show their potential
Sonny Gray and Jose Berrios struggled through rough 2016 seasons, but both showed how good they can be Thursday, Chris Towers says.
Earlier in the season, I made a rule for the waiver-wire piece: If a pitcher strikes out 10 batters in a start and is widely available, I'll include him, no matter how flimsy the evidence that he can be a useful pitcher is.
That rule was put in place due to Wade Miley, who struck out 11 batters in his third start, en route to a 1.89 ERA to open the season. I had my skepticism about whether he could keep that up -- and with a 3.97 ERA and 19 walks in his last 22 2/3 innings, that was more than fair -- but anyone who is capable of striking out that many batters in a start is at least worth a look. Strikeouts aren't everything, but it's hard to argue they don't tell you something about a pitcher's potential upside.
I have a lot more confidence in Jose Berrios remaining a viable Fantasy option than I did Miley after his big game, but I'll admit, it's still pretty easy to be skeptical. His prospect star took a pretty sizable hit last season, as he suffered through one of the worst stretches for a pitcher in the last decade, posting an 8.02 ERA with 49 walks and 35 strikeouts in 58 1/3 innings. I still want to see more from him before I declare him a must-start, but you can't argue he isn't a must-add pitcher after what he did Thursday for the Twins against the Rockies.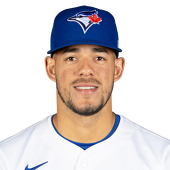 Berrios was, simply put, dazzling. I'll let Ian Desmond make the case for me: 
My work here is done, right? You don't need to hear anything else. However, if you remain unmoved, just know he racked up a whopping 19 swinging strikes in his 7 2/3 scoreless innings, striking out 11 batters, walking just one, and allowing only two hits. He picked up six of those swinging strikes with his curveball, and then had 13 on his fastball; both marks are the best he has managed in a start to date.
Berrios is already 80 percent owned, and that number is going to rise to 100 percent after this one. Berrios still has many more disastrous starts in the majors than good ones, but you can't ignore this kind of upside. Berrios was one of the top prospects in baseball a year ago, and we got our first real glimpse of why Thursday. 
79%

We'll stick with one more relatively highly owned player before moving on to some more available players, so let's look at A's starter Sonny Gray. Gray had just 23 swinging strikes in his first three starts, but racked up a whopping 16 against the Red Sox on Thursday. That is no small feat, as no team swings and misses less than this Boston squad. Gray got his best results with his two breaking pitches, picking up 11 of his whiffs on 38 of them, and that's good to see. Gray is never going to be a big strikeout pitcher, but his best success came when he was in the 20 percent range, as opposed to 18 percent last season. He still has some work to do to get back to his 2015 levels, but Thursday's outing was a very promising sign in that regard.
53%

One of my favorite breakout candidates coming into the season, Tommy Joseph barely looked like he belongs in the majors in April, hitting just .179/.222/.254 while starting to lose playing time by the end of the month. That his line is up to .263/.331/.491 as of May 18 should tell you everything you need to know about how good Joseph has been since the calendar turned. He has a .383 average and five homers in 15 games, and has pretty much secured his starting spot once again. He has potential star Rhys Hoskins breathing down his neck at Triple-A, but Joseph hasn't done enough to justify losing his job yet. He continues to more than hold his own against right-handed pitching, with a .293 batting average against them, and looks like a useful corner infield option if you've got room.
9%

The Pirates were hoping for a bounceback season after the team collectively disappointed a year ago, but they've had just about a worst-case scenario start to the season. The starting outfield, expected to be the team's biggest strength, is down to a disappointing Andrew McCutchen and a MASH unit. However, one bright spot has been Adam Frazier, the utility man who has acquitted himself very well in a surprisingly big role. Frazier is hitting .347/.395/.467 with just a 12.3 percent strikeout rate, and has even been hitting leadoff over the last five games. A career .300 hitter in the minors, Frazier might have a starting job for the next few months, with Starling Marte suspended, and looks like a useful option as a result.
1%

I don't have a 10-strikeouts rule for hitters, but if I had to come up with one it might be this: If you have a .588 average at any point, even for just a few games, I will write about you. I don't have much reason to believe Eric Sogard is about to have some kind of huge late-career breakout, but I can't just ignore how red hot he has been since coming back from a season-ruining knee injury last season. He hit .330/.421/.516 in 24 games at the inflated offensive environment of Colorado Springs in Triple-A, and has just carried that over to the majors. In six games, he is 10 for 17 with five extra-base hits, while also walking four times without recording a strikeout. With a career .626 major-league OPS to his name, Sogard is almost certainly going to get tripped up at some point. On the other hand, the Brewers have batted him leadoff two games in a row, so they much like something about what they're seeing right now. At least in NL-only and deeper Roto leagues, he's worth a look.
Second base is as deep as any infield position these days, but it's lacking in true standouts....

First base has traditionally been the deepest position in Fantasy Baseball, and some newcomers...

Check out Scott White and Heath Cumming's first batch of rankings for the 2018 Fantasy sea...
Buster Posey has been a fixture atop the catcher rankings since breaking into the league in...

Is Bryce Harper a better bet than a waiver claim like Justin Bour or Jacoby Ellsbury? Scott...

The end of the regular season makes for some curious pitching choices, which of course only...