Instant Fantasy Baseball Reaction: Bryce Harper's knee injury not so bad, but bad enough
The fact Bryce Harper only has a bone bruise in his left knee is undoubtedly good news, but according to Scott White, his Fantasy owners still hoped for better.
The good news: We haven't seen the last of Bryce Harper in 2017.
The bad news: You may have gotten the last use out of him in Fantasy.
The spill he took when lunging for a rain-slicked first base Saturday, if you haven't seen it, was ugly. Between the tumble itself, the writhing that followed and the assistance he needed getting off the field, you could say it's something of a miracle he didn't completely destroy his left knee, much less suffer ligament damage of any kind.
"There is no ligament or tendon damage, which is pretty remarkable in my mind, just seeing the type of injury he had," general manager Mike Rizzo said Sunday morning. "We feel we've dodged a bullet a bit here."
And it's undoubtedly good news for the Nationals, who have designs on a World Series championship, and baseball fans in general, who enjoy watching a player who may well have been the front-runner for NL MVP.
But for Harper's Fantasy owners, at least those of the single-season variety (i.e., non-keeper leagues), it may not make a hill of beans difference.
By the time he's ready to return for you, your season may well already be decided.
The Nationals can take solace in the fact that, for all practical purposes, they've already clinched their spot for October. They have a 14 1/2-game lead in the NL East, so the division title isn't in jeopardy. And given the gap between them and the NL West-leading Dodgers on one end and the NL Central-leading Cubs on the other, their seeding isn't in jeopardy either. Among the things that really matter, nothing has changed.
Which is the worst possible news for Harper's Fantasy owners: The Nationals' single highest priority between now and October is getting their right fielder 100 percent ready for October.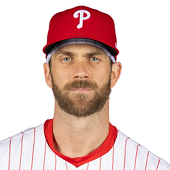 Bryce Harper
RF / Washington (2017 season)
BA:
.326
HR:
29
OPS:
1.034
AB:
402
There's no timetable for Harper as of yet, but bone bruises typically sideline players for weeks. We have seven of those remaining in the regular season. Even if he only misses a month, it's mid-September by that point. Your Head-to-Head league is probably deep into the playoffs. Your team, sans Harper, may already be eliminated.
And it's a big "if" to begin with.
If I'm the Nationals, I give Harper one series -- the second half of the final week of the season, basically -- to shake off the rust before playoff time, so if the Nationals are me, they're not giving Harper owners even another week to enjoy his production.
So what can you do about it? Not much with the trade deadline past in most leagues. If you happen to play in one where it isn't, you can offer Harper to the front-runner for a Michael Conforto or Jay Bruce type. Maybe he's better equipped to wait out the Harper injury and will go for it. Maybe.
But failing that, I stash Harper away, cross my fingers he makes a sooner-than-expected return, and find the best alternative I can on the waiver wire. Sometimes, that's all you can do.
Here are some suggestions, limiting myself to those owned in no more than 80 percent of CBS Sports leagues:
Top waiver wire pickups for Bryce Harper owners
But obviously, no one waiver pickup is going to come close to matching Harper's production, so rather than committing to one player, your best bet might be to pursue the flavor of the week -- i.e., playing the streaks and matchups.
These situations are exactly why I write a weekly column identifying the top 10 sleeper hitters for the upcoming scoring period, and you'll see many of the above players ranked for Fantasy Week 20 (Aug. 14-20).
With the help of some platoon advantages, Chris Towers runs down 10 sleeper hitters you want...

Chris Towers takes a look at the two-start pitching options for a thin Week 21, and admits...

With injuries piling up among starting pitchers, Chris Towers looks for some starters who can...
Are there any potential call-ups still worth stashing in 2017? Maybe not, but Scott White looks...

After a slow start, Rhys Hoskins is performing exactly as hoped, according to Scott White....

So many pitchers who we thought we had figured out did an about-face this weekend, leaving...