Instant Fantasy Reaction: Yoenis Cespedes back where he belongs
Yoenis Cespedes is back in New York, where he produced like an MVP last year. But while those numbers were too good to be true, he did show genuine improvement, according to Scott White.
Remember how after the Mets were eliminated from the World Series, the prevailing assumption was that they'd have to get used to life without Yoenis Cespedes?
Well, the key to this whole free agency thing is that the player gets his choice. And Cespedes ultimately chose to stay in the place where he most enjoyed playing.
The numbers confirm as much. In only 57 games with the Mets, he hit .287 with 17 home runs and a .942 OPS. If he had been that productive for the entire season, he would have averaged more Head-to-Head points per game than every outfielder but Bryce Harper.
No, really. I did the math.
Of course, the new heights he reached in his first 57 games with the Mets shouldn't be the expectation for the next 57. He was a decent middle-of-the-order bat in his first four big-league seasons, but nothing close to MVP-caliber. And the magic appeared to have run out even before he hit the market. He slumped to a .220 (13 for 59) batting average in his final 18 regular-season games and then was a dud in the playoffs, as any Mets fan will tell you.
But just because his best was too good to be true doesn't mean his entire 2015 was. The truth is he was having a career year even before getting traded to the Mets. OK, so that's not entirely accurate. His numbers with the Tigers were more or less on par with those from his take-the-league-by-surprise rookie season, which most everyone had come to assume was an aberration given that he hit a combined .251 over the next two.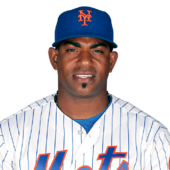 Yoenis Cespedes
OF / New York Mets
2015 STATS:
.291 BA, 35 HR, 105 RBI, 101 R, 7 SB
Simply by virtue of him doing it twice now, we can no longer call it an aberration, and a closer look at the numbers suggests it may be the more reasonable expectation. His fly-ball rate soared in those second and third years, which often happens when a player sells out for home runs, and it resulted in a lower-than-normal BABIP, which of course dragged down his batting average. Last year's .323 BABIP, which was fueled by increased line-drive and ground-ball percentages, is closer to what you'd expect for a player with Cespedes' power.
He might just be a .290 hitter after all. And while that along with 30 homers won't make him Bryce Harper, it'll make him one of the best 15 outfielders in Fantasy.
Of course, the downside to Cespedes' return to the Mets is that they'll again have to figure out how to fit both him and Michael Conforto -- a No. 3 hitter in the making and one of my breakout picks for this year -- into the same outfield. For the stretch run last year, they were willing to stick Cespedes in center field, but is that a full-season solution? If nothing else, it's an excuse for the Mets to sit the left handed-hitting Conforto against lefties, allowing Juan Lagares to man center field in those games.
Needless to say, Conforto isn't going to be terribly useful in mixed leagues if he isn't playing every day. I'm not dropping him in my rankings just yet, but it's a situation to monitor closely this spring.
Second base is as deep as any infield position these days, but it's lacking in true standouts....

First base has traditionally been the deepest position in Fantasy Baseball, and some newcomers...

Check out Scott White and Heath Cumming's first batch of rankings for the 2018 Fantasy sea...
Buster Posey has been a fixture atop the catcher rankings since breaking into the league in...

Is Bryce Harper a better bet than a waiver claim like Justin Bour or Jacoby Ellsbury? Scott...

The end of the regular season makes for some curious pitching choices, which of course only...