Fantasy Basketball reaction: Exciting rookie season for Joel Embiid comes to an end
The 76ers ruled Joel Embiid out for the season Wednesday. Our Chris Towers breaks down the Fantasy ramifications.
It's been a tough few weeks for The Process®.  
Nerlens Noel, whose acquisition kicked off Sam Hinkie's great experiment, was traded for a minor haul at the deadline, in a move that left many 76ers' fans disappointed. That disappointment is only compounded by news in recent days that the two remaining crown jewels of the organization, Ben Simmons and Joel Embiid, would be out for the season.
Simmons has yet to play this season due to lingering issues related to a foot injury, but Embiid is the real blow. He initially injured his knee in late January, but was able to play 28 minutes in one game, during which he scored 32 points, had seven rebounds, four assists, and five combined steals and blocks in one of his best games as a professional.
That would be the last we saw of Embiid, who was shut down for the season Wednesday, after an MRI revealed the tear in his meniscus to be more severe than previously believed. It is not clear if Embiid made the injury worse in recent days -- he practiced without limitations in the team's last practice before the end of the All-Star break -- or was simply misdiagnosed initially.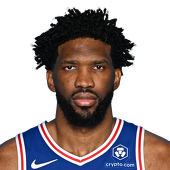 Either way, Embiid is done for the season and we'll find out in coming weeks whether his knee will require a surgical repair.
We'll get to the short-term ramifications of this news shortly, but Embiid is the kind of potential superstar whose long-term value takes priority in this kind of situation. We've seen just 31 games from him, but it's pretty clear we are looking at one of the most talented young players in NBA history, based on what Embiid accomplished in his scant 786 minutes of action. 
However, given his lengthy injury history, Embiid's future is also incredibly cloudy.
He averaged 20.2 points, 7.8 rebounds, 2.1 assists, and 2.5 blocks per game this season, impressive numbers even if you don't account for the fact that he was playing limited minutes and averaged just 25.4 minutes, all told. If health wasn't an issue, Embiid would be a first-round kind of player next season. However, even if he ultimately avoids surgery on the knee, we're still looking at a player with a history of knee, back, and foot injuries, who has played competitive basketball on consecutive days just once since high school.  
We don't know how his body will hold up to back-to-backs at this point, let alone the grind of a full season.
Embiid will likely enter next season with only slightly fewer questions than he did this one. We know he can be an elite player, but we don't have any idea if he can get through a full season. There isn't a more intriguing young player in dynasty or keeper formats, but there also isn't a riskier one to invest heavily in.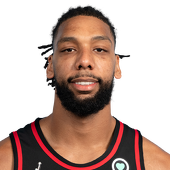 As for this season, the immediate future of the 76ers at center belongs to Jahlil Okafor, if he wants it. Okafor has been a pretty big disappointment, as he has dealt with his own struggles following knee injuries this season. He has started three games since the All-Star break, and has put up 14.3 points and 5.0 rebounds in 22.6 minutes per game. If he can get up to the 30-ish range, Okafor should be a useful Fantasy option, even if you can't rely on him for defensive stats.
Those of you in Roto or categories leagues who do need defensive production should probably look to the other half of what has become a platoon at center in Philadelphia, Richaun Holmes. Holmes has put up 11.7 points, 5.3 rebounds, and 4.6 combined blocks and steals since the break, and could be a top-100 player in that formats moving forward.
The other player to keep in mind in all of this is Dario Saric, Embiid's fellow rookie who could emerge as the Rookie of the Year frontrunner in Embiid's absence. Saric got off to a rough start to his NBA career, struggling especially with his shot. However, since going 2 for 22 over consecutive nights in late January, Saric has found his way, averaging 16.0 points, 6.9 rebounds, and 2.7 assists per game. He is still searching for his long-range shot, but Saric has emerged as the 76ers' go-to scorer, hitting at least 18 in each of the team's last eight games.
This is a tough time, in a rebuild that has been filled with them. Maybe next season, Simmons and Embiid will be fully healthy and ready to take down the NBA's giants. For now, the 76ers are left to pick up the pieces and play out what looks like yet another lost season.
Chris Towers highlights the moves to know about from the first week of NBA free agency.

Gordon Hayward's value doesn't change much, but his decision to join the Celtics could have...

Chris Towers breaks down the Fantasy ramifications of the huge Paul George trade.
The Chris Paul-to-Houston trade obviously shakes up the NBA landscape. Chris Towers tries to...

Rookies are tough to rely on in Fantasy. Chris Towers looks at five he won't be investing in...

In the afterglow of the NBA Draft, Chris Towers looks at which rookies can make a difference...