2016 Fantasy Football Draft Day Dilemmas: Take Antonio Brown at No. 1
Antonio Brown was the best Fantasy player in 2015 in all formats and in PPR in 2014. He should be dominant again this year and our Jamey Eisenberg says he's the clear-cut No. 1 overall pick.
• 2 min read
For the past three seasons, Antonio Brown has increased his reception total each year, finishing with a career-high 136 in 2015. If that happens again in 2016, he could break Marvin Harrison's single-season record for receptions, which was set in 2002 at 143.
No one should be surprised if Brown breaks the record. And no one should be surprised when Brown is the No. 1 overall pick in the majority of leagues this year. He is the best player in Fantasy.
The days of drafting a running back with the first selection are over. Brown is the obvious choice, and he's better and safer than running backs like Le'Veon Bell, Todd Gurley or Adrian Peterson. And he's also the better choice ahead of fellow receivers Odell Beckham and Julio Jones.
As we know, the numbers never lie, and Brown's numbers aren't just impressive. They're astonishing.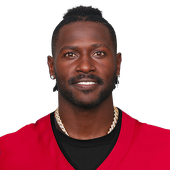 Antonio Brown
WR / Pittsburgh Steelers (2015 stats)
TAR:
193
REC:
136
YDS:
1,834
TD:
10
He was the No. 1 receiver last season with 136 catches for 1,834 yards and 10 touchdowns on 193 targets, and he did that with Ben Roethlisberger missing four games. In standard leagues, he was the No. 1 player among running backs, receivers and tight ends, and he was easily first in PPR. Brown was also the No. 1 receiver in 2014 with 129 catches for 1,698 yards and 13 touchdowns on 182 targets, which put him as the No. 4 overall player among non-quarterbacks in standard leagues but still No. 1 in PPR.
If you go back to his past 41 games over the past three seasons, he has scored double digits in Fantasy points in a standard league 31 times. And this year could be just as impressive, if not slightly better.
Martavis Bryant is suspended for the season, and Brown has been even more dominant with Bryant out. Brown has played nine games over the past two years without Bryant and with Roethlisberger healthy. He has 70 receptions for 1,065 yards and seven touchdowns over that span, which is an average of 7.8 catches, 118 yards and 0.8 touchdowns.
That's not far off his per game averages from last season of 8.5 catches, 114 yards and 0.6 touchdowns, but any uptick in yards and touchdowns makes Brown that much better. And there's really no argument against him.
The best defense I've heard from someone passing on Brown is he struggled when Roethlisberger was hurt last season. That's true, but he also finished the season with career highs in catches and yards with just three fewer touchdowns. And prior to getting hurt last year, Roethlisberger went two years in a row playing every game.
I can't see an argument against Brown, and he could set records this year if his stats continue to progress based on the past three seasons. Brown was seven catches shy of Harrison's single-season receptions record last season and 130 yards short of Calvin Johnson's single-season yardage record (1,964) set in 2012.
Imagine if he breaks both records this season and hits his average for touchdowns over the past three years, which is 10. Wow.
There's no reason to draft anyone else other than Brown with the No. 1 overall pick. He's easily the best player in Fantasy this year.
Chris Towers dives into our trio of experts' rankings ahead of Week 3 of the Fantasy seaso...

Chris Carson will be popular this week, but he's not the only player to add off the waiver...

If you didn't watch Monday Night Football, consider yourself lucky, because you missed some...
Heath Cummings looks at a wild Week 2 and tells you what you should believe, and what you...

From Chris Carson to tight end replacements to the lousy Seahawks passing game, we're covering...

Rookie Chris Carson's 100-total-yard game against the 49ers should cement him as the Seahawks'...