Can Martellus Bennett recapture some Fantasy Football magic in Green Bay?
After an underwhelming season in New England (even with Tom Brady), Martellus Bennett is in a better position to put up Fantasy points with the Packers.
It was 2011 when Jermichael Finley scored eight touchdowns and caught 55 of 92 targets for 767 yards. That was the last impactful Packers tight end for Fantasy.
Since then, tight ends in Green Bay cumulatively racked up 18 games over five seasons with 10-plus Fantasy points in non-PPR, or just 3.6 games per season.
Even four games with 10-plus points should be doable for Martellus Bennett, who signed on with the Packers for the next three years.
But it might not be much more than four.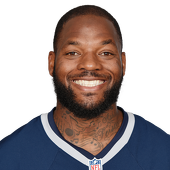 Bennett has averaged 4.2 games per year with 10-plus Fantasy points over his last five seasons. 
That's it. 
Even in 2016, when he was catching passes from Tom Brady and other Patriots quarterbacks, he amassed just five 10-plus-point outings.
There's more. Bennett is notorious for starting his seasons strong and then pulling a disappearing act. He has 12 touchdowns in 30 September games in his career ... and 18 touchdowns in 105 October, November, December and January games.
So why even bother spending a late-round pick on Bennett? Because of that early boost -- and because of his new surroundings.
In New England, a healthy Rob Gronkowski put a strain on Bennett's numbers, and even when Gronk was out guys like Julian Edelman patrolled similar areas on the field. Bennett averaged 4.6 targets per game, a five-year career-low.
That's not going to happen in Green Bay. 
Of course, Bennett will compete for targets with Jordy Nelson and Davante Adams, but he's the top banana at tight end and he'll work the middle of the field more than those other receivers. Guys like Randall Cobb and Ty Montgomery could be more impacted by his arrival than vice versa.
Here's the clincher -- Packers tight ends have had a minimum of 100 targets in four of the last five seasons. Do you really think Green Bay brought Bennett in to watch Richard Rodgers and Beau Sandland get their mitts on Aaron Rodgers' passes?
With a catch rate anywhere from 61 percent to 75 percent over his last five seasons, it's a safe bet Bennett will grab 50 passes this season.
In an offense with so many threats, the matchups will be good and his numbers will be good. Not great -- don't draft him with a late pick expecting great. But expect him to be good enough.
Especially at the beginning of the season.
Chris Carson wasn't on Fantasy radars to open training camp, but he's opened some eyes. Dave...

Andrew Luck (shoulder) might not be ready for Week 1, and there's a report he could be out...

Need to get ready for a draft this weekend? Follow along as we complete a 12-team draft on...
The standout performances from the second week of the preseason -- for better or worse -- involve...

Is Kareem Hunt that much better than Spencer Ware? Dave Richard dives into the latest preseason...

Rex Burkhead looked good, but Mike Gillislee is back at Patriots practice, opening the running...