USATSI
Davante Adams reached new levels of per-game dominance in 2020 as Aaron Rodgers and the entire Packers passing game took over in Year 2 of Matt Lafleur's system despite losing right tackle Bryan Bulaga last offseason. I would make the case no quarterback-receiver duo has a better rapport right now than Rodgers-Adams. In the red zone, this is where they're at their best -- back shoulder passes and quick feet to create separation is a dangerous combination.
We want to keep you up to date with everything surrounding his 2021 profile. Below, we'll break down Adams' outlook, changes in his ADP, where he's going in mock drafts, training camp/preseason updates and more.
Fantasy Football Today Newsletter
Know What Your Friends Don't
Get tips, advice and news to win your league - all from the FFT podcast team.
Please check the opt-in box to acknowledge that you would like to subscribe.
Thanks for signing up!
Keep an eye on your inbox.
Sorry!
There was an error processing your subscription.
2021 Outlook
Adams has been arguably the best receiver in football over the past three seasons and should be the first receiver selected on Draft Day. Adams is worth a first-round pick in any league where catches count and an early second in non-PPR. Over the past three seasons he's averaged 121 catches, 1,466 yards, and 14 touchdowns per 16 games. In 2020 he was 3.7 PPR Fantasy points per game better than the No. 2 wide receiver, Tyreek Hill. There should be little doubt Adams will be among the league leaders in targets, catches, receiving yards and receiving touchdowns as long as he stays healthy. 
Even at 28, Adams is in the conversation for the No. 1 Dynasty receiver, but that probably won't be the case after 2021. In other words, if you're not a contender, this is the prime time to sell Adams in a Dynasty league. (Heath Cummings)
Changes in ADP
*All ADP data is courtesy of FantasyFootballCalculator.com and for half-point PPR scoring.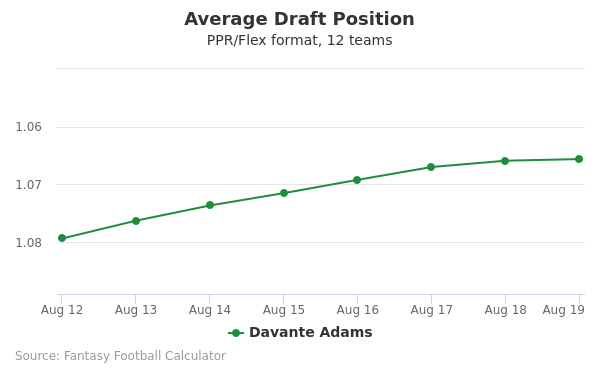 Adams' ADP immediately rose back to WR1 and a sure-fire first-round pick upon news that Aaron Rodgers would be returning for the 2021 season in Green Bay.
CBS Mock Draft position
8/18 half-PPR 12-team: Round 1, No. 3 overall
8/12 half-PPR 10-team: Round 1, No. 5 overall
8/6 PPR Superflex mock: Round 1, No. 7 overall
8/3 non-PPR mock: Round 1, No. 10 overall
7/28 full-point PPR mock: Round 1, No. 9 overall
7/20 half-PPR mock: Round 2, No. 14 overall
7/7 Superflex mock: Round 2, No. 14 overall
6/16 full-PPR mock: Round 2, No. 18 overall
6/9 Superflex mock: Round 3, No. 30 overall
Training camp/Preseason updates
7/28: Adams wants to be paid as the highest-paid NFL WR regardless of whether or not Aaron Rodgers returns to the Packers in 2022. Adams said he has "earned the right to be paid the highest in the league," per Andrew Sicilliano.