Fantasy Football Mailbag: Don't be afraid of Eddie Lacy, answering NE and keeper questions
Some Fantasy owners will stay away from Eddie Lacy in 2017 with his move to Seattle, but Jamey Eisenberg says that could be a mistake. We look at Lacy's value and answer your questions in this week's #fantasymail.
• 8 min read
My colleague Dave Richard did a great job breaking down Eddie Lacy's signing with the Seattle Seahawks when it happened earlier this week. And Dave's analysis is likely how most Fantasy owners feel about Lacy after his performance with the Packers the past two seasons.
As Dave wrote, Lacy is going to be a "headache" and a "hassle," and he wouldn't draft Lacy before Round 7. If that's how you feel about a player who hurt your Fantasy team in the past, and who is coming off an injury-plagued year, along with weight concerns, that's fine. Let someone else draft him.
I recently did a Twitter poll as well to see where Fantasy owners would draft Lacy, and the majority would take him in Round 5 or later. That could be a bargain if Lacy bounces back, which is what I expect to happen.
After two seasons as one of the best Fantasy running backs with the Packers from 2013-14, Lacy struggled in 2015 before playing just five games last year because of a season-ending ankle injury. And those five games weren't great from a Fantasy perspective because he failed to score a touchdown and had just one outing with more than 100 rushing yards.
But if you look closer at Lacy's production in 2016 you'll see he might have been on his way to a quality year before getting hurt in Week 6. And hopefully if he stays in shape this season with the Seahawks -- and he has plenty of motivation for that to happen -- he could rebound in a big way.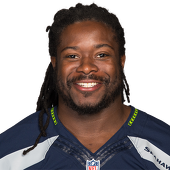 Eddie Lacy
RB / Seattle (2016 stats (5 games))
ATT:
71
YDS:
360
YPC:
5.07
REC:
4
REC YDS:
28
Lacy had 71 carries for 360 yards last year, which was 5.07 yards per carry. Of running backs with at least 70 carries, only seven were better: Jalen Richard (5.92 yards per carry), Mike Gillislee (5.71), Bilal Powell (5.51), LeSean McCoy (5.41), DeAndre Washington (5.37), Jordan Howard (5.21) and Mark Ingram (5.09). Ezekiel Elliott tied Lacy at 5.07 yards per carry.
If you project Lacy's stats over 16 games, he would have finished with 227 carries for 1,152 yards. Only eight running backs were better than that total with Elliott (1,631 yards), Howard (1,313), DeMarco Murray (1,287), Jay Ajayi (1,272), Le'Veon Bell (1,268), McCoy (1,267), David Johnson (1,239) and LeGarrette Blount (1,161).
Now, as for the touchdowns, it's doubtful he would have gone all season without scoring, and he averaged eight rushing touchdowns and two receiving touchdowns over the first three years of his career. He also averaged 32 catches and 291 receiving yards over that span.
If you give him those averages, along with his projected rushing stats, you're talking about a player who could have finished with about 1,400 total yards and 10 touchdowns. Maybe that's a stretch, or maybe that's what Lacy is capable of. The Packers only had 11 rushing touchdowns as a team last year without Lacy for 11 games, with four of them coming from quarterback Aaron Rodgers .
Lacy also was among the league leaders last season at 3.4 yards after contact, according to Pro Football Focus. In looking at running backs with at least 70 carries, Lacy was fourth behind Ty Montgomery (5.14 yards), Richard (3.63) and Ajayi (3.46). That shows that Lacy was still running well despite his conditioning concerns.
When you see Montgomery on the list, you can assume the Packers were a good rushing team, and their offensive line ranked No. 5, according to PFF. Seattle, by comparison, had a terrible offensive line and ranked last in the NFL. And so far, the only move the Seahawks made to improve their offensive line was sign free agent guard/tackle Luke Joeckel from Jacksonville, so more help is needed.
The offensive line could be a problem for Lacy. He also has to prove he's over the ankle injury from last season and stay in shape, with reports that he's about 267 pounds now. Coach Pete Carroll said he wants Lacy to play in the 240s, and he has monthly weight clauses in his contract, according to ESPN. Lacy will receive $55,000 every month if he's 255 pounds in May, 250 for June and August and 245 for the season.
We hope Lacy meets his required weight since this is likely his last chance to prove himself. He has to keep Thomas Rawls and C.J. Prosise on the bench as well, with Prosise most likely playing on passing downs. Rawls should now become a backup to Lacy with this transaction.
I still consider Lacy a No. 2 Fantasy running back, and I would draft him toward the end of Round 4 or beginning of Round 5 in standard leagues and after Round 6 in PPR. He went at No. 52 overall in our latest 12-team standard mock draft, which is a great spot for him. Rawls went in Round 9, and Prosise was drafted in Round 10.
You might be afraid of Lacy this season given his recent history, which is fine. Or you can gamble on a running back with top-10 upside, which is what he showed in his first two seasons in the NFL and might have done last year if he stayed healthy.
As for this week's mailbag, you know the drill by now. Keep sending me your offseason questions on Twitter @jameyeisenberg and on my Facebook page, and please use the hashtag #fantasymail. 
For this week, we're going to cover the following topics: 
Is it worth trading Elliott for

Mike Evans

and draft picks?

Lamar Miller

vs.

Amari Cooper

as a keeper
Who is the best sophomore receiver in 2017?
Can you trust any of the

New England Patriots

aside from

Tom Brady

?
Does

Jerick McKinnon

still have value in Minnesota?
From Twitter ...
It's hard to fully answer this question without knowing the rest of your keeper options, but if you have the running back depth to give up, Elliott then it could be a valuable trade. For example, you could end up moving Elliott for Evans and potentially someone like Leonard Fournette or Dalvin Cook if they end up as starters for an NFL team following the draft.
I would try to wait until the NFL Draft to make this deal or at least find out as many of the keepers in your league as possible to see who your options would be with that first-round pick. But the key for this deal to happen is getting at least two potential studs for Elliott since that's what he's worth, especially in a keeper league.
If this is a long-term keeper league where you can keep players for multiple years, then I would go with Cooper (22) and Miller (25) based on their age compared to Nelson (31). But we'll assume this is a one-year deal for 2017, which means Nelson is the No. 1 choice based on his expected production.
The Oakland Raiders just added two weapons this offseason, albeit with spotty track records, in tight end Jared Cook and receiver Cordarrelle Patterson , who could take targets away from Cooper and Michael Crabtree . It's a slight downgrade, but it is something to consider. As for Miller, he could get a significant upgrade if the Houston Texans add Tony Romo at quarterback.
I'd wait to see what happens there, but if Romo goes to Houston then I would keep Miller and Nelson. I'd probably keep Miller over Cooper anyway just to have one stud receiver and a potential No. 1 running back.
We'll remove Michael Thomas from this discussion since he's clearly the best sophomore receiver, and he should be drafted in Round 2 in all leagues with Brandin Cooks now in New England. And Tyreek Hill is No. 2 heading into the season, and he's worth drafting in Round 6 or 7. The next two receivers who interest me the most are Corey Coleman and Will Fuller . 
Coleman might not be the best value, although he was drafted in Round 9 of our latest mock draft. But with Terrelle Pryor now in Washington, Coleman should be better than Kenny Britt as the No. 1 receiver in Cleveland. We just have to see who the Browns get at quarterback. As for Fuller, he would benefit greatly if Romo comes to Houston, and he's definitely worth a late-round flier. I also wouldn't rule out Tyler Boyd improving as a sophomore, and hopefully he beats out Brandon LaFell to start opposite A.J. Green in Cincinnati.
Sterling Shepard's value takes a hit with Brandon Marshall now with the New York Giants , but you should also keep an eye on Josh Doctson with the Redskins and Tajae Sharpe with the Titans. Doctson gets the chance to start for the Redskins with DeSean Jackson and Pierre Garcon gone, and Sharpe should start opposite Rishad Matthews. Both are worth late-round fliers, with Doctson having plenty of upside.
From Facebook ...
It will be all about the value for the Patriots this year when it comes to Fantasy drafts. For example, Cooks went in Round 2 of our latest mock draft, which is too high. I drafted Julian Edelman in Round 5, and even that feels kind of risky. You're obviously drafting Brady without hesitation given all the weapons around him, and I'd still draft Rob Gronkowski as the No. 1 Fantasy tight end toward the end of Round 2 or beginning of Round 3. But the backfield could be messy with Rex Burkhead joining Dion Lewis and James White , and you should avoid Malcolm Mitchell and Chris Hogan in most formats.
New England has plenty of weapons, but aside from Brady and Gronkowski, it might be more of a burden than a blessing for Fantasy owners.
Here's my column on Latavius Murray after he signed with the Vikings, and he's still a No. 2 Fantasy running back for now. I'd draft him in Round 5 in standard leagues and after Round 7 in PPR, but I'd rather gamble on Lacy with the Seahawks over Murray based on upside. McKinnon won't be great as long as Murray is healthy, but he's still worth drafting with a late-round pick in all leagues. The Vikings saw last season that McKinnon can be a capable receiver out of the backfield with at least five catches in four of his final five games, and he finished with 43 receptions for 255 yards and two touchdowns on the year.
He wasn't great running the ball with 159 carries for 539 yards (3.4-yards per carry) and two touchdowns, but he'll be a good change-of-pace rusher behind Murray this year. McKinnon is better in PPR, but he's still worth drafting in all leagues even with Murray now on the roster.
Chris Carson wasn't on Fantasy radars to open training camp, but he's opened some eyes. Dave...

Andrew Luck (shoulder) might not be ready for Week 1, and there's a report he could be out...

Need to get ready for a draft this weekend? Follow along as we complete a 12-team draft on...
The standout performances from the second week of the preseason -- for better or worse -- involve...

Is Kareem Hunt that much better than Spencer Ware? Dave Richard dives into the latest preseason...

Rex Burkhead looked good, but Mike Gillislee is back at Patriots practice, opening the running...