Dale Zanine-USA TODAY Sports
George Kittle is arguably the best two-way (blocking, receiving) tight end in the NFL, and although injuries may have contributed to some recency bias, he remained one of the most productive tight ends in the NFL from a Fantasy Football perspective on a per-game basis last season. Now, all he has to do is stay healthy for all 17 games. There are some other factors in play when it comes to Kittle's 2021 outlook. Most importantly of them all, the 49ers could have a new quarterback for some or most of the 2021 season.
It's easy to get excited about Kittle but more importantly than that, we want to keep you up to date with everything surrounding his 2021 profile. Below, we'll break down Kittle's outlook, changes in his ADP, where he's going in mock drafts, training camp/preseason updates (when the time comes) and more.
2021 Outlook
George Kittle missed half of last season, but that's done nothing to sour Fantasy managers. In fact, he's even more popular because tight ends like him are rare to find and shrewd drafters are willing to reach a little to get him. When he did play in 2020, Kittle was good for 14.9 PPR and 8.9 non-PPR points per game, third-best among tight ends in both formats. Better yet, those averages weren't far from his 2019 numbers (15.2 in PPR, 9.1 in non-PPR). Expectations remain high for the veteran stud, even with the Niners eventually breaking in rookie Trey Lance at quarterback. 
Fellow tight end Darren Waller might be the safer pick based on availability and target volume, but both are in the mid-Round 2 conversation. Kittle should be expected to get snagged between 20th and 26th overall -- any point thereafter is a relative bargain. (Dave Richard)
Fantasy Football Today Newsletter
Know What Your Friends Don't
Get tips, advice and news to win your league - all from the FFT podcast team.
Please check the opt-in box to acknowledge that you would like to subscribe.
Thanks for signing up!
Keep an eye on your inbox.
Sorry!
There was an error processing your subscription.
Changes in ADP
*All ADP data is courtesy of FantasyFootballCalculator.com and for half-point PPR scoring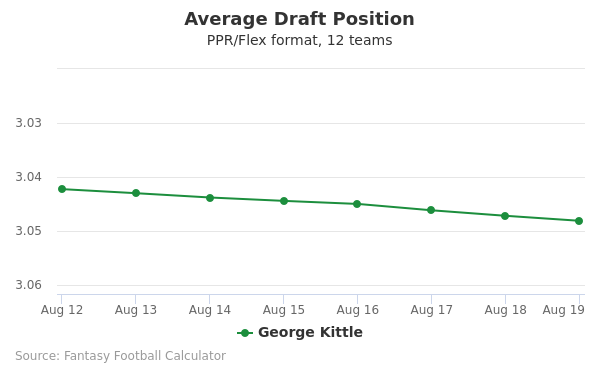 Kittle's ADP fell from Round 2 to 3 just around the start of training camp and has stuck there since.
CBS Mock Draft position
8/18 half-PPR 12-team: Round 1, No. 17 overall
8/12 half-PPR 10-team: Round 2, No. 16 overall
8/6 PPR Superflex mock: Round 4, No. 42 overall
8/3 non-PPR mock: Round 2, No. 19 overall
7/28 full-point PPR mock: Round 2, No. 19 overall
7/20 half-PPR mock: Round 2, No. 18 overall
7/7 Superflex mock: Round 3, No. 35 overall
6/16 full-PPR mock: Round 3, No. 29 overall
6/9 Superflex mock: Round 3, No. 28 overall
Training camp/Preseason updates
8/22: Kittle sat out the 49ers' second preseason game despite most starters playing. He wasn't alone however as RB Raheem Mostert also didn't see the field.