USATSI
Prior to being selected by the Indianapolis Colts, Jonathan Taylor put together an athletic profile at the 2020 combine that rivaled New York Giants running back Saquon Barkley. The hype started early on in the preseason for Taylor, and for the first quarter of the season the rookie was shaping up to be a Fantasy Football bust. Once Taylor began to gel behind his elite offensive line and get down the timing of the NFL game -- both in the run and pass game -- the rocket ship took off. Some believe he has a higher ceiling than any player other than Christian McCaffrey in 2021.
We want to keep you up to date with everything surrounding his 2021 profile. Below, we'll break down Taylor's outlook, changes in his ADP, where he's going in mock drafts, training camp/preseason updates (when the time comes) and more.
2021 Outlook
Taylor ended up where many expected him to be by the start of his second season: as a consensus first-round pick in all leagues. Of course, those of you who drafted him as a rookie know the path to getting to that place was anything but a straight line. Taylor opened the season as a backup, but quickly became the starter with Marlon Mack's injury. And then ... nothing really happened for a while. He got around a dozen carries and a few targets per week for a few months, and even found himself effectively benched for a stretch in November when both Jordan Wilkins and Nyheim Hines surpassed him at one point. 
Taylor eventually locked up the No. 1 role down the stretch, rushing for 651 yards and seven touchdowns over his final five games and averaging nearly 20 carries per game. He'll enter 2021 as the unquestioned top option in Indy and is one of the few backs with the potential to challenge for the No. 1 overall spot if he earns a larger role in the passing game. He ended up being exactly what we expected in the end. (Chris Towers)
Changes in ADP
*All ADP data is courtesy of FantasyFootballCalculator.com and for half-point PPR scoring.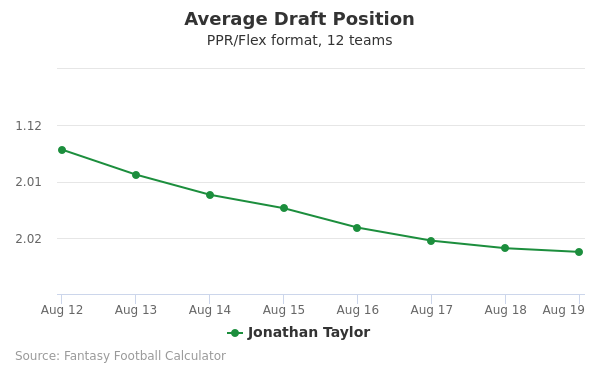 Taylor's ADP hadn't moved much all offseason until the training camp injuries to Colts QB Carson Wentz and All Pro guard Quenton Nelson. As you'll note below, since those news items, Taylor has fallen in our industry mocks.
CBS Mock Draft position
8/18 half-PPR 12-team: Round 1, No. 13 overall
8/12 half-PPR 10-team: Round 1, No. 9 overall
8/6 PPR Superflex mock: Round 3, No. 29 overall
8/3 non-PPR mock: Round 2, No. 13 overall
7/20 half-PPR mock: Round 1, No. 7 overall
7/7 Superflex mock: Round 2, No. 20 overall
6/16 full-PPR mock: Round 1, No. 7 overall
6/9 Superflex mock: Round 2, No. 20 overall
Preseason/Training camp updates
8/13: Colts coach Frank Reich hints at a bigger role for Taylor in Year 2: ""I've got a lot of confidence and trust in JT,'' Reich said, via Mike Chappell. "The guy's a pro's pro. Even when it got a little chippy out here today, he's unfazed by it. He's got that next-play mentality."

"That guy right now looks go good. I'm just excited where he's headed and how he's going to lead this football team.''

8/4: Colts QB Carson Wentz and All Pro offensive guard Quenton Nelson both suffered foot injuries within a week span. Both injuries have a projected recovery timetable of 5-12 weeks which puts their Week 1 status in question. It's not easy to figure out which injury hurts Taylor's outlook more, but combined they're definitely going to sting a bit.
So which sleepers, breakouts and busts should you target and fade? And which QB shocks the NFL with a top-five performance? Visit SportsLine now to get Fantasy cheat sheets for every single position, all from the model that called Josh Allen's huge season, and find out.