USATSI
Michael Thomas was the consensus top wide receiver selected in 2020 Fantasy Football drafts and also the biggest bust at his position. How much you think Thomas busting had to with him suffering and trying to play through a Week 1 ankle injury impacted his massive dropoff in production is going to be correlated with how high you are willing to draft him. More importantly, you'll have to decide how long his injury will linger. Thomas will miss the start of the 2021 season after undergoing surgery to repair the ligaments in his ankle in June. Thomas also had a run-in with the staff that led to a benching at one point. That could easily all be water under the bridge in 2021, which brings us to another key question facing Thomas' outlook: his quarterback situation. That's a whole lot of questions for one player outlook.
We want to keep you up to date with everything surrounding his 2021 profile. Below, we'll break down Thomas' outlook, changes in his ADP, where he's going in mock drafts, training camp/preseason updates (when the time comes) and more.
2021 Outlook
Drafted as the near-consensus WR1 in 2020, Michael Thomas was one of Fantasy's biggest disappointments. He dealt with an ankle injury early in the season that hampered him even once he returned. Thomas also took a hit when Drew Brees was out as the two had developed one of the best rapports in the NFL during their time together. Heading into 2021, Thomas has injury concerns again. He underwent multiple offseason surgeries to his injured ankle, including one in June that will sideline him for a portion of the start of the 2021 season that has not yet been determined. This surgery typically comes with a four-month recovery timeline so Thomas might not be back on the field in form until later in October.
While Thomas now seems on paper like an excellent buy-low at his 2021 draft price, there is inherent risk in drafting him now that he will be playing extensively without Brees for the first time in his career and a receiver coming off of surgery who won't be able to practice or training until the season gets underway. His ADP will continue to slide, and if it slides far enough, the reward will outweigh the risk.
Changes in ADP
*All ADP data is courtesy of FantasyFootballCalculator.com and for half-point PPR scoring.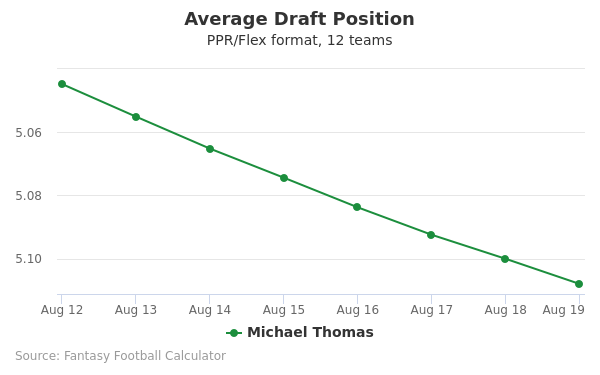 Thomas' ADP remained stagnant for the most part before news of his ankle surgery broke in late July. Expect him to be selected in the second half of most standard drafts by owners willing to commit a bench spot to the talented receiver without knowing how long he'll ultimately be sidelined. Update: We've already seen a dip in Thomas' ADP since news of the injury and the expectation is that could continue through early September unless we get some good news on the injury front.
CBS Mock Draft position
8/18 half-PPR 12-team: Round 8, No. 83 overall
8/12 half-PPR 10-team: Round 8, No. 86 overall
8/6 PPR Superflex mock: Round 9, No. 107 overall
8/3 non-PPR mock: Round 8, No. 86 overall
7/28 full-point PPR mock: Round 8, No. 88 overall
7/20 half-PPR mock: Round 3, No. 30 overall
7/7 Superflex mock: Round 4, No. 48 overall
6/16 full-PPR mock: Round 2, No. 25 overall
6/9 Superflex mock: Round 4, No. 45 overall
Training camp/Preseason updates
8/31: Thomas was officially placed on the PUP list which will keep him out for a minimum of six weeks but the current expectation is that he'll be able to return when first eligible.
8/14: Thomas attended the Saints' preseason opener against the Ravens. According to the Times-Picayune, he looks to be ahead of schedule in his rehab.