New Broncos rusher Jamaal Charles will get overdrafted in Fantasy Football
Jamaal Charles' one-year deal with the Broncos isn't to lead their rushing attack, and Fantasy owners better draft accordingly.
Over his career, Jamaal Charles has been amazing. His rushing average over nine seasons is 5.5 yards per carry. He's had over 1,300 total yards five times. He's totaled 10-plus touchdowns in each of his last two mostly full seasons (2013-14).
He's also had two torn ACLs, multiple lingering leg issues stemming from the torn ACLs, multiple concussions and 1,718 career touches. He's also 30 years old.
None of this stopped the Broncos from signing him to a one-year deal on Tuesday. He's expected to work alongside C.J. Anderson as the main running duo in the Denver offense. Some think he'll take on a part-time role in a rotation, others think he could carve out a passing downs role under new playcaller Mike McCoy, who used Danny Woodhead extensively and successfully that way in San Diego.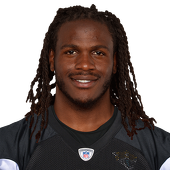 Jamaal Charles
RB / Kansas City (2016 stats)
ATT:
12
YDS:
40
TD:
1
TAR:
3
REC:
2
REC YDS:
14
REC TD:
0
Unfortunately, whatever his role ends up being won't be known for a while. The Broncos plan to take it easy with Charles. We might not see him on the field until training camp kicks into gear.
Charles admitted to reporters Tuesday that his knee was never ready for action last year after hurting his meniscus during offseason workouts and horsing around with his daughter. This came after he tore his ACL in October, 2015.
But with a year mostly off, he feels good now and is ready to contribute, not lead. Charles mentioned that he's looking forward to "helping" the Broncos and Anderson, the presumed starter for now.
It should go without saying that Charles' age, injury history and unknown workload (we know he won't be a full-time back unless something bad happens to Anderson) makes for a big Fantasy risk. Charles' motivation is no longer to set rushing records, it's to win a ring. Typically when a player starts talking like that, he won't mind taking a smaller role. That's when the stats usually disappoint.
Fact is, Charles will get overdrafted. He's one of the most well-known Fantasy running backs in the last five years and a lot of people will chase him hoping for one more run with glory. Round 5 or Round 6 is when people will start going for Charles. That might be the right time to settle on Anderson, to be honest. It's entirely too soon for Charles, who isn't promised anything.
Given the expectations and risks, Round 9 or later is when Charles should really get taken. Just don't expect him to last that long. Some Fantasy owners have memories that are detrimental to their success. Hopefully, that's not you. 
Jamey Eisenberg gives you sleepers to use for Week 3, as well as a DFS lineup to follow for...

Got a tough decision to make with your lineup for Week 3? Use Dave Richard's Lineup Cheat Sheet...

Our experts do the rankings so you don't have to. Here are their top plays for each position,...
Your team hasn't performed the way you hoped it would so far. That's okay, because in Week...

Proven computer model says bench Drew Brees and start Jared Cook this week

Chris Towers breaks down Thursday Night Football, and the rest of the news from a busy day...