USATSI
Saquon Barkley was a consensus top-three draft pick in 2020 Fantasy Football drafts, and also the biggest source of heartbreak when the New York Giants running back tore his ACL in Week 2. The fact that Barkley will start training camp on the PUP list adds to a murkier outlook for 2021. With Kenny Golladay and Kadarius Toney added to the mix, things should get easier for Barkley should he bounce back health wise, but at least for now, his health remains a question mark. This makes Barkley one of the bigger boom or bust picks for 2021.
We want to keep you up to date with everything surrounding his 2021 profile. Below, we'll break down Barkley's outlook, changes in his ADP, where he's going in mock drafts, training camp/preseason updates and more.
2021 Outlook
Saquon Barkley is expected to be fine coming off last year's torn ACL, and he should be ready for training camp. If he's healthy as expected then Barkley should once again be considered a first-round draft pick in all Fantasy leagues, and he will likely be selected in the first five overall picks. Last year was a disaster for Barkley, who appeared in just two games and suffered a torn ACL in Week 2. However, he should return in time for training camp, and he still has the potential to be the No. 1 RB in all Fantasy leagues in 2021. 
Remember, prior to 2020 Barkley scored at least 20 PPR points in 16 of his first 29 games and failed to score at least 13 PPR points just five times over that span. He should remain the focal point of the Giants offense, and hopefully he's healthy for all 17 games this year. (Jamey Eisenberg)
Changes in ADP
*All ADP data is courtesy of FantasyFootballCalculator.com and for half-point PPR scoring.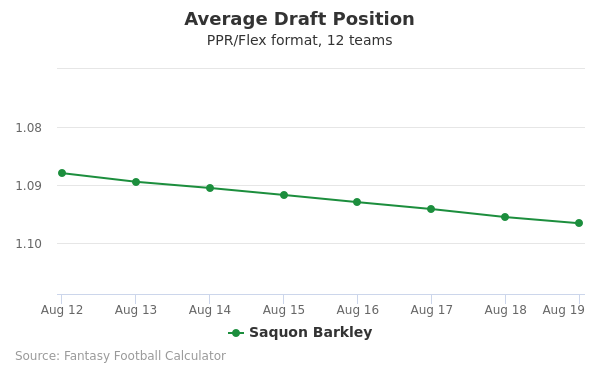 Barkley has seen his ADP start to fall slightly, but he's still a first-round pick across the board. If his recovery timetable continues to linger, he might fall into the late first or even out of the first round overall.
CBS Mock Draft position
8/25: full-point PPR 12-team: Round 1, No. 11 overall
8/18 half-PPR 12-team: Round 1, No. 12 overall
8/12 half-PPR 10-team: Round 1, No. 10 overall
8/6 PPR Superflex mock: Round 2, No. 14 overall
8/3 non-PPR mock: Round 1, No. 9 overall
7/28 full-point PPR mock: Round 1, No. 11 overall
7/20 half-PPR mock: Round 1, No. 5 overall
7/7 Superflex mock: Round 1, No. 11 overall
6/16 full-PPR mock: Round 1, No. 6 overall
6/9 Superflex mock: Round 1, No. 9 overall
Training camp/preseason updates
9/2: Barkley is trending in the right direction and has a strong chance to play Week 1 against Denver, per ESPN's Jeremy Fowler. Team won't decide until next week and has been cautious so could still hold him back. But there is optimism. Barkley tore his ACL in Week 2 of 2020.

8/27: Barkley participated briefly in live drills vs. the Patriots during joint practices with a red non contact jersey on. He did not appear in the Giants' final preseason game and we are still awaiting details on his status for Week 1 against the Broncos.
8/17: Barkley took team reps in practice. He worked in 7-on-7 drills with a non-contact red jersey. The next step is 11-on-11 drills. 
8/9: Barkley was activated off the New York Giants' PUP list and has begun practicing with the team. However, the plan is still to ease him back into action.
8/4: Saquon Barkley is "making tangible progress" toward a return, per Joe Judge -- Barkley is coming back from an ACL tear and has played things close to the chest about his timeline, so this is good news. We want to see him practicing and preferably playing in a preseason game before we feel great about viewing Barkley as a first-round pick.
So which sleepers, breakouts and busts should you target and fade? And which QB shocks the NFL with a top-five performance? Visit SportsLine now to get Fantasy cheat sheets for every single position, all from the model that called Josh Allen's huge season, and find out.