Is selling high on Larry Fitzgerald crazy?
Fantasy owners who gambled on veteran Larry Fitzgerald have been rewarded handsomely through three games. Should they cash in while they're ahead? Chris Towers investigates.
If Larry Fitzgerald doesn't catch another pass in the NFL, he has already rightly taken his place among the best wide receivers in league history. And, at 32, he is certainly nearer his last catch than his first at this point. And yet, through three games, he is one pace for the best season of his career; can he possible keep this pace up?
After Fitzgerald's eight-catch, three-touchdown game in Week 2 against the Bears, I recommended that Fantasy players cash in on Fitzgerald's hot start by selling high on the veteran. I received plenty of pushback for that at the time, and even more naturally after he went off for another 134 yards and two touchdowns in Week 3. That one might look like a loss, but I wanted to explain my reasoning, which still holds up.
The argument in favor of trading Fitzgerald right now isn't that he won't be good from here on. Even at 32, he's clearly got plenty left in the tank. And his numbers with Carson Palmer healthy speak for themselves: 98 receptions, 1,277 yards and 12 touchdowns over their last 16 games together. That isn't quite peak-Fitzgerald, but it would have been enough to land him in the top-five at the position last season.
Even though that production is spread over the course of three different seasons, it is a compelling enough reason to buy into Fitzgerald as something close to an elite Fantasy wide receiver. When Palmer is healthy, Fitzgerald is worth a spot in your lineup every single week, and given where he was being drafted this season, that is a huge win for his Fantasy owners.
The reason Fitzgerald was and remains a sell-high candidate is because there are plenty of reasons to think he and Palmer won't play every game together from this point on. Fitzgerald has managed to stay remarkably healthy into his 30's, having missed just two games in the last three seasons, but you have to acknowledge the risk that comes with having any older player on your roster. Granting that Fitzgerald is a relatively low-risk 32-year-old wideout given his history, Palmer's health remains a big reason for concern.
The "injury-prone" tag isn't exactly fair for Palmer, who has missed significant time as a result of injury just twice in 12 NFL seasons. He doesn't get hurt all that often, historically, but the injuries he has suffered have been extremely serious. Palmer missed time early on last season with a nerve injury in his shoulder, and was able to return for just five games before suffering a torn ACL in his left knee.
That torn ACL was the second such injury of his career, and that is a huge part of my concern. Palmer may get through the season unscathed, and if so, the Cardinals look like they have one of the best passing games in the league. However, when projecting Fitzgerald moving forward, you have to take the inherent risk into account; that risk includes the relatively low chance he breaks down combined with the risk of his 35-year-old quarterback with the recent history of injuries.
If you want to believe in Fitzgerald, there are plenty of reasons. Heck, one week after saying he was a sell-high candidate, I walked it back. Sustaining a high level of production won't be tough as long as Palmer is under center, and you should value him as WR1 while Palmer is healthy.
However, the argument for selling-high on him makes sense, if you could swing him for someone like Arian Foster -- potentially ready to return from a groin injury as a No. 1 RB -- or Marshawn Lynch -- coming off a disappointing, injury-filled game. It isn't a slam dunk by any means, and if Palmer stays healthy, it is possible you would come to really regret the decision, but it is something worth considering.
Fitzgerald's value might never be higher than it currently is, and that is the time to at least look into a trade.
Fantasy Football Today Newsletter
Get tips, advice and news to win your league - all from the FFT podcast team.
Please check the opt-in box to acknowledge that you would like to subscribe.
Thanks for signing up!
Keep an eye on your inbox for the latest sports news.
Sorry!
There was an error processing your subscription.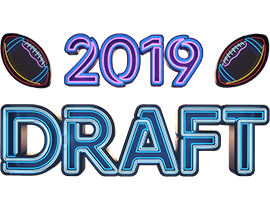 Get Live Coverage of Every Pick
Marquise Brown and N'Keal Harry were the first receivers taken in the NFL draft, but they may...

Josh Jacobs might have been just the No. 24 pick in the first round, but he'll be No. 1 in...

We usually don't expect much from rookie tight ends, but T.J. Hockenson might be the exception...
Kyler Murray went No. 1 overall, but he wasn't the only QB off the board in the first round....

Kyler Murray is the Cardinals' new starting quarterback -- and his passing and rushing potential...

Where should Fantasy managers root for players like Josh Jacobs, T.J. Hockenson and Marquise...